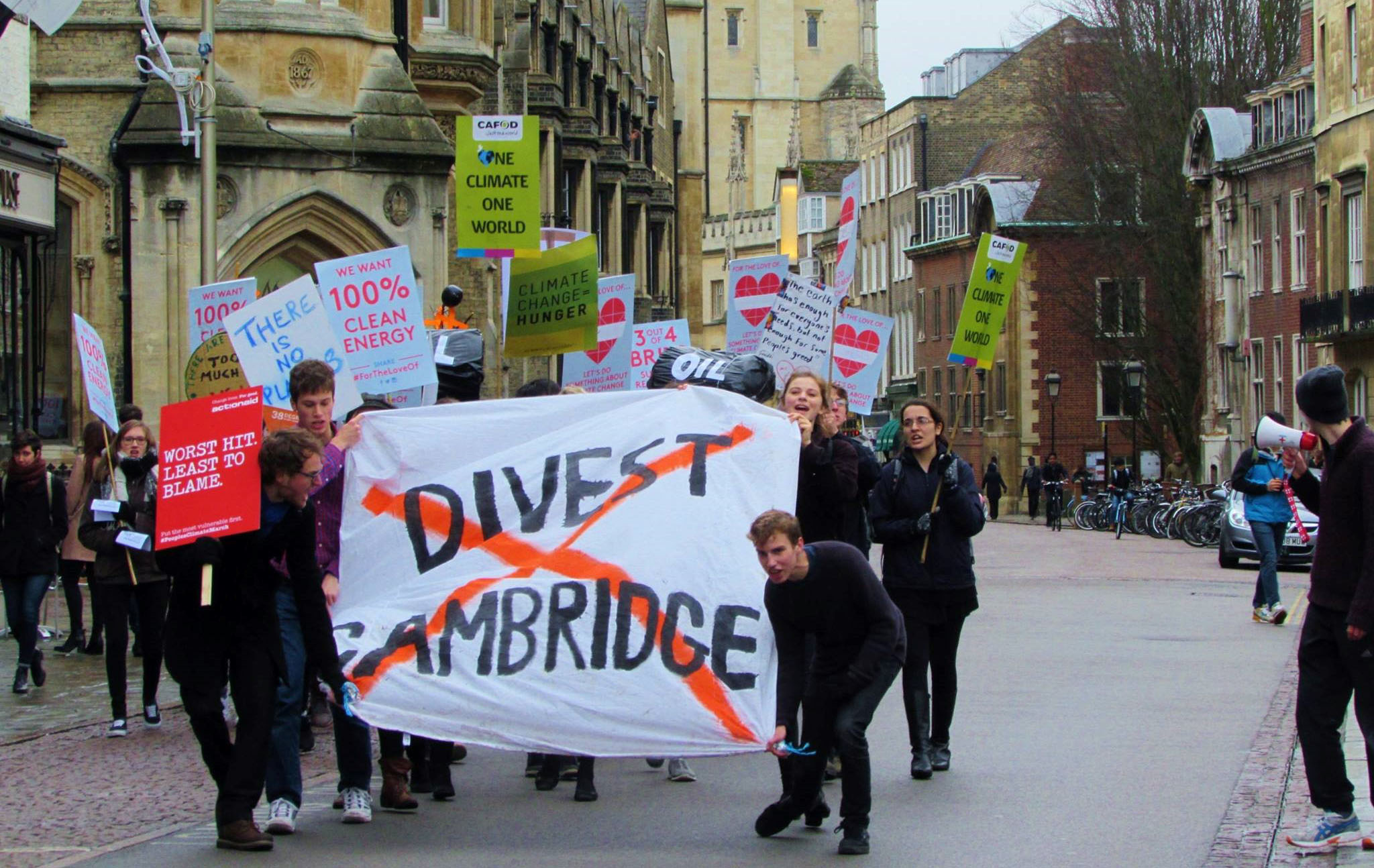 Zero Carbon Campaign student protesters march to tell University to divest from fossil fuels
They dressed in black to resemble an oil spill
Students from the Zero Carbon Campaign marched through the city centre yesterday as world leaders met in Paris for a landmark climate change summit.
Dozens of students, dressed in all black to mimic an oil spill, marched from Magdalene Bridge, past the Corn Exchange, then along King's Parade before finishing at the Market Square with placards and banners.
The march was intended to increase pressure on the University to withdraw its investments from "environmentally destructive" and "financially insecure" fossil fuels.
It comes a day after marches took place around the world, with Cambridge students having joined thousands in London to demand a binding agreement from the Paris conference to keep temperature increases below 2C.
Cambridge MP Daniel Zeichner has expressed his support for the divestment campaign, saying "it's time to divest from destruction".
The campaign has been successful so far, with almost 1,800 people signing its online petition.
Zero Carbon Campaigns Officer and Downing JCR Green Officer Tim Lornie told The Tab: "We marched in the form of an oil spill, expertly crafted out of (recycled) bin bags."
"There was a really good atmosphere – climate activism is sometimes a bit doom and gloom, but actually its better to be upbeat – global warming is not just a threat, its also an opportunity to rethink how we do life, how we do politics, how we do economics."
"It was really exciting to see so many Cambridge students turn out to make some noise about climate change. It's often said that students can't change much, or that protests don't work in Cambridge – but that's nonsense. We had loads of people stop their shopping to watch us go past, and many people wanted to chat and ask questions."
One student held a placard saying: "These bin liners are 100% recycled. Don't even think about it Tab!"
Sources within the Zero Carbon campaign admitted this was a gaffe, mistakenly referring to an article in The Cambridge Student which made light of the fact that college bedsheets had been painted on for a previous protest in King's and Clare colleges.
But this is not the first publicity stunt Zero Carbon have been engaged in over recent weeks.
The process through which CUSU resolved "to support Zero Carbon's divestment campaign" and "to uphold the principles of divestment wherever possible at University Committees and other meetings where appropriate" proved especially explosive.
Controversy erupted at CUSU Council on Monday 23rd over Angus Satow's motion against his own fine from Magdalene College, where he is due to become JCR Vice President. The fine followed an incident where Zero Carbon campaigners were evicted from King's and Clare colleges by porters.
Sarah Gibson, CUSU LGBT+ President, proposed to split the motion between divestment and Angus' fine.
A representative from Clare JCR subsequently voted against a motion for CUSU to publicise a Go-Fund-Me page to fund Angus' fine, and against a motion to uphold the right to protest on campus.
You can sign the Zero Carbon Campaign's petition against divestment here.