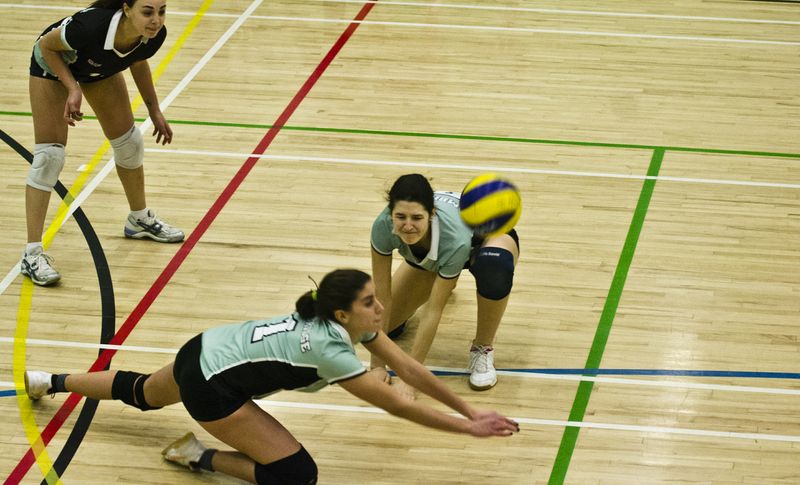 Triumphant End To League Season For Volleyball Ladies
Last match, top result – CHRISTIANA SMYRILLI reports on an incredible end to a quite incredible season for the women in blue
Last Saturday, Volleyball Women Blues played their final League match against Nottingham University.  The game started with the Blues bringing their usual starting players on court.  Strong hits, organised defence and 16 serves in a row by Taiwanese Hsieh Pei-Shan brought the Cambridge Team leading by 22-3.  Changing both outside hitters, the Cambridge team finished the set with a score of 25-6.
Starting the second set with the same 6 that came off, Blues let their guards down and gave Nottingham the opportunity to believe in this set, going point by point until 16-16, when nice sets by Bellamy turned into scoring hits by outside players Lee and Tufegdzic Vidakovic, great defenses by libero Socratous and swift swings by middles Ernst and Bitzan finally cleared the set for the Blues with 25-18.  Proving their superiority in the third set when captains Smyrilli and Oshmian came back on the court with hard hits, both cross-court and down the line, the third set finished the game for the Blues.
Hard work, team spirit and determination helped this team to finish at the second position in 1A Midlands League.  The ladies are now waiting to see who would be their opponent for the knock-out game, which would take them to the BUCS finals provided they win. In the meantime, they have Student Cup Finals to think of, as well as the highly expected Varsity which will take place on the 16th of February at Kelsey Kerridge, 12-18pm.
Squad: Christiana Smyrilli, Xenia Oshmian, Katharina Bitzan, Anne Ernst, Alice Hsieh Pei-Shan, Jennifer Bellamy, Julin Lee, Ana Tufegdzic Vidakovic, Josephine Socratous (libero)