UL Branches Out
UL bosses have planted "Solar Trees" to provide energy to keep the books ticking over.
solar trees
UL
University Library
The University Library has branched out its energy supplies and gone green by installing "solar trees".
The devices use solar power technology to generate energy.
Four solar panels are mounted on each of the 5-metre high metal "trunks", and the panels act like leaves, catching the sun and turning it to electricty.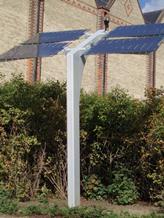 Barking up the wrong tree?
Four of the trees have been planted in the southwest corner of the UL grounds, and together they generate 10% of the libraries annual energy needs for archive stores, showing that the UL can use trees for more than just paper.
The "solar tree" is the fruit of a collaboration between architects Sadler Brown and energy experts EvoEnergy.
However, the UL is staying true to its roots, as the "tree's" leaves are modelled on the tessellated windows of the UL.
The project has so far been a tree-mendous success. University Energy Manager Paul Hasley said, "the "trees" at the library are performing better than expected".
More could be shooting up across the University and there are already plans to install them on the roof of the Sainsbury's Lab.
The University has, however, been tight lipped about the cost of the project.
The reaction to the "trees" has been largely positive. CUSU Environmental Officer Beatrice Patrick said the project was "really positive".
Anna Reid, a second year at Johns studying English, was less enthusiastic saying, "they look like something out of Star Trek and probably cost as much".
However, she added that, "any symbol that the University is going green is probably a good thing".