Due to the Snow Day, all deadlines have been extended by 24 hours
You have an extra day to get your life together
Unfortunately for many students, Brookes' campuses have been shut since yesterday due to the snow. This meant for thousands of students they had to go elsewhere to work on their assignments and could not get hold of basic resources they needed from the library. Luckily, they will be open from tomorrow and our deadlines have been extended.
We are planning for all campuses to re-open tomorrow (Tuesday 12 December) from 8am.
Staff and students should check their Brookes email for further details including deadline extensions. Thank you for your patience during this period.

— Oxford Brookes (@oxford_brookes) December 11, 2017
As a result of this inconvenience, Registrar and Chief Operating officer, Brendan Casey, has sent round an email informing us all that we have an extension to our deadlines. The email reads:
"All assessment deadlines between 11 and 22 December will be extended by 24 hours as a result of the closure of the campus on Sunday afternoon and Monday."
"For example a deadline of 5pm on Monday 11 December will be extended to 5pm Tuesday 12 December, or a deadline of Tuesday 12 December will now be extended to 5pm Wednesday 13 December. Any assessment that was due on Friday 15th December will now be extended until 1pm on Monday 18 December."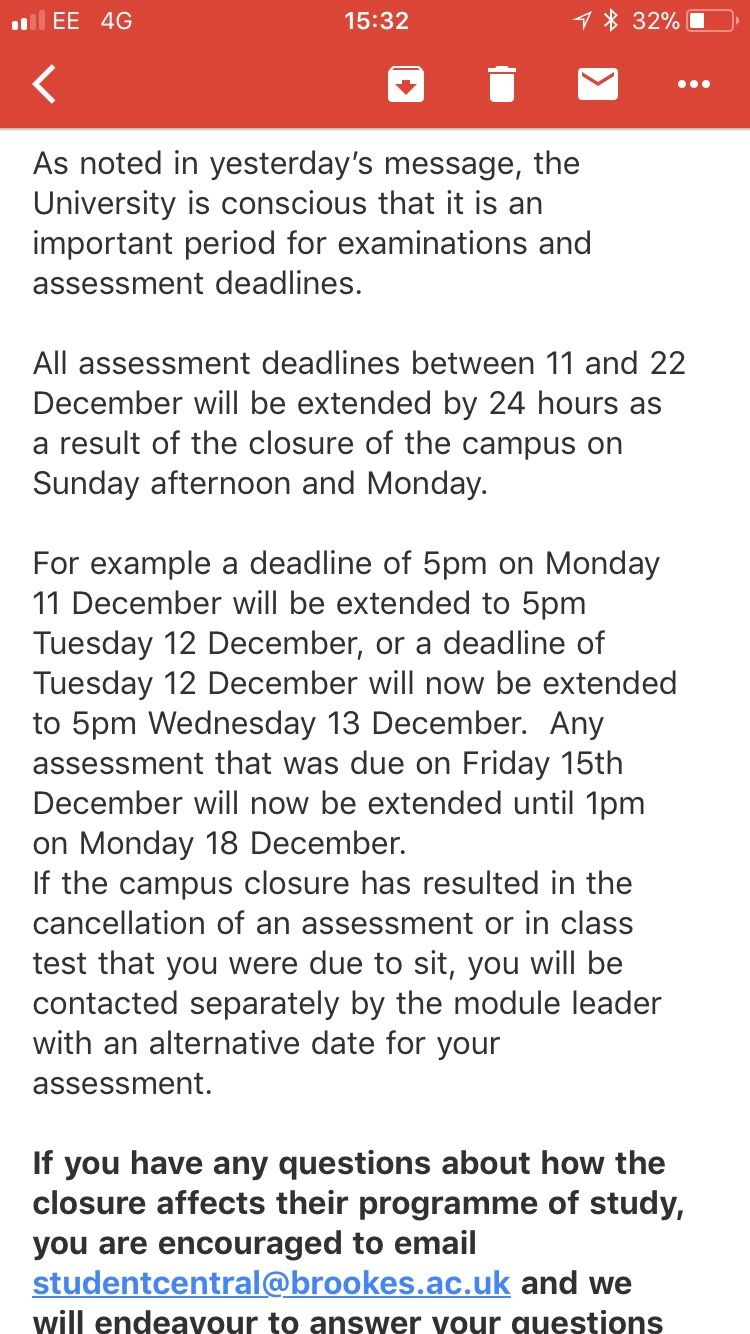 Second year English Literature student, Emily, stated: "We've lost two days of study time in the library in the final week of the semester, it's so ridiculous, everybody has deadlines and exams this week."
"They should be giving us two day extensions to make up for lost time. I can't believe they've done it, they should have pulled out all the stops for us this week, they've completely screwed up."
Let's hope we have no more disruptions this week as the tensions are running high and there are no signs of our exams having a 24 hour extension.