The stereotypes of every club in Oxford
We love you Oxford, we do
Oh Oxford, a charming old city full of history, education and of course a banging night out. Here's what you can expect from Oxford's finest establishments.
Bridge
Picture it. It's Monday night, the queue is offensively long. Cheney wanker lads in MNB hats, black jeans, white shirt, and a gold heirloom signet ring. The girls are sporting their finest going out trainers, jeans and a nice top, blow dried hair – don't worry about a hair band, you can buy one later from the lady in the toilets.
Old Man Bridge is tearing up the dance floor, surrounded by his adoring fans. Double vodka's all round seeing as you've got to make that £10 minimum card payment. Outside is swarming with social smokers because "I totally do not smoke any other time than when I'm drunk", do you blame her? Especially when the smoking area is so BANGING.
Purple Turtle
One extreme to the other: the kind of kids who watched Skins and Futurama, are up for a dirty night and will try to sell you a gram in the loos. Then we have the wannabe edgy rah rah's, baggy vintage shirts, bucket hats, slick back hair, their arms filled with bracelets from festival season and travelling in South East Asia. Get down for indie rock night on Wednesday, a sweaty room full of Arctic Monkeys fans, screaming along to Fluorescent Adolescent, awaits you.
Cans of Red Stripe everywhere. There's a guy with a man bun ordering 15 Hulk shots, and a girl crying to the bouncer because she paid £3 for entry and she didn't realise it was emo night. Somebody has chundered in the bathroom sink and you're probably covered in glitter.
ATIK
It's dirty, but we LOVE it. LBD's all round and probably chunky heels too. Short pushy lads, starting a fight with everybody who dares to brush up against them. If it's Monday then you're in for the cheapest night of your life. It's practically a school disco for moderately grown adults. BBK wannabes roam the R&B room, forming circles and throwing gang signs at one another, while the middle aged dominate the disco dance floor. We just can't get enough.
O2 Academy
GRAB ME A VK I'M GONNA STRAWPEDO. We've got rugby lads, netball girls, and a lot of weird fancy dress. Boys in too tight tops here to shag. Such a wide selection of guns and bums. It's the home of the VK and of course promoters are swarming like wasps in a jam jar. There's vomit everywhere.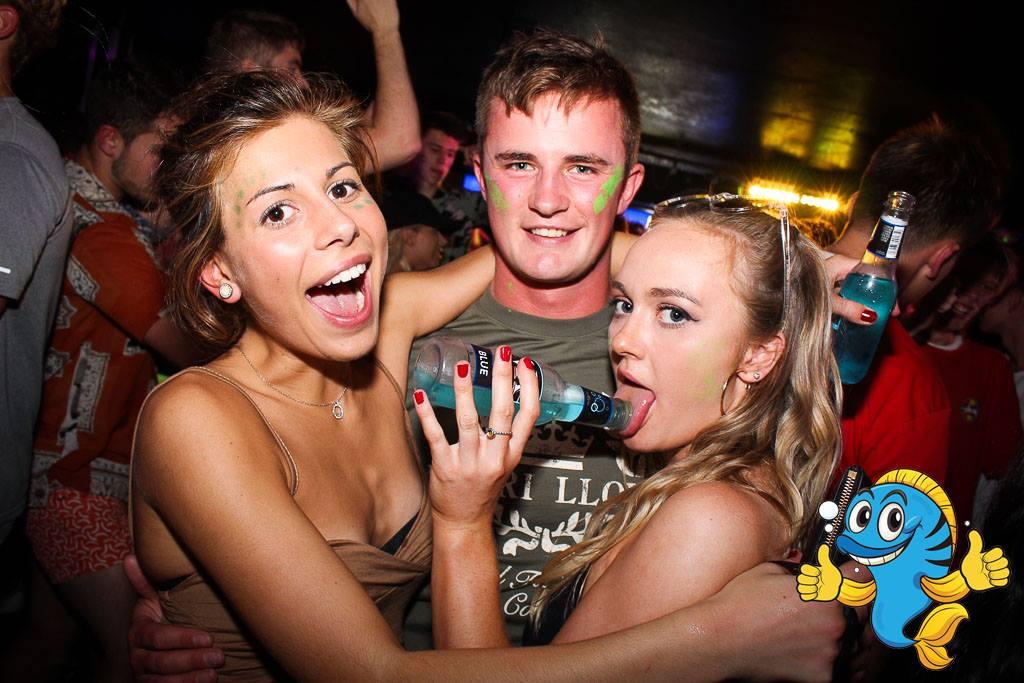 Somebody is probably being fingered in the middle of a pathetic excuse for a mosh pit. Your shoes are already ruined and you haven't even made it to the door due to the disgustingly packed queue. If you fancy standing in the cold waiting to get entry because you left it too late to buy a ticket, this is where you belong my friend.
Emporium
First things first, why is it so hot? There's flocks of people dancing under the only two A/C units in the entire club and gangs are fighting over the space in front of the industrial fans blowing hot sweaty air into your face. You're trying to be fancy, but you're not, you're drunk and disorderly. Some dick head has probably already tried scaling the banisters and broken a bone.
There's a lot of drum and bass. It's a jungle. Be careful out there.