There were two knockouts in King of the Ring
Big hits from the biggest names of campus
With knockouts in two of the fights, there was plenty for the 850 Brookes students in attendance to cheer for in the fourth instalment of King of the Ring.
With two KO's the night could not have gone any better for the organisers.
We spoke briefly with Mike Starkie, the brains behind all the brawn in the ring. He said: "I put so much time and effort into this King Of The Ring, hopefully the product resonated as much with everyone else."
The shortest fights of the night came between Callum Glass and JJ Whalley, and Giles Emmerson and Cameron Christie.
Callum saw off JJ in the second round with his experience in boxing shining through.
Callum commented: "I enjoyed my fight, JJ came out on top form really shook me up in the first round, he just got tired and I capitalised on it.
"He stepped up and smashed it, big props to him."
Once he had recovered, we also spoke to JJ, who said: "I knew Callum was going to be a formidable opponent as he's a great athlete and has solid work ethic.
"I inevitably burnt out half way through the second round where he came into his own and landed some heavy punches which were enough to push me over the count."
Giles saw off Cameron in the first round with a barrage of big blows that didn't seem to stop until the ref called it.
Giles spoke kindly towards his opponent after the fight, saying: "I don't think Cameron did himself justice in our fight as I feel he had already lost in his head before the fight."
There were two women's fights this year as well, and both were just as ferocious as the men's fights.
Flo managed to top Charlotte in one of the highest touted match ups of the evening, with lacrosse and girl's football in full voice for them.
Flo spoke with us after the fight. She said: "She [Charlotte] put up a really good fight, I enjoyed every minute of it.
"The support there was incredible."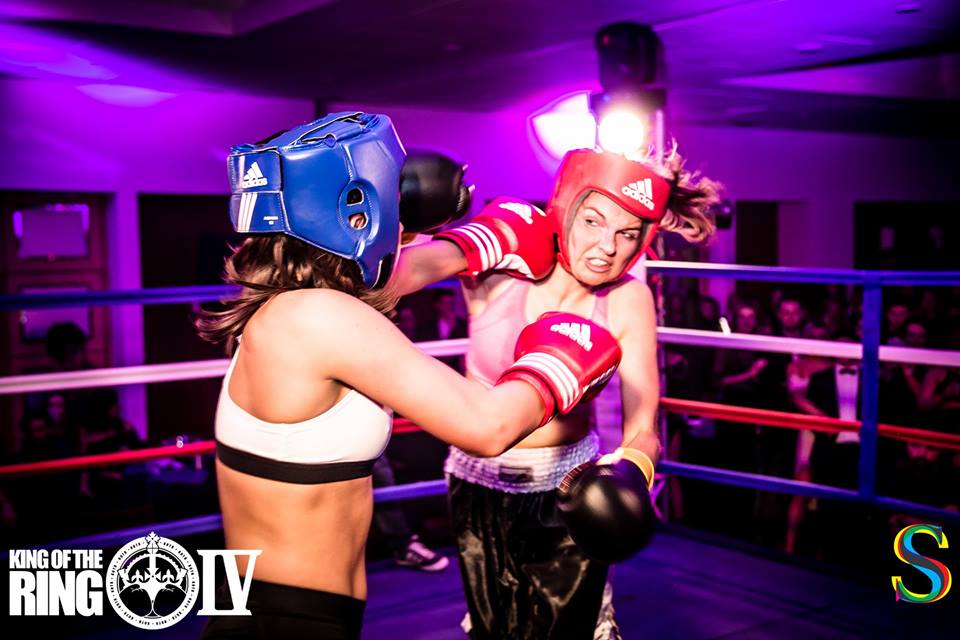 Tara took on Chloe in a very intense three round bout that ended with Tara taking it on a decision, but for most of the fight it was almost impossible to call between the two of them.
There was one fight that ended in a draw, between Ian Whitehead and Chris Craig.
Chris came out with real speed and aggression, but nothing that seemed to phase Ian as he took it all in his stride. Both fighters putting in a strong performance lead to the only draw of the night.
Ian, always the nice guy, said: "Regardless of the result I was happy, people were talking about a bit of controversy but I'm not fussed.
"Credit to my opponent Chris Craig he fought a good fight and worked hard."
The rest of the fights all came to a decision after three rounds with Zack Davis beating Ali Lord, Danny Danjuma beating Toby Hudson-Davis and James Wilmot beating JJ Gibbs.
Finally we spoke to the announcer for the evening, Elliot Foster. He told The Tab Brookes: "I thought the fighters did an amazing job and the crowd was absolutely buzzing for it – it made my job a lot easier.
"My favourite fight was 100 per cent Giles Emmerson, first round knockout."
King of the Ring is back with a bang on the 9th March and the fighters are yet to be announced. Tickets are currently fifty per cent sold out, so you've got to be quick if you want a piece of the action.