Malfunctioning Moodle causes mayhem
It isn't just PIP that's struggling.
Moodle and Eduroam crashed over the weekend leaving hundreds of students unable to access and upload work.
Those affected were offered an extra 24 hours to submit any work originally due today but were not informed of the changes until this morning. The round email came too late for many who had pulled all nighters in an attempt to catch up.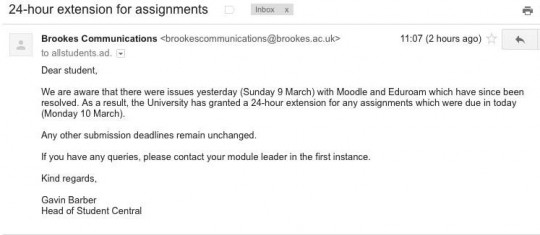 This isn't the first time this year that there have been issues. Earlier this semester the results page crashed despite the design of a special site supposedly able to deal with heavy traffic.
Last week and with no warning the Chromebooks were temporarily unable as technicians worked to update them onto the new library system.
With problems so close to dissertation deadlines, panic has started to set in amongst third years. One spoke to The Tab and said "they can't really afford to have fuck-ups like this throughout the term. It's irritating and stops you getting on with what you want to get done."
Others have complained that there is limited Wifi on the fourth flour of the new John Henry Brookes building.
Here's hoping all of the new move hiccups have been sorted and the last few weeks of term will remain Moodle-stress free.
Do you want to write for The Tab? Email [email protected] to get involved.