Bristol students left queueing outside SU Lettings for hours as housing crisis looms
An unresponsive website, crashed phone lines and huge queues
Bristol Uni students have been queueing outside the Bristol SU Lettings buildings this morning to try and secure one of the few houses available for next year.
Queues began before doors opened at 9 am as students braved the 3℃ December morning amid increasing anxiety among students to find housing for next year.
At its peak, the queue stretched along Tyndalls Park road to the entrance of the ASSL with local Bristol Tab reporters estimating at least 100 students were still waiting at 11 am.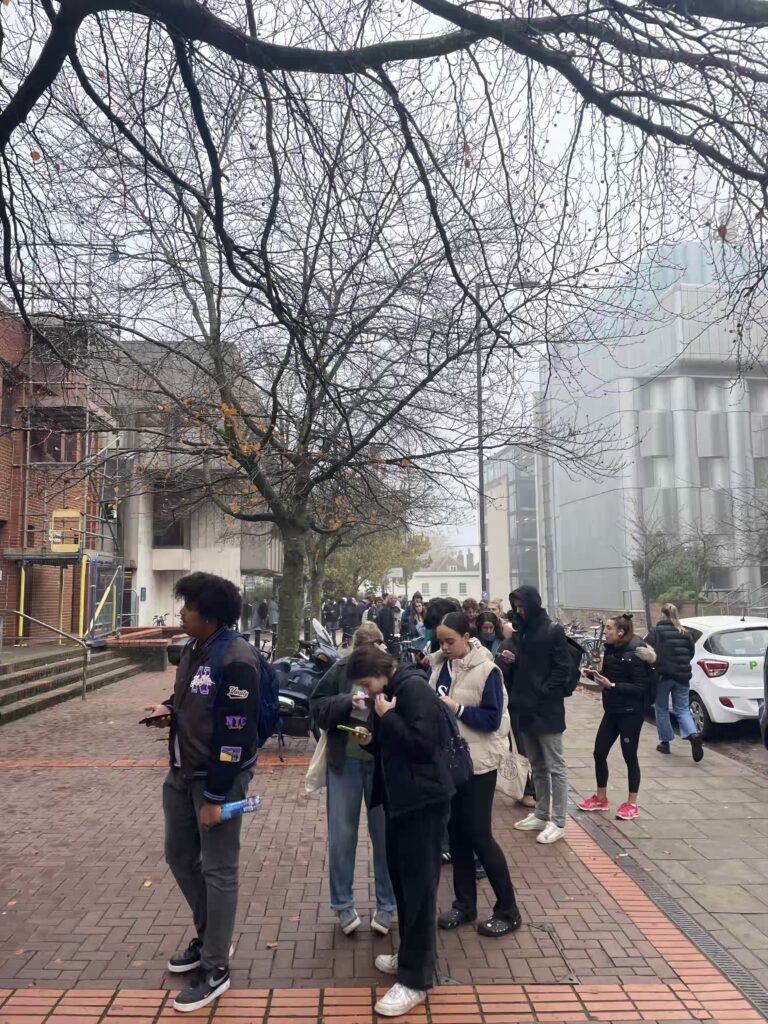 The SU billed the release of their 2023 properties as the 'Bristol SU Lettings House Drop' meaning most SU houses were simultaneously released for students to view and rent.
Some students attempted to gain access to the 'house drop' by going on the SU website which promptly crashed leaving many to call unresponsive phone lines.
Ellen, a first-year English student, told The Tab: "We woke up in time for the 8:30 housing drop but when it was supposed to launch the website crashed. The website looks like it was made by a first-year graphic design student it's that user-unfriendly.
"After failing to get through on the phone we went down to the SU Lettings office to be met with an absolutely huge queue of really stressed students.
"It was so cold we gave up and just kept calling and calling until after 21 times I got through."
Bristol SU published an Instagram story calling the queue "eager". Kira, a second-year Neuroscience student, called the post "insensitive, I'm anxious not eager"
Students desperately queueing outside lettings agents have been common across the country this term. Students in Durham began queueing at 2 am in October. Some house hunters such as Dasiy, 21, questioned why the SU had not predicted the huge demand: "The SU website is terrible, surely they could have prepared for today."
Despite the offer of a free coffee Adam, who studies Mechanical engineering, told the Tab: "It's not enough, I'd rather have a house than a free coffee."
When approached for comment a spokesperson from the Bristol SU said:
"Every year we see an increased demand for housing for students in Bristol which we try to support. There is a housing crisis in Bristol, and the queues for our housing launch this morning show how concerned students are about this.
"We resourced additional staff for the Bristol SU Lettings housing launch, put on free hot drinks for any students queueing, and held an advice drop-in session earlier in the week as part of the Bristol SU My Rent My Rights campaign. Unfortunately, the demand online affected our website this morning although this is now running again. We use Rightmove as an alternative to our website and students will have been able to access our properties through Rightmove this morning. 
"We will be releasing more properties on Wednesday 25 January and students can register with us online at any time for updates. Our Lettings team work really hard to support over 5000 students with their accommodation each year and are working with our Student Living Officer in city-wide conversations around the accommodation crisis in the city." 
Related stories recommended by this writer:
•Breaking: Bristol Uni lecturers will strike this November
•Bristol University to ask students their suggestions for renaming buildings linked to slave trade
•Bristol Uni 'only have themselves to blame': UCU strikes begin despite downpours