Here are all the festivals in Bristol you need to book for after your exams
Bin off Blackboard and get skanking
With summer exams frighteningly only a couple of months away, don't think about revision, think about how you are going to celebrate afterwards. Boomtown may be your first choice but if you feel like enjoying the whimsical fever dream that festivals are, but also want to have a shower in the evening and a bed to come down in, rather than a spider filled tent, these Bristol day festivals are for you. 
We can almost hear the distinct sounds of festivals right around the corner (shouting down the phone to your mate, telling them you're next to one of the 50 halloumi fries stands, as if they can hear you whilst drums blare in the background anyway).
We've comprised a list of all the festivals taking place in Bristol this summer, so book your tickets and get excited to dig out the coloured glasses, garish bucket hats and clothes you wouldn't touch for any other event. Prepare to down warm cans of G&T at 10 in the morning and slather yourself with Vaseline to make that glitter stay put!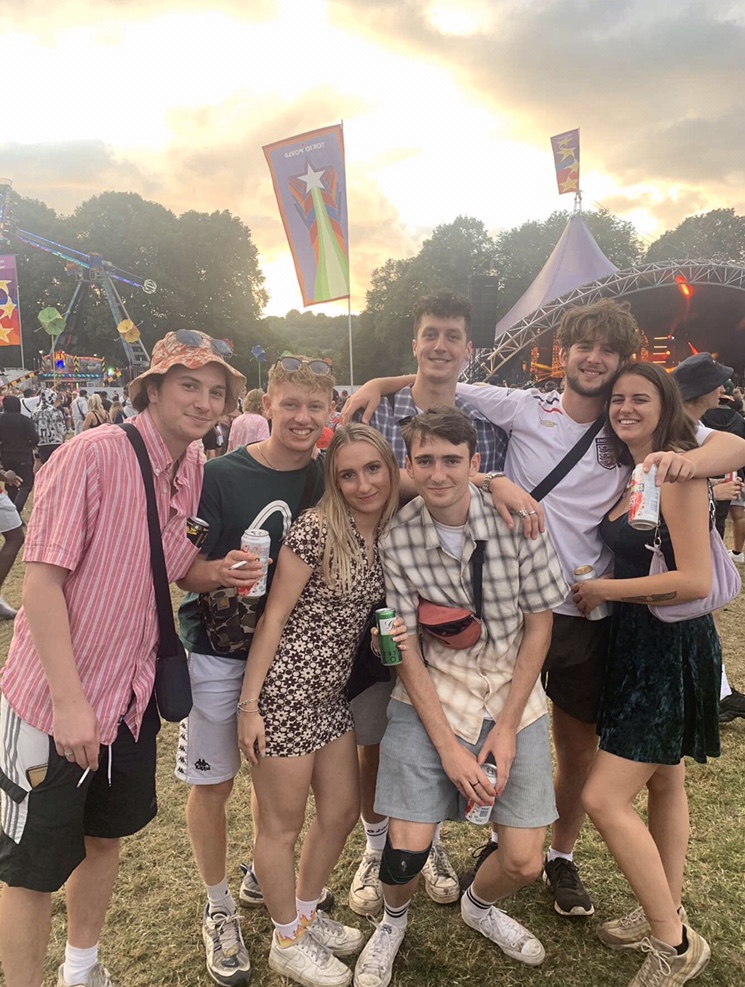 Make sure to caption your Instagram post "Trip to Japan".
Every student leaves it until the last minute to consider travel and suddenly all the Vois have disappeared, Ubers are airing you and getting the train runs the risk of being crushed. I would recommend the forty minute scenic walk from city centre to reach this swarm of bucket hats and Eastpak side bags.
When: Saturday 17th September and Sunday 18th September 
Where: Eastville Park 
How much: Tickets haven't been released yet but you can joining the waiting list here 
Headliners:  Although they don't have a line up yet you can expect drum & bass and dance music. Last year they had names like: Maribou State, Calibre, Rudimental, Sigma, DJ Fresh, Hot Chip
That mate who brought a bought a bottle of water and gum will save the day more than love ever has.
Have you heard of Glue by Bicep? Well, now you can go and hear it for the millionth time but live! At the same historical sight where Slowthai spat in a girls mouth last year.
When:  Thursday 2nd June and Friday 3rd June 
Where: Ashton court 
How much: £61.05 (day), £116.55 (weekend)
Headliners: Bicep, Chase and Status, Mura Masa, Arlo Parks, Casisdead, Easy Life (!!)
Hope I'm not being too forward but this might be the best line up yet.
Look forwards to this brand new festival coming to The Downs this summer, hopefully not a rehash of Fyre Festival.
An incredible dose of music will grace our ears in addition to the notions of brilliant minds. The two music stages will be joined by "The Information; a space for activism, and debate". The list of speakers attending will be announced this spring and will provide the opportunity for festival goers to learn something alongside killing a healthy amount of brain cells.
The festival will also be reviewing its greenhouse gas emissions and then create a program which will aim promote 'responsible consumption and production'.
When: Saturday 3rd September and Sunday 4th September  
Where: Clifton Downs
How much: £51.76 (day), £99 (weekend)
Headliners: The Chemical Brothers, Jamie XX, Little Simz, Floating Points, Caribou 
Organised by one of our favourite clubs, Lakota, they're paying tribute to the huge nineties rave scene, when everyone was really feeling the love with a little help. 
The mysterious location is a secret until the day of the event but I have a suspicion it will be in a muddy field of sorts. Prepare to travel in style to the site, crammed into a shuttle bus full of ketty students which will have you questioning whether you're just on the U1 after a Wednesday night.
When: Last year it was Saturday 24th July and Sunday 25th July 
Where: Announced on the day
How much: Tickets haven't been released yet but you can joining the waiting list here
Last year's headliners were: Eats everything, Wilkinson, Sam Devine 
For those of you who are itching to start your festival season and cannot wait until the summer hols, Dot to Dot is slightly earlier. It showcases emerging talent and new artists for a price so low it would be rude not to go.
When: Saturday 28th May
Where: Various Bristol Venues
How much: £27
Headliners: Squid, Frankie Stew & Harvey Gunn, Ghetts
Related stories recommended by this writer:
• 24 hours in the life of a Stoke Bishop fresh, are you as unique as you think you are?
• Quiz: Plan a night out in Bristol and we'll tell you what flavour Elf Bar you are