Which of these eight Redland personality starter packs are you?
I've got bad news if you own a Nike spell-out jumper
The Myers-Briggs theory suggests that there are 16 different personality types in the world.
In Redland, there are eight.
Yes, Redland students love to think they are all so independent and original, but if you walk down the catwalk that is Hampton Road, I guarantee you will spot these eight different characters. Who knows, chances are you are about to have the uncomfortable experience of reading this article and seeing yourself as a starter pack, I know I certainly did.
If they post enough videos on their story pretending to enjoy yet another DnB house party they are at, maybe people will believe them. In reality, they spend most of the time hiding in the toilets taking mirror selfies with their mates and doing ket. Their run down and often damp, rodent infested DIGS property is a far cry from their middle upper class suburban London upbringing.
After seven years of messing about at Charterhouse or any other similar boarding school, they've sneaked into Bristol through clearing. BNOCs in Wills, they are well liked and always in a good mood. Daddy's lined up an internship at Deloitte for next summer so they haven't got to worry about the degree too much, always time to hop in the Polo to go play a round of golf with the lads.
After a year at Kingston or Camberwell, they've realised white wine, disposable cameras, Amber Leaf – it's all too basic. They've archived any Instagram posts of them wearing a North Face puffer, now they take pride in their cryptic feed as they trawl through Bristol charity shops trying to decide if this horrible garment is just ugly enough to be pulled off as edgy.
Coming from a boring town somewhere in southern England, they've thrown themselves into Bristol. They spent first year learning to smoke and key a few bumps of ket. Now, after shaving their head during lockdown, they've returned for second year with a mullet, some overpriced Carhartt cargos and as many rings as they can possibly fit on their fingers.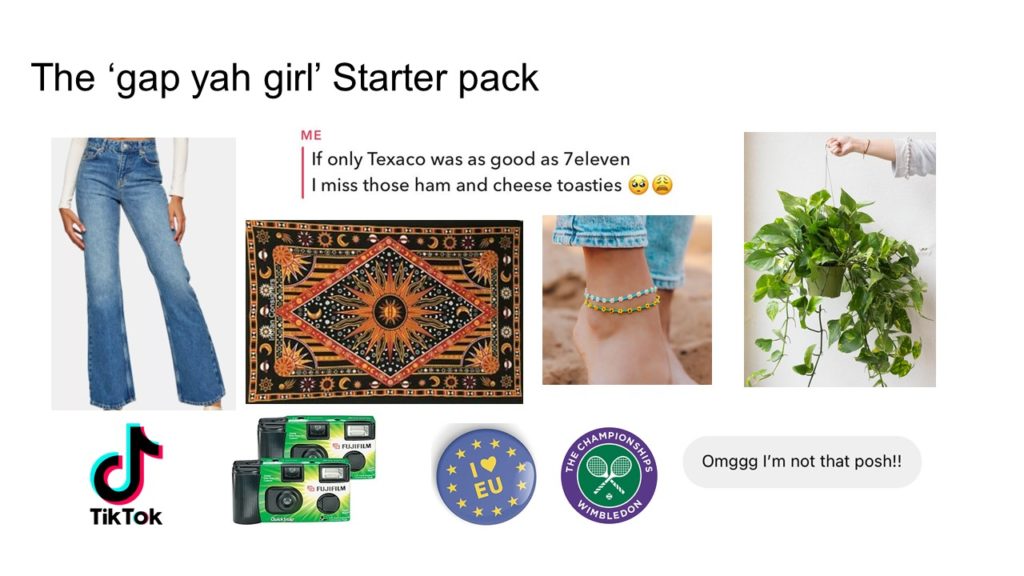 With their scratch world map, tapestry, disposable photos and abundance of plants, their room is a shrine to the three months they spent in south east Asia. Last year they loved bonding with other gap year students in the BED Mondays smokers area talking about just how cheap buckets were on Khaosan Road or their Vietnamese night bus experience. But having spent most of first term isolating in their big girls house on Waverley Road, their flatmates are starting to get a bit tired of all the gap year tales.
Proudly from UH, they aren't happy with how expensive their Redland house is in comparison. Their genuine mixing ability means Badock boys have swarmed to be friends with them, desperate to be taught how to actually mix having begged their parents for decks. Secretly, they wanted to be in Stokes Croft all along and are urgently trying to organise another house for next year.
Despite happily tormenting freshers, sports boys will spend all of November reminding everyone what a great bloke they are as they become the expert on Men's mental health after growing some bum fluff on their upper lip. Sports girls love to show their housemates just how many more boys they are friends with as they casually slip into conversations their impressive Strava stats. Both treasure their sports fleece and Fishies bucket hat, under the illusion it makes them more attractive.
They've got a skateboard but have you actually ever seen them skate?? In an oversized tee and dressed in what appears to be your grandad's cords, they count down the minutes until afters when they can finally sneak in that one Still Woozy song they've had in their head all day. Having read some Ian McEwan for their English A Level, they think they understand complicated girls and are desperately waiting for an "Effy Stonem" type girl to show off their record collection to.
Related stories recommended by this writer:
• QUIZ: What percentage Stoke Bishop are you?
• Here are your shameless starter packs for every fresher hall at Bristol Uni