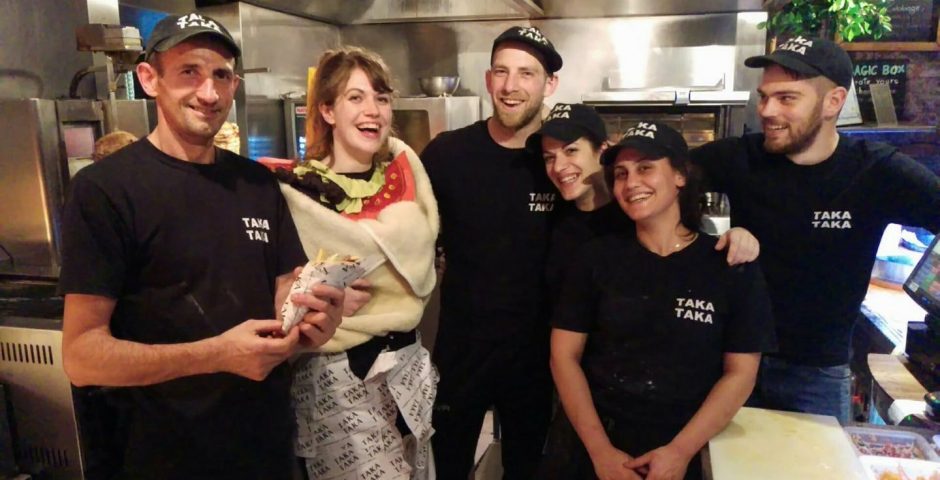 Meet the girl who went as a Taka Taka chicken gyros for Halloween
'I got a lot of great responses'
Inspiration can come from unlikely places. Mozart had his women, Churchill had his bottle, Gandhi had his faith. For Naomi Weeks, a third year History of Art and Italian student, inspiration comes from Bristol's favourite Greek restaurant Taka Taka.
For her Halloween costume this year, Naomi chose to go as Taka Taka's greatest product- their legendary chicken gyros. Unsurprisingly the costume proved to be a hit, with admiring comments and jealous eyes following Naomi wherever she went.
We sat down with Naomi to talk Taka Taka and how she came up with 2017's greatest Halloween costume.
How long have you been a Taka Taka fan then Naomi?
I've been a fan ever since I decided to Taka chance on a pork gyros, back in my first year.
When did you decide to go as a chicken gyros wrap?
I didn't have a costume ready, and I thought I feta get my act together. I was eating a kebab (admittedly not a Taka Taka) about a week before and got thinking about how fun it would be to dress as a kebab for Halloween. And what better homage could I pay to my favourite Bristol restaurant than to go as one of their delicious wraps?
How did you exactly make your fabulous costume?
First, I purchased a cheap cream throw for the tortilla and spray painted little burnt patches to add authenti-tzatziki. Then I got creative with scraps of fabric from charity shops for the lettuce and meat, and sewed them onto a black top, along with some painted cardboard tomatoes. The finishing flourish was the Taka Taka wrapper- I bought a wrap (for reference, as well as fulfilling desire) and cleaned and photocopied the paper.
What event did you wear the costume to?

My housemates and I threw a Halloween party at our house, where costumes were mandatory. Lots of people came, so there wasn't mushroom inside. Even though I was one of the hosts, I was pretty determined to win the promised prize for best costume (a bottle of beer that had been sitting in our fridge for twoyy months).
What kind of responses did you get when people saw the outfit?

I got a lot of great responses. People kept coming up to me and telling me how much they loved my costume, and saying 'Lettuc take a selfie with you'.
What was the reaction in Taka Taka when you turned up?

There was a pretty big queue when we arrived (approx. 3.30am, prime Taka time), but the staff spotted us almost immediately and beckoned (humm)us in. After taking our orders they invited me behind the counter (hallowed ground) for some photos- they all seemed thrilled to see a real-life wrap amongst them, and we turned to the crowd of customers and waved. I think some people were pretty confused, but the majority cheered and waved back.
Will you be frequenting the new Taka Taka when it opens next February?

I can't wait. I've heard rumours it's going to be seven times bigger than the current one, and I'm all about spreading and sharing the Taka love with a whole new generation, just like I falafel in love with them two years ago.
Can you sum up in one sentence what Taka Taka means to you?

There's too much magic at Taka Taka to roll into one sentence.