Oxford reveller celebrates mate's 21st by crashing car into lake
'The lake does sort of come out of nowhere'
national
noad
This is the moment an ordinary 21st birthday party in the countryside descended into chaos as an Oxford student drove a Volkswagen Polo into the lake –– with two passengers inside.
In the early hours of Tuesday morning, three drunken revellers veered their prized car into the water at 40 miles an hour: one rolled out before impact and the other two had to force their way out underwater.
The day after his art-themed 21st, birthday boy Will and his farmer dad fetched a tractor and slowly hauled a waterlogged Polo belonging to Oxford chum Bean out the lake.
All the original contents were still inside: a laptop, wallet, car keys, Febreeze can, Drake single Started From The Bottom, gallons of water, pond weed and a load of freshwater shrimp swimming in the headlights.
A banana, an empty wine bottle and an intact bag of completely dry weed also floated to the surface.
Watch as a borrowed tractor tries to haul out Oxford student Bean's treasured Polo before the cable snaps.
A JCB digger made the initial attempts to extract the car from the lake before a tractor took over.
Sheepish Bean had to swim to the underwater car and tie a cable around it so the farm engines could haul it out.
Then the clean up operation began as the drenched footwells had to be bailed out with buckets.
They were careering around a field and had not realised there was a lake there until they were three metres away from it.
As he powered into the water, driver Bean was accompanied by two passengers –– one made a lucky escape before the car reached the lake's edge and the other two swam to safety after they forced the doors open underwater.
The next day, the roof of the car could be seen in the murky water before it was fished out while a crowd of hungover partygoers looked on.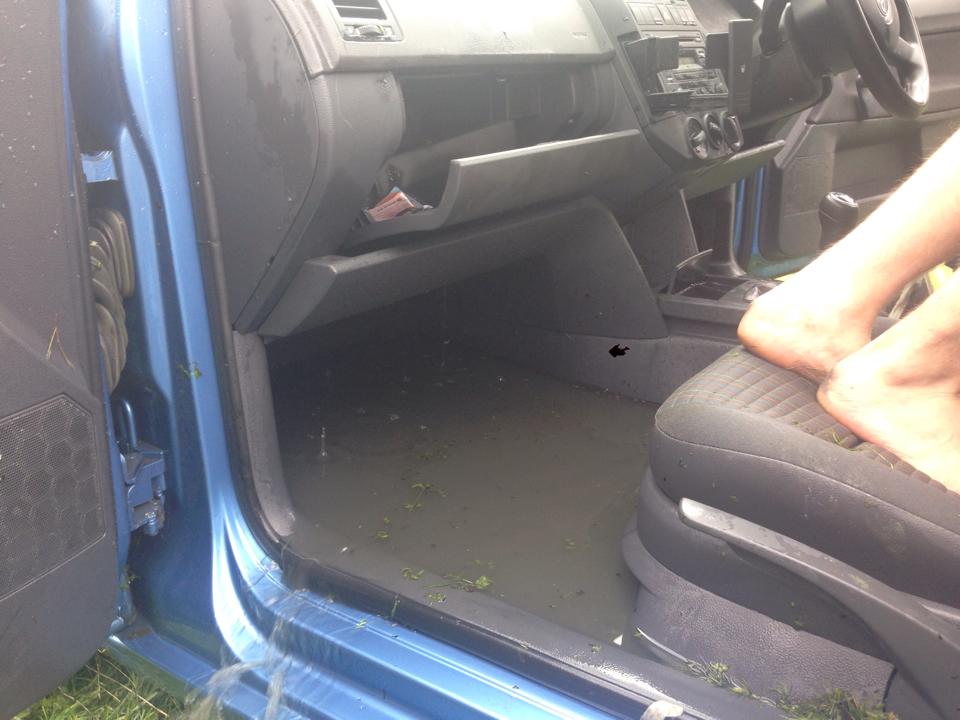 Bean said: "I feel terrible. It's not great. Literally, I mean, what do you think I'm going to feel?"
He explained when he crashed, he had been doing "lefties", left hand handbrake turns.
Will's dad, who co-ordinated the rescue mission, said: "He should have done a righty."
Guest and Leeds student Jack had tried to rescue the car with a JCB earlier in the morning.
The second year, who had come dressed as Diego Maradona, said: "When someone told me that a car went in the lake, I laughed in their faces.
"And then I went and saw and I continued to laugh."
Asked what she had thought about throwing her son a 21st birthday party, Will's mum said: "I could foresee chaos. And my insight has been justified."
But according to a number of guests, Bean is not usually the kind of person to do something like this.
Birthday boy Will, 21, who was dressed as Henry VIII, said: "He's not really that man.
"If there were people I would bet on, it wouldn't be him."
Another guest, Oxford student Josh, agreed: "It makes it even better. He is the last fucking man on earth that I would expect to drive a car into a lake.
"Out of all the people here in their cars who were so fucked, I don't know what he was looking for.
"He's just that sort of, like, quiet reserved type of bloke who was looking for a nice private spot to park his car so that he could have a little kip, and he sort of found it really. As private as you can fucking get down there.
"The lake does sort of come out of nowhere."
Guest Archie who came dressed as The Black Eyed Peas also waded into the water to help in the morning.
He said: "I feel pretty cold but I feel great. Emotionally I feel great, I feel raw, and that's what I'm all about."
On the party, he added: "I thought it was gonna be fucking mental and too right, it's been mental."
As the crowd watched the tyres finally come to rest back on dry land, Will's mother, who had kindly been feeding everyone came down to watch.
She realised too late she had made a mistake, and she ran back into the house shouting: "I think there's some rather crispy bacon in the oven."
(Photos and videos credit to Emma Lol, Llama Lowther, Ned Goodhouse, G Srednuas, Mr P. Andre and Pablo)