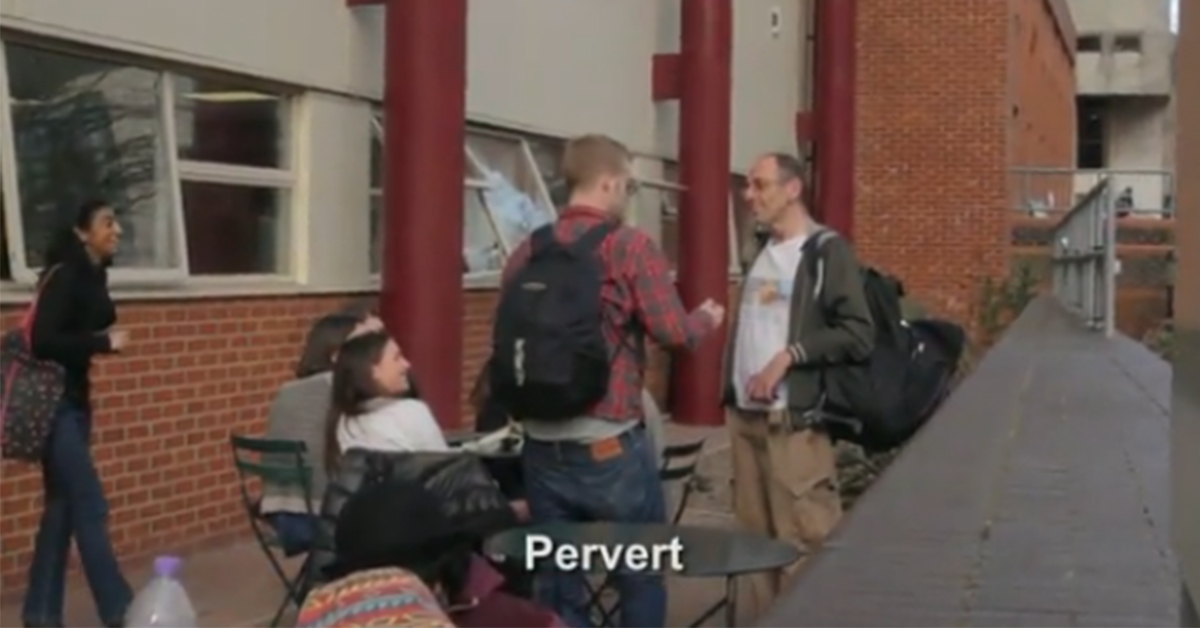 When UKIP porn baron Johnny Rockard tried to recruit girls on Bristol Uni campus
It was all going quite well until some guy called him a pervert
national
noad
Last summer, local pornstar Johnny Rockard invited The Tab to join him on a trip to Bristol uni to recruit girls for his next x-rated films.
The bizarre and surreal afternoon was caught on camera by Huw Sambrook and his friend Isaac Allen who were filming an end of year project on student sex workers for their course at Bath Spa University.
Huw had originally got in touch with Rockard (real name John Langley) to conduct a one-on-one interview about the local sex industry. When he later got in touch with the porn baron to ask for another interview, Rockard instead suggested Huw follow him round Bristol Uni campus.
"The way he suggested it, he made it sound like something he does a lot. He told us: 'This is what I do. I regularly do this in Bristol anyway'.
"The actual day was incredibly surreal. We were there to follow him around but he'd made it into this weird student press pack event with other student journalists there, including The Tab.
"It felt like a mixture of a publicity stunt and a genuine search for girls for his videos."
[vimeo 104455110 w=640 h=480]
Student Sex Workers from Huw Sambrook on Vimeo.
Huw's final video shows Rockard leafleting students outside the ASS library and sports centre and doing his best to act normal when a guy jokingly tells him he found one of Rockard's videos "very arousing".
However, not everyone saw the funny side of Rockard's presence on campus, and the video captures the moment an angry male student confronts the 59 year-old and brands him a "pervert".
Huw told us: "We were walking along through the campus when 'Johnny' spotted a group of girls sat outside, so he turned back to flyer them. About two minutes later this guy came up and started saying he was a pervert.
"They ended up having a small conversation about the moral issues of porn. 'Johnny' was not a good debater, you could see that straight away. He was cocky when we spoke to him later one-on-one but in that moment he had nothing to say. It's crazy he wants to be a politician given how bad he was at debating with this guy.
"When the guy first started to have a go at him he tried to blame it on one of the Tab writers and said he was only on campus because of her, it was bizarre."
What remains unclear is why this student felt so strongly about what Rockard was doing on campus, though Huw has his suspicions.
"You can see the guy earlier in the video when 'Johnny' is leafleting some other girls and I think one of them might have been his girlfriend. After that he followed us up the road and asked Isaac 'what's this guy doing?'
"I guess you wouldn't be happy if your girlfriend or a girl you knew was leafleted by someone wanting her to appear in porn."
Since his trip to campus, Rockard has continued to make porn videos, including what he describes as "post-porn feminism" clips featuring female performers testify to camera about how they're a feminist and they make loads of money.
In addition to this Rockard has also announced plans to run for UKIP in the local council elections under his real name John Langley. When Huw first saw the news about his old documentary subject, he was stunned.
"I couldn't believe it when I saw it, the guy just makes some bad life choices. What surprised me was he seemed quite liberal, so I thought he'd be involved with the Greens if anything. Nothing about him adds up."
So, would Huw vote for him?
Laughing at the notion, he told us: "He's a genuinely nice guy and did a lot to help with my documentary but I wouldn't want to go for a pint with him, or be represented by him. Aspects of his work are controversial and it's not something a politician should be doing.