Take a closer peek at the heroes who put ass in the ASS library
It wasn't even for charity
What's the perfect gift for a 21st birthday? A car? Loads of money? Maybe a weekend break and a piss up somewhere in Europe – Amsterdam? Prague?
Will, Ollie, Rob, George, Max and Ted knew exactly what they wanted to give their mate Jonny.
A naked calendar.
Rob explained their reasoning exclusively to The Tab: "Jonny has a reputation for getting naked on the dancefloor when he goes out – we knew we had to do the same to celebrate his 21st."
These guys bravely got their cocks and balls out across Bristol. This is their story.
The ASS Library
The most famous photo in the collection has earned almost 1,500 likes on Facebook to date.
Getting naked in the ASS required military precision: after a dress rehearsal (nothing was left to chance), the boys stripped in the 3rd floor gents toilets at 9.30pm and waited for a signal to get into position.
According to George the whole thing was over in 5 seconds and gave him an adrenaline rush "unlike anything I've ever experienced".
A librarygoer definitely saw some balls at the time: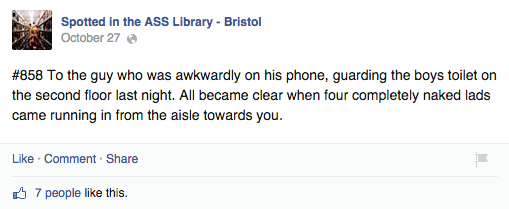 Cabot Tower
Cabot Tower presented a whole new set of technical challenges for our squad.
Playing it as safely as possible they headed there just before the tower was due to close – thinking nobody would be around to see them stark bollock naked.
That was when an entire school trip decided to start coming up the stairs.
Will said: "We had to get our photographer to block the stairs while we got our pants on".
Outdoor Gym
Rob was particularly happy with this picture – lots of straight lines and some "Zeus-like" bodies on show.
Hampton Road
Check out the car in the background of this shot.
Ted said: "They had to stop because it's a zebra crossing".
"This was full exposure so we had to be professional – our clothes were on and off again in ten seconds."
Horsing Around
"We did get a bit Brokeback with this one" admits George.
The Clifton Suspension Bridge
The last photo in the collection is special for a number of reasons.
Rob said: "I think there's a real mood of reflection here and a bridge is symbolic of all kinds of things."
This pic also went down well with members of the general public who were enjoying a few furtive spliffs near the tower at the time.
Ted said: "They thought it was hilarious".
Aftermath
Did Jonny enjoy his birthday present? Silly question.
"He absolutely loved it" said Will.
"He was actually moved to tears."
Rob told The Tab what was next for Bristol's favourite nudists following their newfound fame.
"We'd like to stage a naked boxing match for charity."