This is the only app you need to be part of your university community
It's like your own personal social sec without all the 'shots shots SHOTS'
A new term is about to arrive and the first thing on your mind is going out. Socialising at uni has become harder thanks to social distancing rules, face masks, hand san and dreaded Zoom calls. Making sure you're on top of your work, prepared to move into your new room and successful in finding lifelong friends is suddenly 10 times more complicated.
But, don't panic. With unfortunate life problems, often comes a very handy app to make these situations easier. Unifi is that app and it's being released at 30 of the top universities starting this September.
All the tips your older sibling or cool Maths teacher gave you about making friends at uni – like getting in the right groups on Facebook, finding people in the same halls as you or setting your Tinder to Leeds and hoping it'll help you make some friends – this app does for you and puts it all in one place. It's like your very own personal social sec without all the "down it fresher!!!" and "shots shots SHOTS".
Here's every reason why you should download the Unifi app in preparation for uni this September:
Discover everyone at your uni
You can set up a profile with a picture of you, your course and year, and there will be a "discover" section where you can see other students' profiles and find people with similar interests to you.
All university group chats in one place
The app will host all course, sport, accommodation and freshers group chats, to save you desperately scrolling through Facebook looking for the right ones.
It's also a place where sports teams and societies can set up their page so all relevant group chats, socials, pub trips and initiations will be under one app.
Check out all the best events going on nearby via the app
Socials are made even easier because this app allows you to create events which any students on the app can join. Plus, you can find local events with popular pubs and clubs as they'll be advertising on the app as well.
Every uni has its own community Hub making your feed relevant to you
Depending on which uni you're attending will determine which community you have access to, so if you're at Warwick you don't have to worry about Coventry students popping into your group chats. This also means that everything you see on your Unifi feed will be relevant to your uni life, keeping you constantly up to date and in touch with student news you actually care about.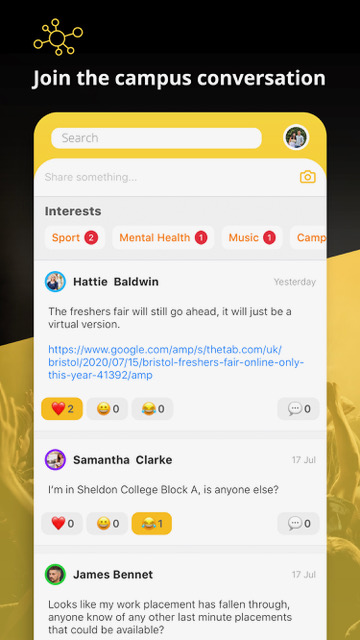 After you've successfully made some mates, you'll probably be in desperate need of employment and a bit more money. Unifi sorts both with their campus-wide marketplace for buying and selling products and services ranging from textbooks and clothes, to guitar lessons. There will also be a jobs board where you can search for part-time jobs and local vacancies directly through the app.
Everyone says uni are the best years of their life and it's true, however, about 95 per cent of this is based on the people they were lucky enough to meet. And I say lucky because so much of it is based on being in the right place, at the right time, with the right people. Unifi gives you more flexibility and loads more options. So, even if you think you've found your best mate on day one but quickly realise he's actually very pass agg and against all noise, you can just pop onto the app and hunt for some new friends.
Unifi already have 20,000 students on the app. Current students can use their university email address to gain access to Unifi from September 15th. Any upcoming freshers keen to get into group chats ASAP before term starts can use their UCAS number and set up a profile now.