You can now save the planet by recycling your old, unwearable clothes to H&M
It's less hassle than trying to sell your dead old tracksuits on Depop
Hey you! Yeah you! Don't know if you've heard the word on the street, but the planet is on fire! Freaking out? You should be! Everything, from going on holiday to throwing away rubbish, seems to produce toxic gasses or are just generally bad for the planet, so how on this very very hot Earth are we supposed to actually do anything about it?
Well, there's something you can personally do to minimise your impact: recycle your old clothes. 95 per cent of fabric that ends up in landfills could be recycled, and if you didn't already know, landfills full of rotting rubbish produce methane, a gas which is a huge contributor to global warming. So, when you get rid of your old garms in alternative ways, you're helping reduce this problem. And the best news is H&M can help you do this.
---
Hand in your old, unwanted clothes to H&M and they'll give you a £5 voucher to spend when you make a purchase of £25 or more – find out more about H&M's Garment Recycling Programme here
---
H&M are running a Garment Recycling Programme, an international initiative to stop unwanted clothes and fabrics being dumped in landfills. Every UK H&M store has a Garment Recycling box, meaning that there are over 260 places to recycle your old clothes up and down the country. Last year they collected over 20,000 tonnes of old clothes, the equivalent of more than 100 million t-shirts.
The best thing is, it's really simple to do – just bag up your unwanted clothes, towels, bed linen, fabric scraps, ANYTHING, bring it into your nearest H&M store, and deposit the bags in the Garment Recycling box next to the till.
H&M, in partnership with I:CO, a textile sorting and recycling company, will then recycle your old clothes in three ways; they'll sell re-wearable clothes second hand, they'll re-use unwearable clothes for other products like car insulation or cleaning cloths, or they'll recycle everything completely unuseable into textile fibres. Basically, zero per cent of the clothes collected go to landfill, and any profits made during the recycling process go to the British Red Cross.
As if becoming an eco-warrior and literally helping save the world wasn't enough of an incentive to recycle your old stuff, H&M will also give you a £5 voucher for whenever you next spend £25 or over – you'll get a voucher for every bag you bring, so generous.
---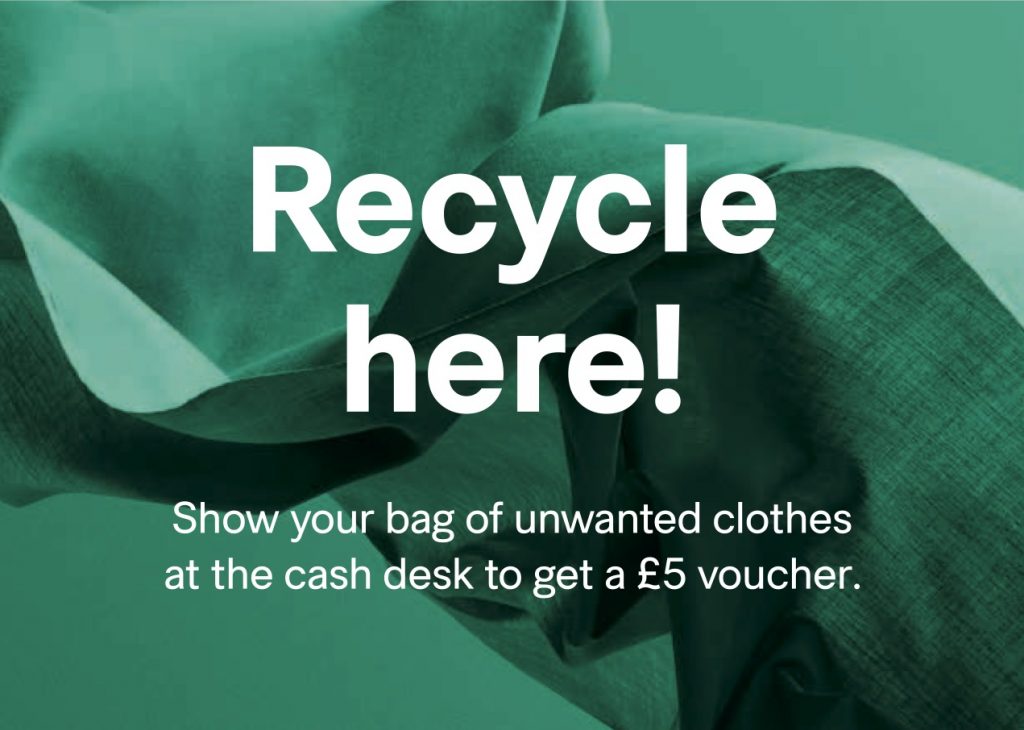 95 per cent of textiles that end up in landfills are recyclable – H&M's Garment Recycling Programme aims to end this
Bag up your unwanted clothes, towels and bedlinen and hand it in at any H&M store – you'll receive a £5 voucher to say thanks
Click here to find out more about how H&M is working to make fashion more sustainable