Check out the latest capsule Pride drop from H&M
10 per cent of the profits go to the UN Free & Equal campaign
It's June, meaning that summer is apparently here, love (island) is in the air, and Pride month is in full swing. With loads of fun Pride events taking place up and down the country, we're set to be served a whole range of fierce looks.
To celebrate Pride in all its sartorial wonder, as part of its Love For All campaign, H&M has released a capsule collection for people of all identities, with something for literally everyone. And what's more, 10 per cent of the sales price will be donated to the UN Free & Equal campaign, which is working towards equal rights and fair treatment for lesbian, gay, bi, trans and intersex people around the world. The campaign features local LGBTQI, ambassadors and activists including Tanya Compas, Reece Daniels, Charlie Craggs, Tyler Wright, Charlie Barker, Girli, Dolly Pawton and her mums Stella & Lucy.
The collection ranges from slogan t-shirts to sportswear-inspired pieces and accessories – in true Pride style, the pieces are colourful, vibrant and joyful, but can be dressed up or down to truly match your unique look.
It will be available in selected UK and Ireland stores, as well as on H&M's website from the 20th June. Take a look at what the range has to offer here:
H&M are launching their new Pride Collection on the 20th June at selected UK and Ireland stores – read more about the campaign and check out the collection here
H&M Body with cape – £19.99
H&M Long-Sleeved Top with Rainbow Detail – £17.99
Get all the fun garms you need for Pride, while helping out an equal rights campaign – check out H&M's new capsule Pride collection now
H&M Rainbow Crop Top with Reversible Sequins – £14.99
H&M Rainbow Sports T-Shirt – £17.99
Start your summer of love off on the right foot when you shop H&M's Pride collection now – 10 per cent of the sales price goes to the UN Free and Equal campaign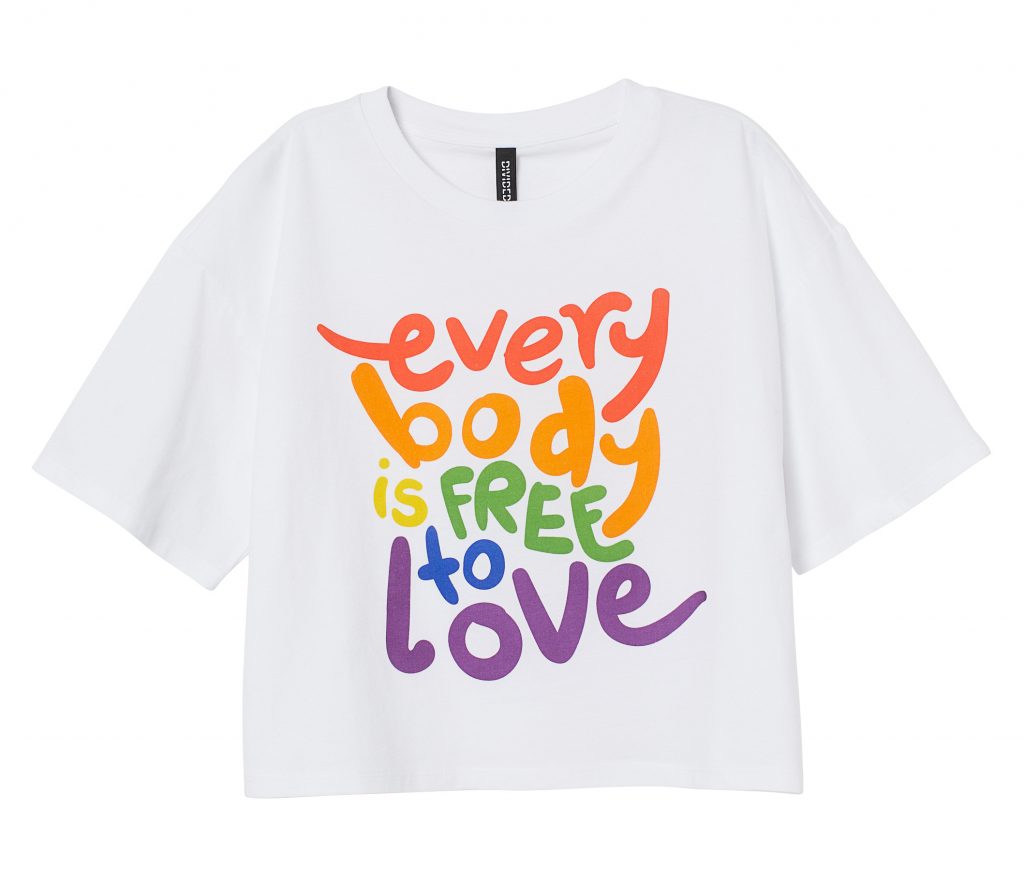 H&M Everybody is Free to Love T-Shirt – £12.99
H&M Rainbow Side-Stripe Trousers – £24.99
Whatever your style, there's truly something for everyone in H&M's capsule Pride collection – find out more here
H&M Rainbow Co-Ord Crop Top – £3.99
H&M Rainbow Co-Ord Cycling Shorts – £8.99
Check out H&M's capsule Pride collection from the 20th June – get the most vibrant new garms and learn about the Love For All campaign here
H&M Rainbow Cap – £8.99
H&M Black Shorts with Reversible Sequins – £12.99
H&M's new capsule Pride collection caters for people of all genders – shop the range and read more about the Love For All campaign now
H&M Pride Tank Top – £8.99
H&M Cropped Love Hoodie – £14.99
Don't miss out on H&M's new Pride collection – check out the full range here
H&M Rainbow Shorts – £17.99
H&M Sequin New York City T-Shirt – £12.99
H&M Proud Sliders – £12.99
From the 20th June, H&M are launching a new capsule Pride collection as part of their Love For All campaign
Plus, 10 per cent of the profits go to the UN Free & Equal campaign
Whoever you love and whatever you like to wear, there's something for everyone in H&M's Pride collection – shop the range now