Here's why a career in teaching gives you so much more than just classroom based skills
Not everyone knows what they want to do after uni. In fact, I'm pretty sure every grad has a quarter-life crisis at some point before they graduate. With so many choices out there, everyone has considered going on a permanent gap year to live on a beach at least once. Or twice. Okay, maybe three times.
Luckily, there's a stepping stone on the path to adulthood – grad schemes. The Teach First Leadership Development Programme will give you the skills needed to thrive both in and out of the classroom. We spoke to Habiba, a grad two years into the programme, about how her experience teaching has given her the necessary skills to develop her career.
Habiba, studied Mathematics at Queen Mary
Coming up to graduation I was looking into finance, accounting, actuary and the Civil Service, but when I got my offer from Teach First I just grabbed it. Teach First have partnerships with industry-leading companies, so I knew that I'd have the relevant skills and contacts for a whole range of roles if teaching ended up not being for me. 
When I was at school I had a maths teacher who fought for me to stay in the top set. I think part of that stuck with me and made me want to help other kids in the same way. Plus, Teach First's structured programme really appealed to me as it meant I could go straight into teaching without having to go back to uni first. 
---
Teach First will fund your PGDE (twice the credits of a standard PGCE) and pay you to teach at the same time – apply now
---
The initial Teach First training was helpful, but quite intense. Although there was a lot of content, the structure of the programme meant that I was able to learn everything really quickly. Compared to other grad schemes, Teach First's programme works at a much quicker pace because we're put in a classroom from day one. 
Being a form tutor also gave me a different perspective on teaching. Students would come up to me and talk about the things they were going through. It was really nice knowing that I could be there for them on an emotional level and provide a safe space if they wanted to talk through their problems.
Having these conversations also helped me develop my own communication and conflict resolution skills – skills that I was able to use during my summer internship and project with PwC last year. Being a teacher has definitely helped me develop skills that allow me to grow both in and out of the classroom.
---
Whether you're passionate about maths or another subject, Teach First are looking for grads to join their Leadership Development Programme and get paid to make a difference – click here for more information
---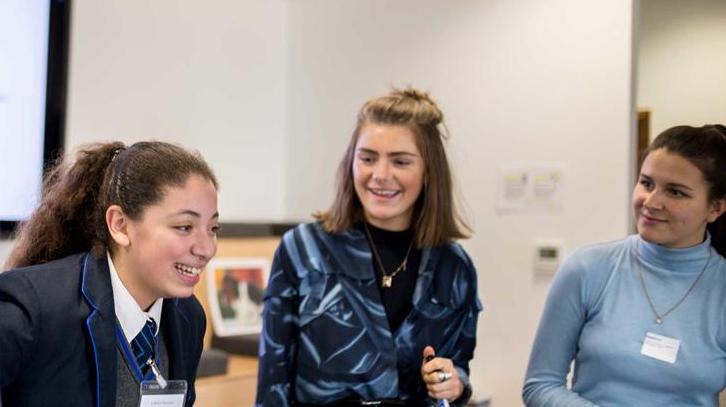 I think the best part of teaching is helping the kids understand something, and seeing them apply it to their work. When they do well in their tests it's so satisfying. Even little things, like having a good lesson where they all leave saying "Thank you Miss", can be really rewarding. 
I know when I go in to teach, no two days will be the same. Teaching has taught me how to manage my time effectively and work efficiently. There's always something to do, and because the lessons are at a fixed time, I've learned how to revolve my other work around that.  
---
Apply for the Teach First Leadership Development Programme and make a difference to students' lives, be paid to train and enjoy over ninety days holiday a year
---
Teaching can be both an amazing and a stressful experience, sometimes at the same time. There have been times when it feels too hectic and I wish I'd taken a job where I just sit down and look at a computer or something. But, then I would have missed out on the varied experiences I get teaching and the important skills I've learnt from it all. That's one thing I can definitely say about teaching, it's never boring.
Through teaching, I've learnt how to work both independently and as a team. My daily role requires me to work on my own, and there are many occasions when everyone in the department works together. I've also developed my leadership skills, taking the initiative when making decisions for my classes and putting recommendations forward to help pupils.
As well as giving me the opportunity to teach, Teach First has helped me gain experience across other business areas. I would never have been introduced to the world of cybersecurity if I hadn't completed a Teach First project at PwC last year. Without the skills and contacts made through Teach First's Leadership Development Programme, I wouldn't be where I am now, having secured a job at one of the largest auditing firms in the world.
No matter your degree, you could get access to amazing career opportunities and get paid to develop transferable skills
---