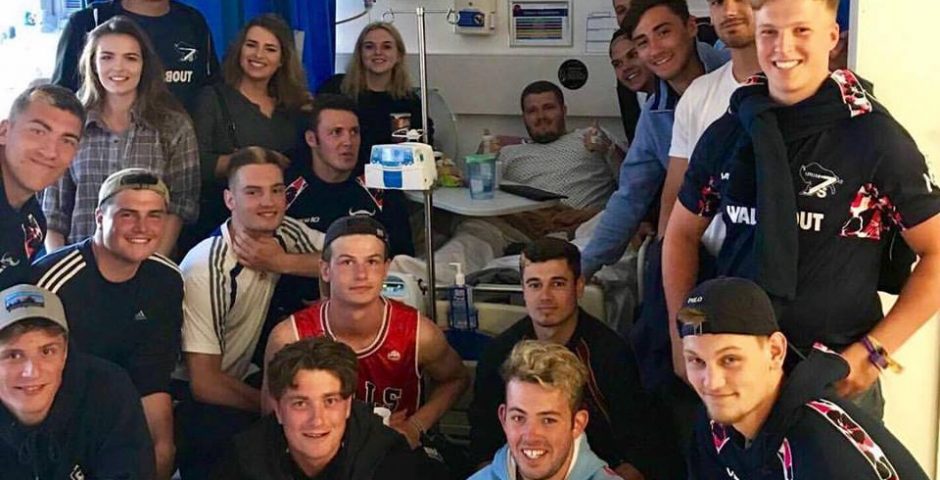 'I wouldn't wish this on my most hated enemy': BU rugby player paralysed on his way to summer ball
A spinal injury means he may not walk again
A Bournemouth rugby player might not be able to walk again after a spinal injury was triggered on the way to summer ball.
During the journey to the event, Liam Mcgarry was jolted when the bus he was on went over a bump in the road. Separated from his friends earlier on, Liam was travelling solo on the journey.
He'd felt unstable earlier on in the day, but recovered enough to make his way to the bus.
Named a 'brute of a man' by his friends, Liam waits in hospital with the support of his family and the brotherhood of the rugby team.
His teammate Nathan Perren heard of the news late. He told The Tab: "The worst thing about this entire situation is that no one knew this was happening until he was well on his way to hospital and he was all alone. Everyone felt terrible once we came to our senses, as we were filled in on the situation throughout the evening of summer ball."
It wasn't until he tried to get off the bus that he realised he couldn't move his legs at all.
Nathan added: "When he tried to stand, he couldn't move and collapsed as soon as he was off his seat, he tried to drag himself off the bus."
The bus driver then went upstairs to where Liam was sat, and called the emergency services as soon as he figured out what was going on.
As this was a spinal injury, the emergency services had to cut Liam out of the bus through a hole in the roof, whilst his friends had no idea what was going on.
He had been playing in Bournemouth Sevens only a few weeks before, where he took some knocks playing for BU's social team.
The team have visited Liam in Southampton Hospital, which Nathan said was without a dry eye in the house: "It was the hardest thing to see this big brute of a man being torn apart emotionally by a freak accident, but he did his best to be his normal self, cracking jokes and keeping us all entertained.
"We were all so upset for the guy, it just wasn't fair.
"In the words of Liam, "I wouldn't wish this on my most hated enemy!"
Liam has received "immaculate" support, with his family, friends and girlfriend at his bedside constantly waiting for the latest news on his condition and giving unwavering support.
Doctors are unsure what has happened to Liam's spine, calling him a medical mystery after a spinal stroke was ruled out.
The BURFC have themselves said this has shown their true colours as a brotherhood and things will only get better with them all by his side. The team had previously shown their amazing team spirit when they were refused entry to sports ball so threw their own formal instead.
Liam is currently waiting for a bed so he can be moved to Salisbury hospital where there is a specialised unit that caters for patients with spinal injuries.
A crowdfunding page has been set up by his loved ones, where any donations are welcome to contribute towards Liam's care.