Greggs x Primark: We visited the collab that's got everyone talking
Because nothing screams class like sausage roll socks
Birmingham. A city home to six Michelin stars, numerous Peaky Blinders themed pubs, and, most recently, the long-awaited collaboration between Greggs and Primark.
But what does a GreggsxPrimark collab really feel like? Are the clothes infused with the smell of sausage rolls? Will you be forced to wait for 100 years in the Primark queue just for a flat white?
We braved the high street to tell you if it's really worth the hype.
Aesthetics
Realistically, you've stepped into 'Tasty" (the official name of the Greggs café inside of Primark) for one of two reasons – you need a break from the thousands of people shoving their way through Primark, or you want a fresh pic for your insta. Either way, you'll be met with some colourful décor.
The café itself is filled with doughnut themed decorations, including a sprinkle doughnut swing perfect for getting that quirky photo for your social media. Similarly, some of the booths are doughnut themed (although good luck trying to bag one of these seats at the weekend).
Now, doughnuts make sense, it is Greggs after all. But whoever decided to include a section of astroturf with picnic benches on it… are you okay? We can all go a bit delirious if we're amongst the Primark chaos for too long, so I can only assume that's what happened here. As for the white phone box, that has to be an odd way to try to appeal to tourists? We may have found it weird, but credit where credit is due, people did seem to be enjoying the photo opportunity.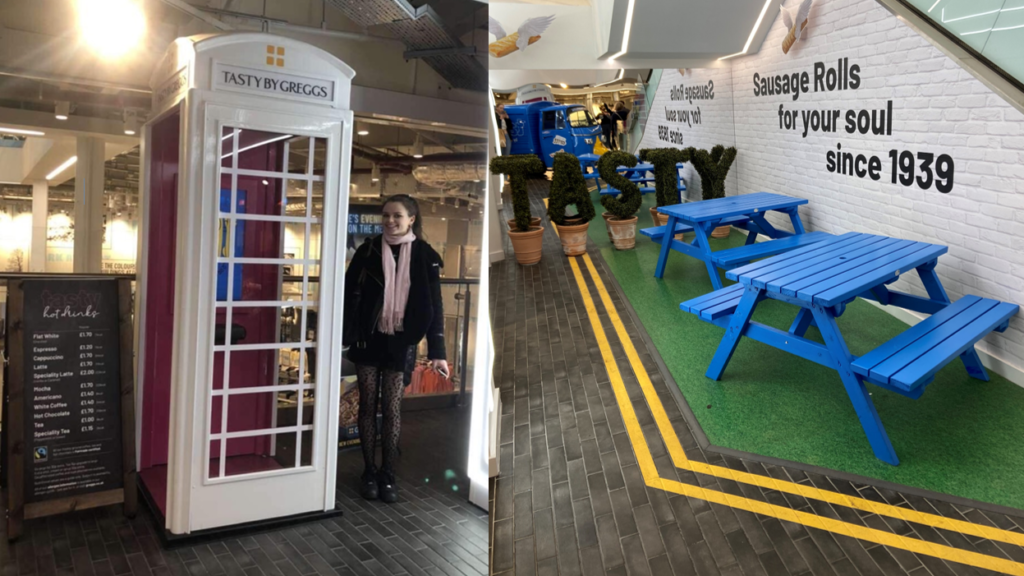 Food
Sorry to disappoint here, but there really isn't much to say. It is, plain and simple, a Greggs. Enjoy an extensive selection of all of your usual favourites, both meaty and vegan, hot and cold, with low priced hot drinks too. The one difference is that they do have a cute little blue food van styled like a tuk-tuk serving coffee (although this was closed on the Sunday that we went) to help queue-bust on busy days.
There seemed to be ample seating which was surprising on a weekend, and the food was kept well stocked throughout the day.
Clothing
The notion of a Greggs clothing line may seem odd at first, but there's something about it that is honestly quite tempting.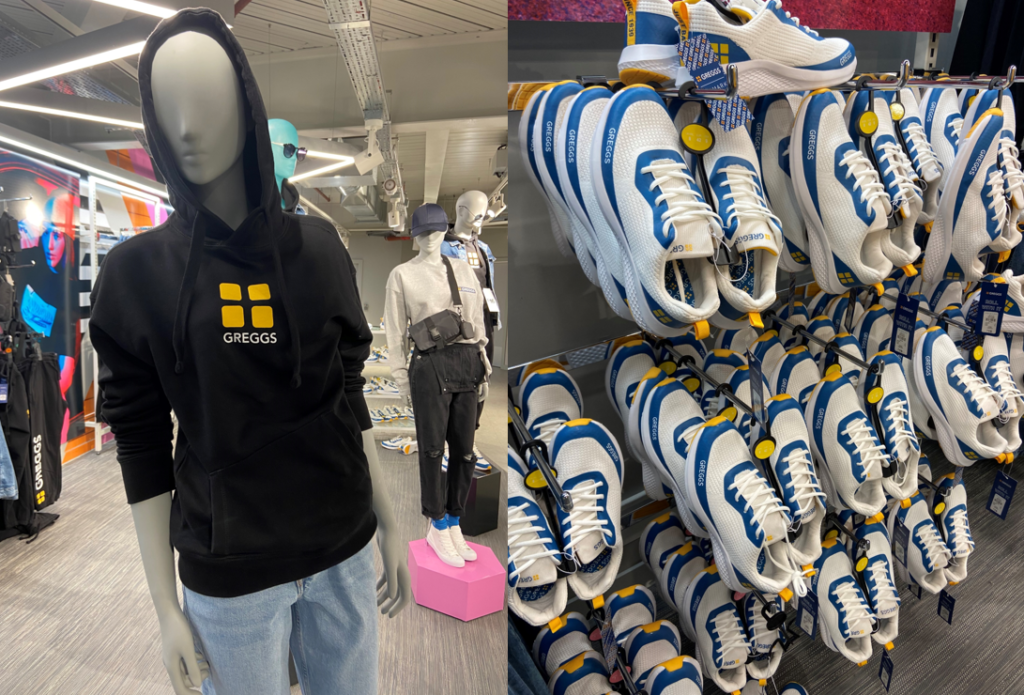 The store was filled with various hoodies, tracksuit bottoms and trainers featuring the famous Greggs logo. There was also a lone box of men's boxer shorts left on the shelf, suggesting that a Greggs emblazoned groin is actually quite fashionable. Although online sources show mythical socks and bucket hats as part of the collection, these were clearly the most popular items, and were – unsurprisingly – sold out on a Sunday afternoon.
Could I be tempted to buy a Greggs hoodie? At Primark prices? 100 %. But I don't think I'll be stretching to un-ironically wearing chunky Greggs trainers anytime soon.
Final Thoughts
All in all, the Greggs x Primark collab is definitely worth a visit. The one-of-a-kind novelty factor makes it intriguing, and the café provides well-needed respite from the Primark pandemonium. Who could blame you if you grab a sausage roll whilst you're there – or even some sausage roll boxers!
Related stories recommended by this writer:
• Here are cheapest flights abroad from Birmingham for your reading week holiday
• Circo, Aston, Selly: All the Wordles you could make relating to UoB
• We've rounded up the best Twitter reactions from last night's earthquake in Birmingham