Here are UoB's biggest TikTok stars
One of them has had over 10 million views on a video
TikTok is arguably one of the only good things to occur in the chaos of 2020 (and if you still think it's cringey you need to get a grip).
We all know and simp over the big names: Addison Rae, Noah Beck etc etc. However did you know we have some big TikTokers among us at UoB!
The Birmingham Tab has compiled a list of UoB's biggest TikTok stars. Keep reading to find out who….
Jimber Zoilo, second year, Psychology
UoB's very own BTEC Bretman Rock, this BNOC has racked up a respectable 16.7k for his comedic content.
TikTok username: jimberrrrrr
Most viewed video: 593k for a tiktok set to a High School Musical sound – no complaints.
TikTok crush? No however he admits "there are definitely some fit people on the app."
Has he made any money? Not yet.
Sophia Herouvin, third year, Sport and Exercise Science

Neck and neck with Jimber we have Sophia, also with an impressive 16.7k. Among her more popular videos is the scandalous 'rating places on campus where I've…..' (you can finish that sentence).
TikTok username: sphere_herouvin
Most viewed video: 577k for a video sadly too inappropriate to depict here…you'll have to go and find it yourself.
TikTok crush? Elis Watts. Fun fact is Sophia matched with him on Tinder, her claim to fame. Let's not mention he's only 18 years old…
Has she made any money? Sophia has apparently been offered a lot of collaborations – Molly Mae who?

Nicole Mutchell, first year, Business Management
Our first fresher of the list is Nicole with 25.9k followers. You'll see her recent content in the backdrop of a Tory tower flat.
TikTok username: nicolemutchell
Most viewed video: 1.9million views for a TikTok of Nicole trying to hide spinach in her boyfriend's food because he won't eat vegetables.
TikTok crush? Noah Beck
Has she made any money? Apparently so as she is on the TikTok Creator Fund.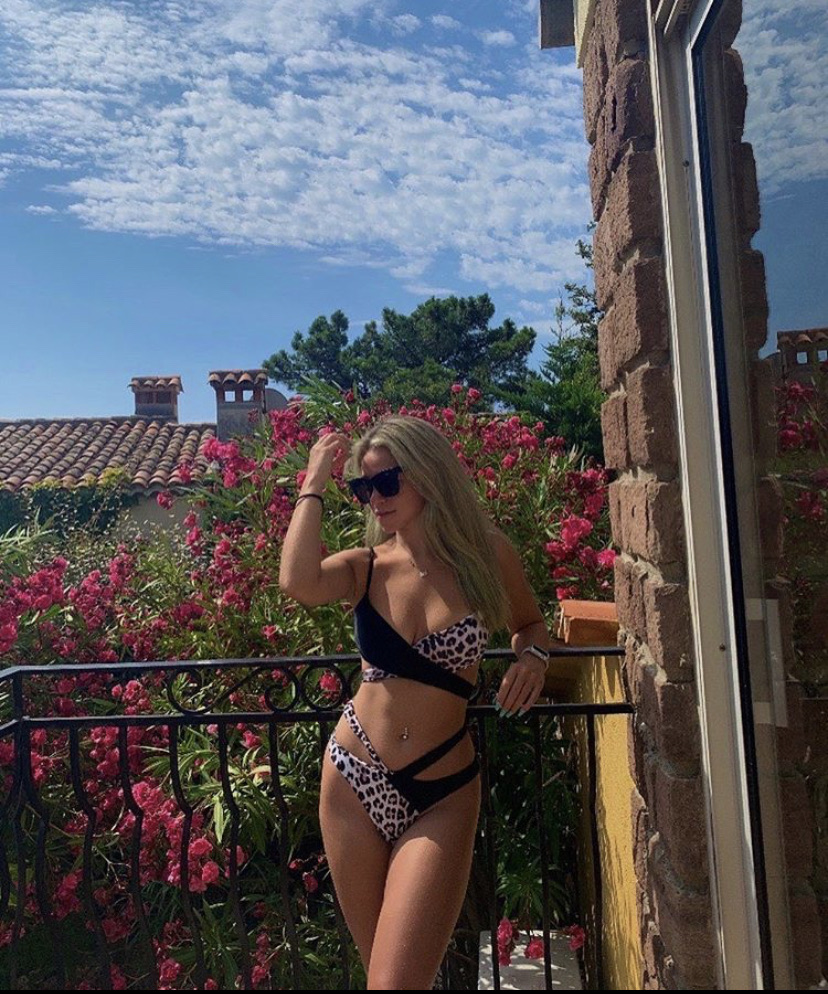 Keziah Turner, third year, Modern Languages
Some may know her as the vice-president of BUDS, Kezzie is also the self-proclaimed CEO of jeans on TikTok and her videos trying on jeans have earned her 35k followers.
TikTok username: kezzie_turner
Most viewed video: 1.5 million views for one of these infamous jeans TikToks
TikTok crush? No longer as Noah Beck has apparently become too cringey even for Keziah.
Has she made any money? Yes, she says "I've told everyone it's my Christmas present fund"
Catherine Allen, third year, PPE
Next up we have Cath. She's accumulated a hefty 59.8k and has the most viewed video on the list…
TikTok username: catherineallen_1
Most viewed video: 10 million views (geez) for a TikTok of a coin trick.
TikTok crush? Again we have Noah Beck as the answer here, who Cath names "the most beautiful boy."
Has she made any money? She explained to me she is also on the Creator Fund but that it is "actually a lot worse than everyone thinks!" with a video of 50k views earning only £2.
Amy Harriet, first year, Drama and Theatre Arts
With a whopping 119.4k followers and 2.7 million likes, Amy tops our UoB TikTokkers list and her videos range from beatboxing to a tutorial on how to lace your shoes (what a talent).
TikTok username: amyharrietx
Most viewed video: 2.3 million views for a video of her singing while lying down – impressive stuff.
TikTok crush? She says not, however she explained that she has made friends with a lot of TikTokkers through the app.
Has she made any money? She makes money through views, live streams and collaborations with brands – yikes we definitely have a Tiktok star on our hands here.
Related stories recommended by the writer:
• All of the best things to get up to in isolation from your very own UOB students
• Breaking: Lab 11 fined £10,000 for breaking coronavirus rules