Nine out of ten international students satisfied with UOB
86% of international students would recommend the uni to others
international students
the tab
the tab birmingham
the tab brum
university of birmingham
UoB
A recent, leading survey revealed that nine out of ten international students studying at the Univeristy of Birmingham are satisfied with their experience. Additionally, more than eight out of ten would suggest it to their friends.
The latest International Student Barometer (ISB) Autumn 2015 wave emphasised that UOB is maintaining satisfaction levels year after year among students coming from overseas. Around 2,300 students at the uni took part in the survey, 35% of the international student section overall, which stands at around 6,600.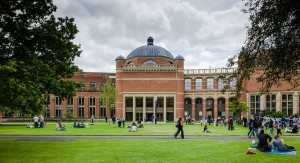 Education
The University of Birmingham scored highly in key areas of learning, such as the expertise of lecturers in their subject (95%) and their teaching ability (93%), as well as fair and transparent assessment of work (93%) and academic content of their course (92%).
Living
International students at the University gave high ratings for quality of living. The quality of the external campus environment scored 93% and the design and quality of the campus buildings achieved 91%. Moreover, 92% of international students were satisfied with the City of Birmingham in general.
University services
The University's Careers Network attained 97% student satisfaction, which isn't surprising, as UOB is The Times/The Sunday Times' University of the Year for Graduate Employability. We also rank first among the 13 surveyed Russell Group institutions for "Advice and guidance on long-term job opportunities and careers from academic staff".  Furthermore, international students rated The Guild of Students highly (96%) and were impressed with the clubs and societies at UoB (95%).
Other crucial aspects international students were pleased with were the University's eco-friendly point of view to the environment (89%) and transport facilities (89%), as well as feeling safe and secure overall (88%). Welcoming international students to Birmingham achieved high scores with enrolment/academic registration rated at 88%, and meeting academic staff at 93%.
Pro-Vice Chancellor for Education and Chair of the International Student Experience Group, Professor Jeff Bale, said:
"I am delighted that so many of our international students continue to be satisfied with the quality of learning and life they enjoy at the University of Birmingham and would recommend us to other overseas students.

"I believe this year's responses show that the University of Birmingham continues to grow as a global university, which is highly attractive to international students."