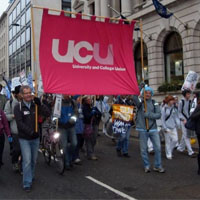 School's Out: No Uni On October 31st
Strike action coming to a lecture theatre near you
Lecturers across the country are poised to strike on Halloween after voting in favour of industrial action as part of a dispute over pay.
Demanding a pay rise, almost two-thirds of University and College Union (UCU) members have backed the walk out, with more unions following their lead.
UCU is the largest further education union in the country and is being joined by the Unison and Unite in the mass strike.
The unions' action is expected to cause major disturbances to universities across the UK.
The results of the poll, held last week, showed that 61.5% of UCU members supported the strike.
Today the unions announced October 31st as the date for the protest.
Unite's national officer for education, Mike McCartney, said: "Our members have had enough of the poverty pay increases of recent years. They have suffered a 13 per cent realterms pay cut since 2008 and have been left with no option but to fight for what's fair."