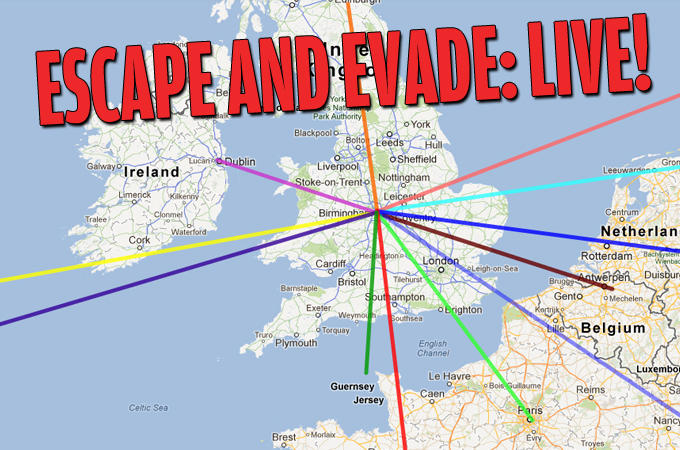 Escape and Evade
Follow Carnival Rag's Escape and Evade LIVE here!
We will be updating you live with the progress of each team in Carnival Rag's 'Escape and Evade'
Ash Green and Laura Burney, Tour De Bants are the winners of Carnival RAG's Escape and Evade 2013 after reaching Ternopil, Ukraine, 1205 miles from Birmingham! Great effort from all teams, who have raised over £12k for charity. Big up to Carnival Rag team. The Tab team will be entering next year!
  18.00 Heads Up Thumbs Down finishing in Florence 17.30 Los Amigos Rapidos finishing up in Barcelona
17.25 Here for Beer are also calling it a day in Prague 17.02 Are we there yet? have reached in Milan and are finishing there 17.00 Tour de Bantz have arrived in Tenopil (Ukraine) and it looks like they've won this! 16.30 RedGhee Steady Go have finished up in Prague. Well done team
16.30 The Aldi Experience are trudging on through to Southern Italy 16.00 Jarrat Jaunt have finished in Zurich. Cracking effort
14.05 RedGhee Steady Go have had a few hours of failed hitching, so have decided to stay in Prague.
13.55 All or Nothing are on a high speed train to Rome
13.45 Put That Map Down having fun in the sun
13.22 Living on the Edge are rubbing it in just a tad…
13.15 Get Me Out of Here are currently pondering on what to do/see in Budapest. Enjoy!
13.00 PreznDubz have had a tough night it seems! Battling on, however!
12.50 Deadliest Men are in Budapest with Get Me Out of Here they're having lunch together in a little cafe
12.45 Angry Birds are on route to Slovenia with a lady called Pamola
12.43 Team Moe Having had a wonderful rest in San Sebastine they are now on route to Bilbao with a coach full of commonwealth athletes! Wheyyy
12.42 PreznDubz are in poland- how're those long-johns working out for you Pres?
12.43 Bacon Double Cheese Burger a kind stranger has given these guys their train fare to Naples! 12.40 Bacon Double Cheese Burger have tweeted us this pic from Rome
12.37 Get me out of here have had enough and are quitting the race at Budapest. Great effort team 12.35 Are we there yet have been fined €100 on a Swiss train…ouch 12.30 Brummy Away are in a sports car to Fierenze- we like your style! 12.14 To Infinity are currently in a truck called 'Hell Boy' from Toulouse into Spain 11.35 Jarrat Jaunt are in Switzerland 11.30 Floppy ears and Curly whiskers are a wee bit cold and hoping that someone will take them further South in Croatia. At least they're not stuck in the ice-rink that is currently Selly. 11.15 Team Moe have well and truly upped their game!
11.10 The Aldi Experience are high on life!
11.00 Living on the edge we should confirm, are not in prison and are happily on their way to Spain. Well played. 10.50 Living on the edge had an eventful night, and were told that if they didn't pay the train fee they'd go to prison! Yikes! 10.30 Tour de Bantz are in the lead by about 100 miles and are heading into Romania! But Team Horizon are on their trail…
10.20 Angry Birds are feeling a little down! Give them some support guys!
10.12 Tribe of Pandas made it to Perpignan. 10.11 Prirral are spending the morning in Rotterdam. 9.41 Head's Down Thumbs Up have a lift to Bologna. 9.40 Team Horizon have a hitch to Krakow and beyond. 9.32 Get Me Out Of Here are in Budapest. 9.19 Brumming Away are having breakfast in Milan…alright for some! Although, bet there's no Cafe Face in Milan. 9.08 Are We There Yet? got the train to Zurich. 8.34 Sollie Go On Holidayare in the car headed to Rome.
8.19 Where's warty and wildbore are heading to Barcelona 8.12 Bayer neverlusen are still in Cologne 8.10 Red-Ghee Steady Go kept going overnight and are now on the way to Prague! 8.08 Los Amigos Rapidos are on their way to Figueres, Spain and then hitting Barca Day 3 00.48 Team Moe are in a hostel in Donotia San Sebastine, NW Spain and about to get some sleep. 22.10 Not in Brum hope to be in Barcelona by tomorrow lunch time 21.45 Are we there yet? Making the rest of us jealous that we're not doing this.
21.43 Bacon Double Cheese Burger have got to make 4 changes but are being troopers and carrying on until they reach Rome! 21.40 Are we there yet have taken refuge at a hostel in Switzerland after hitching two rides. Get some zzz's guys 21.22 PreznDubz Phwoaaaar, check out the Pres in his long-johns!
21.03 Team Moe are heading to Araia (in Spain for the less-educated amongst us) 21.01 PreznDubz have managed to locate Wifi in Maccy D's- Berlin station. They're hoping to be off to Warsaw in the morning. Nice work Pres- try and blag a free Big Mac. #cosyouarethepresident 20.58 Floppy ears and Curly whiskers have scored a Maccy D's!
18.47 Living on the edge are looking for a hitch to Toulouse…Spain is in sight! 18.02 PreznDubz are in Berlin and can't decide between Poland or Prague! 17.55 Deadliest Men are unsure on which way to turn…
16.00 The Aldi Experience have managed to avoid a hefty fine on a train in Marseilles 15.00 Tour de Bantz might just be in the lead…
12.58 Our Mums Don't Know We're Doing This are in La Rochelle. 12.50 Team Horizon are in Liepzig. 12.36 Angry Birds have joined a football tour bus and are headed to Verona. 12.25 Eurotrip are also being fined for having no ticket on a train in Switzerland – won't these train guards think of the charities! 12.21 Heads Down Thumbs Up are on a train heading for Logarno in south Switzerland and have just been fined.
11.38 Here For Beer beat them to it and have just landed in Munich. 11.33 Get Me Out Of Here are on a train to Munich. 11.30 Jarret Jaunt are on their way to Lenham where a lorry will pick them up and take them to Italy. 10.52 Heads Down Thumbs Up and Eurotrip arrive in Zurich, hoping to get a train to Milan. 10.50 Idiots Abroad After a rest at a hotel in Calais, due to a lift from the lovely Olivia & Kevin, the girls are now on their way to get a new hitch!
10:42 Are We There Yet? have hitched a ride from Brussels to Luxembourg with a friendly guy named Nick 8.00 Sollie Go On Holidaystruggled for two hours to get a lift in Rouen, till they decided to catch a train to Paris
7.20 Team Angry Birds have left the coach in Rho, Italy and are currently at a service station asking for a lift!!! 7.00 Team Moe got off the ferry this morning in a car with two lovely ladies (one of whom went to UoB) and are getting a lift to Cognac. Day 2 22.20 Are We There Yet?are getting some sleep in shifts above a bar in Brussels
21.20 Sollie Go On Holiday have been offered a place to stay the night in Rouen by their lovely driver.
18.40 Not In Brum are in a spot of bother and may have to buy tickets at Dover…help them out guys! 18.02 Here for a Beer have managed to get a flight booked tomorrow for Munich 18.00 Los Amigo Rapidos are now heading into some bad weather on the way to Luxembourg 17.04 Sollie-go-on-holiday are on their way to France. Goodbye Angleterre 16.12 Our Mums Don't Know…seem a tad confused
16.00 Floppy Ears and Curly whiskers are hot on the Birds' tails!
15.51 Angry Birds are at the Euro Tunnel! Great effort Birdies
15.34 Are We There Yet catching the ferry to Calais
15.30 Heads Down Thumbs Up have finally got a lift on the ferry after 4 hours sat at Dover. Now they're being fed pork sandwiches while waiting for the ferry – living the high life! 15.23 Tour de Bantz on cracking form, hitching a lift with 3 Dutchmen towing a caravan!
14.52 Tour de Bantz making progress with a lift through the Channel tunnel 14.28 Floppy Ears and Curly Whiskers have enjoyed first-class travel to Euston and are now getting a coach to Croatia
14.23 Here for a Beer have raised £75 in St Pancras and got flights sorted to Germany! Sehr Gut! 14.04 PresnDubz have made it to Dover- you've got some catching up to do Mr President 13.25 Bayer Neverlusen are still stuck in London…get a move on guys! 13.15 Two teams look like they're on the same train to Portsmouth!
1.00 Are We There Yet have managed to blag a ferry to Calais 11.30  Our Mums Don't Know We're Doing This have got a lift from Bristol to Bath from a student and his dad 11.15 Danny Dyers Deadliest Men have got a lift to Brussells!
11.00am Angry Birds are en route to Italy with the netball team. Good work ladies!