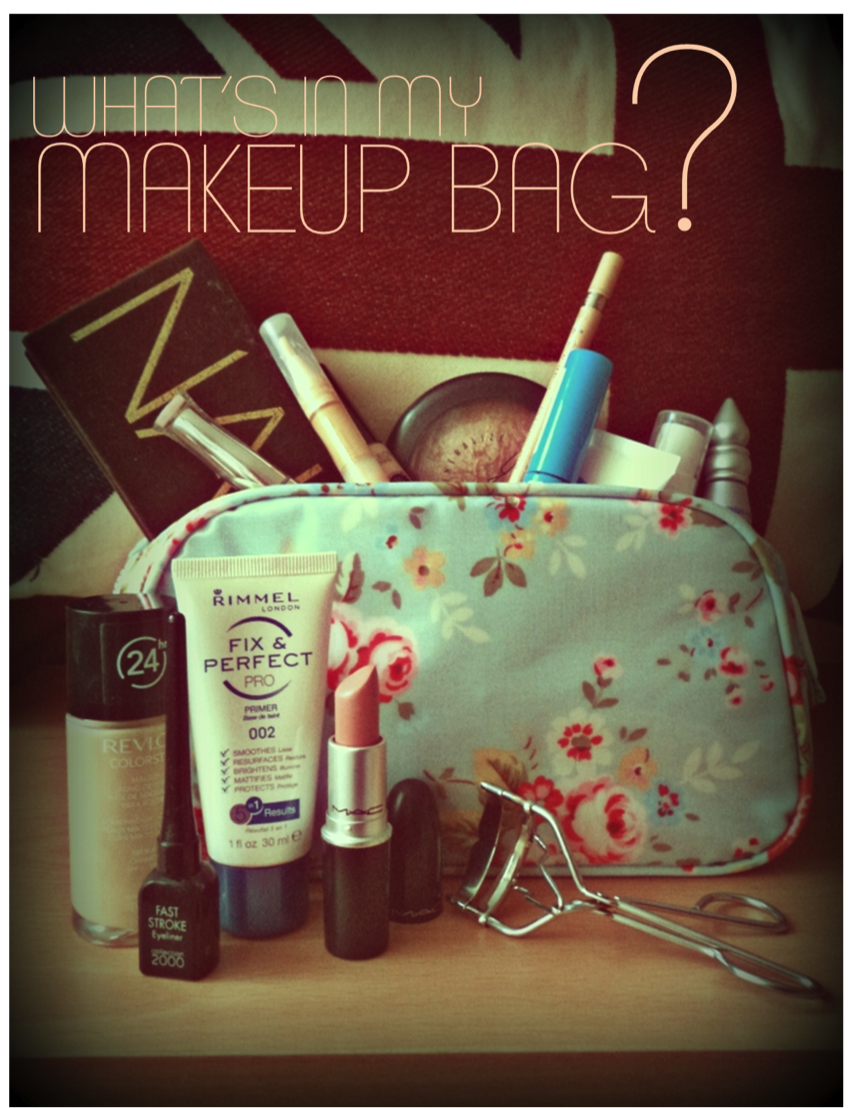 What's in my makeup bag?
We meet fashion blogger, Amy Chapman (thelittlekoala), from our very own UoB. Here's what she had to show us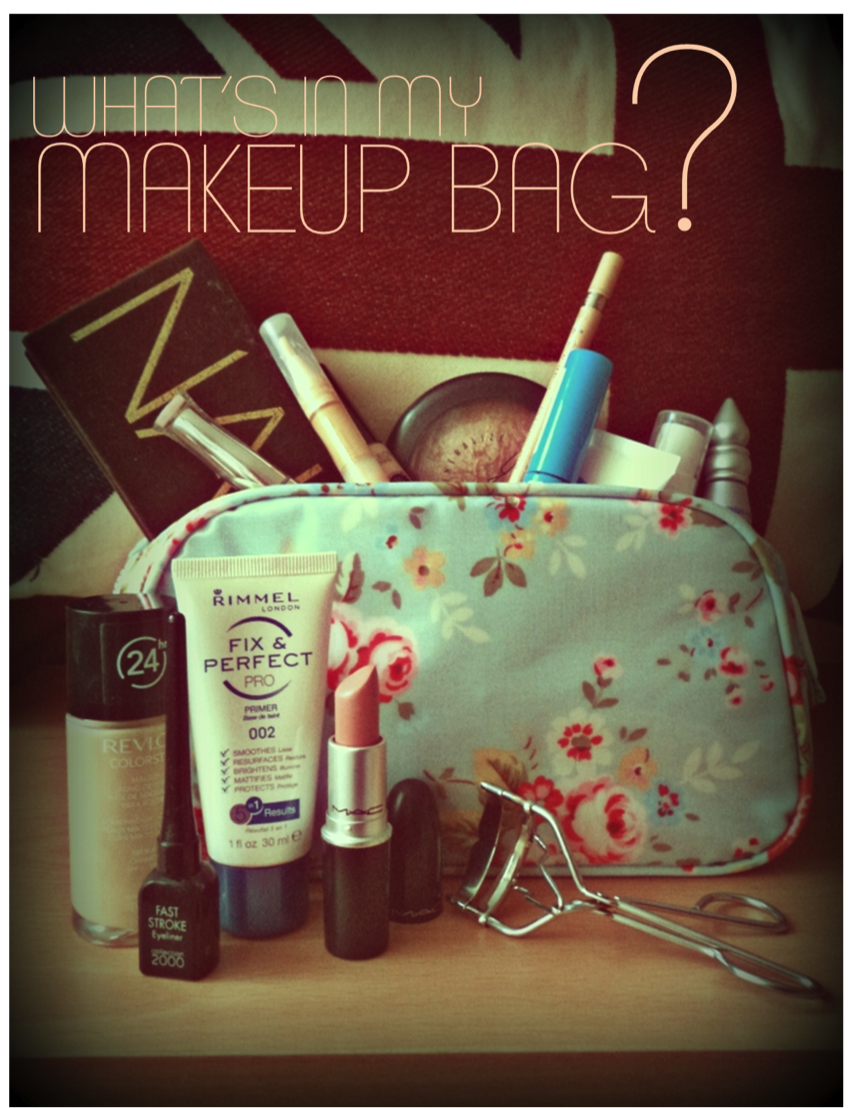 What are the essentials to have in your makeup bag? I've unzipped mine to show you my current favourite products for everyday wear.
Revlon-Colourstay Foundation, Shade: 150 Buff –  £12.49
Collection-Lasting Perfection Concealer, Shade: Fair – £4.19
Collection-Pressed Powder Shade: 1 Candlelight – £1.99
Maybelline-Dream Lumi Touch Concealer, Shade: 01 – £6.99
Urban Decay-Dew Me Setting Spray – £19.00
Oilatum-Natural Repair Face Cream – £7.65
Rimmel-Fix&Perfect Primer 002 – £6.98
This arctic Birmingham weather has been harsh on my skin, so to keep dry winter skin smooth and soft, Oilatum's face cream has been incredible. I apply this before my primer (Rimmel's Fix&Perfect).
I don't wear foundation to Uni most days, but when I do I like a full coverage. Revlon's colourstay is up at the top of my list for foundations that last all day. For blemishes I'd recommend Collection's Lasting Perfection concealer (which in my opinion is better than MAC concealers and a LOT cheaper), and Maybelline's lumi touch concealer for undereye dark circles.
I set my makeup with Collection's Pressed Powder before spritzing with an Urban Decay Setting Spray for a natural look.
 Urban Decay– Original Naked Palette – £36
Urban Decay-Eye Shadow Primer Potion – £15
Collection-Fast Stroke Liquid Liner – £4.99
Rimmel-Scandal Eyes Liner: Nude – £3.59
NYC-Showtime Mascara – £1.99
Bodyshop-Brow Kit Shade: 02 – £10
Boots Own-Eyelash Curlers – £4.50
I think it's important to invest in a good eyeshadow palette. The original Naked palette is my preferred choice for daywear, with plenty of matte and shimmer neutral colours, but I'd recommend MUA's undressed palette as a brilliant dupe if you're on a tight budget, (as most of us students are) I've also included Urban Decay's primer potion, which is a must have to keep your shadows looking lovely all day.
Brows shape your whole face, so I make sure to use The BodyShop's brow powder for natural looking full brows.
My favourite liquid liner is Collection's Fast Stroke and for the waterline, Rimmel's nude Scandaleyes pencil to brighten up the whole eye.
If you have straight lashes like me, use an eyelash curler before applying mascara, but take care not to cut your eyelashes in half (this really does happen!) My mascara changes regularly but at the moment I'm finding NYC's cheap and cheerful 'ShowTime' to do the trick.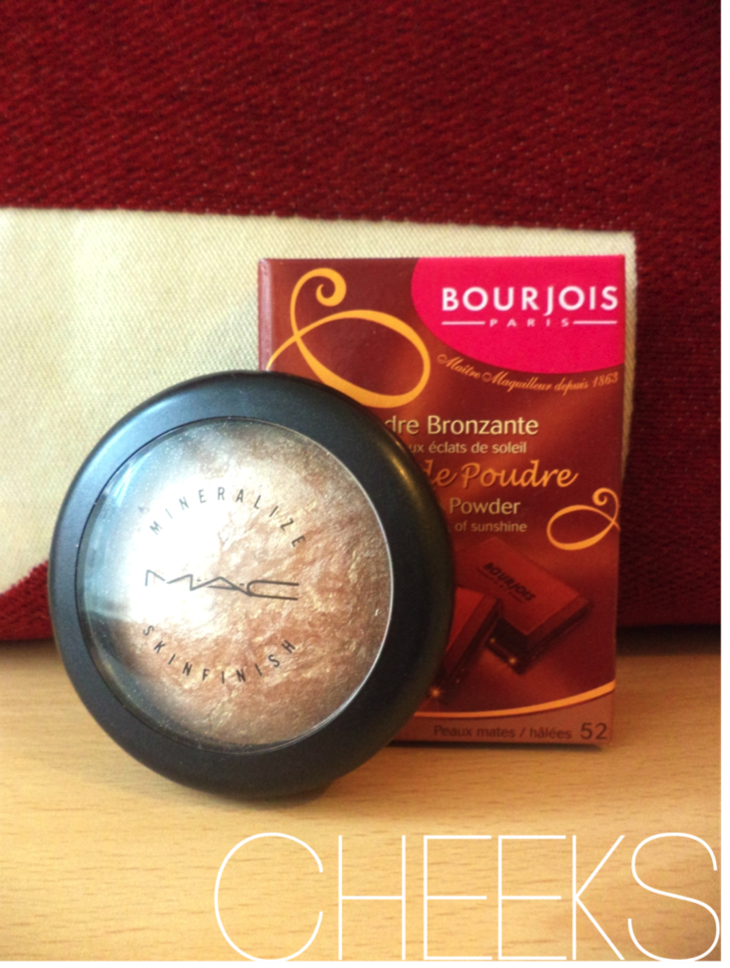 MAC-Mineralize Skinfinish: Soft&Gentle – £21.50
Bourjois-Delice de Poudre Bronzer, Shade: 52 – £7
For a bronzed and glowing look fitting for the Spring weather, I pair Bourjois' bronzer with my favourite highlighter from MAC dusted across the cheekbones and on the browbones.
MAC-Lipstick, Shade: Cremecup – £14
Bourjois-Effect 3D Gloss, Shade: Rose Charismatic – £6.60
And finally for a pink daytime lip I invest in MAC's lipstick and apply in cremecup, followed by a slightly shimmery gloss.
If you liked this article, then check out my blog!