The ultimate guide to Belfast's 12 Pubs of Christmas
Prepare to get absolutely jingle bell'd
It's finally December, so Christmas has well and truly arrived in Belfast. The Christmas lights have been switched on, the Christmas market is open for business and you've already had a little cry at young Elton John receiving a piano for Christmas in the John Lewis ad (don't try and deny it). Festive season is a-go, and what better way to celebrate with your friends than putting on your ugliest Christmas jumper and separating the weak from the strong through the 12 Pubs of Christmas.
For anyone who doesn't know what this is: What rock have you been living under for the last few years? Simply put, this is a pub crawl in which you move around Belfast drinking in some amazing pubs and bars while following a set of rules. In other words, prepare for a long night of good company, good craic and lots of pints. Remember – 12 Pubs is a marathon, not a sprint, so drink responsibly. Don't go downing doubles at your first stop and having to get taken home early because it will ruin you and your mates' night.
Stop one: The Christmas market
There is really no better place to get into the Christmas Spirit. With all the tinsel and the fairy lights, you'll feel ready to start the Christmas carnage. This is a great place to start because there is plenty of options for food to line the stomach before you begin and I highly recommend the beer tent for a stein of strawberry beer to christen your pub crawl.
Rule one: Everyone must use their bad hand to drink with while at this stop. (We'll give you an easy one to start with).
Stop two: The Harp Bar
You can't have a pub crawl without going to Belfast's Cathedral Quarter. Probably best to do this side of Belfast while you are on the more sober end of your journey as it can be a bit more expensive so you'll need all your wits about you. The Harp is a great spot for live music and good craic and with its new extension almost doubling it in size, its got room for everybody.
Rule two: Everyone must speak with an accent for the whole time they are in this stop, even when ordering.
Stop three: The Duke of York
Time to get the group pic on the most photographed street in Belfast. The cute fairy-lights, painted murals and decorated street will make you want to sit outside regardless of the weather. The Duke is known as a whiskey bar so why not have one here, only if you can handle it of course.
Rule three: No one is allowed to leave for a toilet break in here, so lets hope you haven't broken the seal.
Stop four: The Thirsty Goat
One of the newer bars in the Cathedral Quarter which will have you kidding around no doubt! With its large and spacious beer garden accompanied by live music, its a lovely spot to celebrate your Christmas cheer.
Rule four: You must try and order all your drinks without saying them by name.
Stop five: The Dirty Onion
Another gem of the Cathedral Quarter which calls itself an "authentic Irish pub with a modern twist." The Dirty Onion & The Yardbird makes for the perfect spot to have a good time drinking by the fire pits and if that isn't good enough… it's puppy friendly!!
Rule five: Spend your time in this stop pretending that you don't know any of your group.
Stop six: The National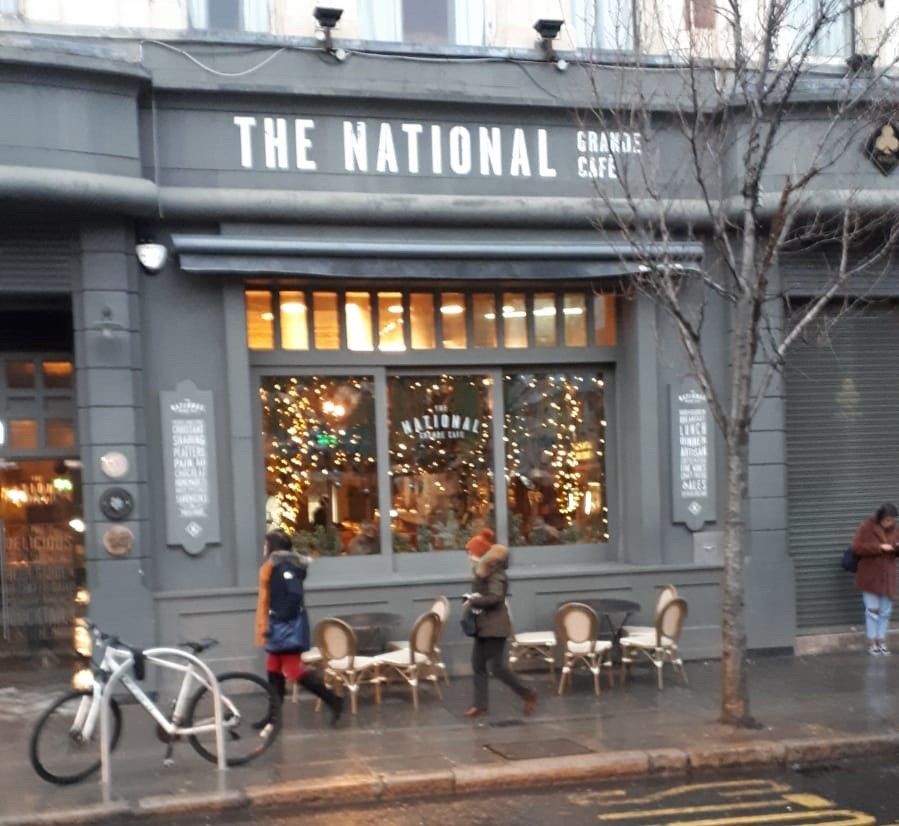 With not one, but two fully covered outdoor heated areas with a winter forest theme, The National is a great shout for the halfway mark. With winter warmers, live music and blankets to keep you in that festive mood, you'd be silly not to stop in and see what it has to offer.
Rule six: Everyone must take a shot with their drink. (I suggest a good old baby Guinness)
Stop seven: The Botanic Inn
No pub crawl is complete without a stop in at Bot, so now would be a good time to gather the troops and jump into a taxi for the next phase of the pub crawl. At the heart of the student night out in Belfast, Bot is always guaranteed to produce cracking pints, amazing offers and some great laughs. With the new added games/pool room and the ever so delicious Bot Chippy, you'll not be short of something to do!
Rule seven: You can only order drinks which begin with the same letter as your first name.
Stop eight: The Belfast Empire
Situated right on Botanic Avenue, it would be sin not to stop in here for one. Known as the heart of live music and comedy in Belfast, many a famous face has walked through their doors. With plenty of drinks offers on each month, your bank account will thank us for choosing this stop.
Rule eight: Each person must ask a stranger for a hug before they move on to the next stop.
Stop nine: Lavery's
A pub for everyone – with pool tables and the roof terrace upstairs and a more traditional sports bar downstairs, it's an essential stop on any real Belfast pub crawl. On the weekends the upstairs doubles as a nightclub so this is something to consider in the planning of your route!
Rule nine: You cannot call anyone by their first name and if you do, you owe them a drink.
Stop ten: Benedict's
By now you'll probably have spent a few pounds and will be searching in your pockets to scrape all your pennies together. Benedict's is a lively and welcoming bar with drink prices you can't argue with! With such a large range of cocktails and shots, you'll be able to have a fun and exciting time listening to the live music while saving a few quid.
Rule ten: Pick a partner and every time they buy/take a drink you have to do so too.
Stop eleven: The Points
The end is very near… The Points (formally known as 5 Points) is a traditional bar which may be small in size but mighty in craic. With live trad bands playing, and the fact that you've been on the drink for some while now, there's no doubt someone in the group will end up doing a jig by the time you are leaving.
Rule eleven: No sitting, resting or leaning in this pub. This includes setting down your drink at any point.
Stop twelve: Filthy McNasty's
If you make it to this point, you truly are the real MVP. Filthy's is the perfect place to end your night with a bang. I mean, they have an igloo in their beer garden! Hopefully you'll have has a hilarious and enjoyable experience throughout the pub crawl and not lost too many members along the way so you can all cheers to your last drink together before calling it a night.
Rule twelve: Down a pint or two of water – you're going to need it.
Feel free to change any of the rules in each bar or even change the order of the bars you visit. Remember to stay safe and try drink some water or eat something between stops to ensure that you make it all the way to the end, you don't want to spend all this money then wake up with no memory of it all in the morning!