Nearly 90% of QUB students vote against anthropology course closure
Over 2,500 students voted in the referendum
In the referendum yesterday, 89.14% of QUB students have voted against changes to the university which would close courses, cut the number of students at the university, and increase A level entry specifications. The changes were outlined in the university's Size and Shape Review.
10.86% voted in favour of the changes, which would terminate anthropology and sociology as single honours degrees. The referendum was called amidst anger from students.
Queen's University Students Union stated working towards said goals now becomes a priority policy of the Students' Union.
Below is a screenshot of the post on Facebook by QUSU: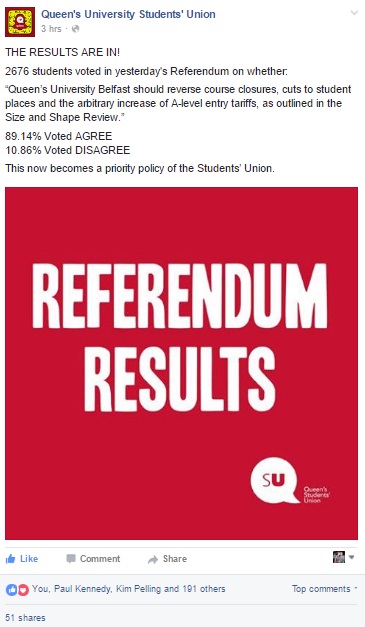 The Save Mandela Hall campaign commented underneath the referendum results asking when QUSU were going to ask students to vote on saving the iconic venue.