Uni worker has ear bitten off in vicious brawl
They put his ear in an ice bag
aberystwyth
aberystwyth university sports centre
ear bitten off
fight
national
noad
the academy aberystwyth
the angel abersywyth
why not bar
yoko's
A violent scrap has left a uni employee needing reconstructive surgery after his ear was severed in a fight.
The brawl, which erupted in the town centre around 2:40am Sunday morning, is believed to have involved up to 10 men.
A 22-year-old, who works at the University's Sports Centre, remains in hospital after a thug bit his ear off.
Marketing second year Bethan was in Why Not Bar at that time, and saw the fight happening outside.
She told The Tab: "There were around five guys against another five guys, and for some reason there was a girl on the floor fighting too.
"As the fight was going on, the guy who works in the Sports Centre fell to the ground and had several people kicking him, and a local literally bit the top of his ear."
The fight spread across the town before police and an ambulance arrived.
Bethan added: "A few guys held all the boys back and the fight sort of came to an end.
"I then saw a police car passing and stopped the car to tell them what happened.
"They then drove to the other side of Angel to try and block people.
"The guy was sat next to Academy for a while while his friend was getting an ice bag to put the ear in.
"An ambulance came around 10 to 15 minutes later. It was appalling."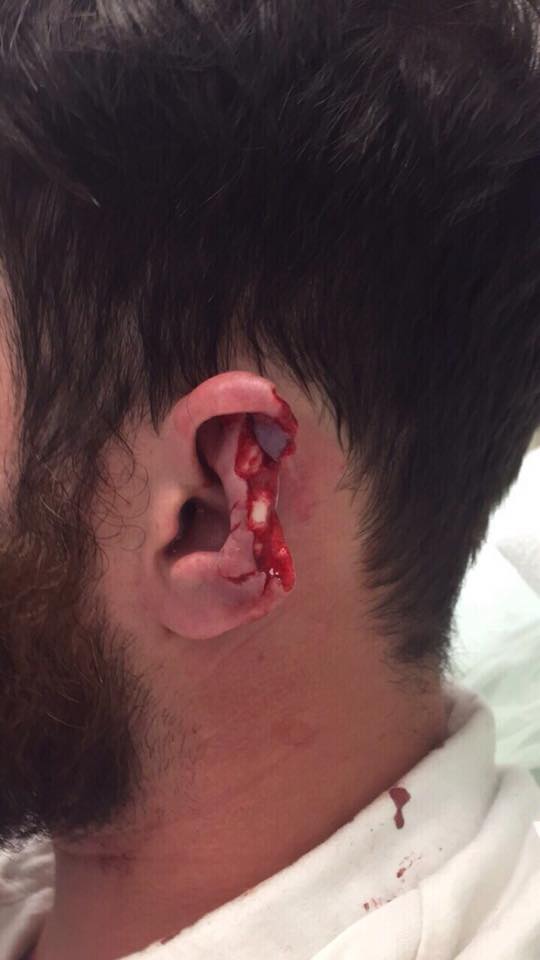 It is still unknown what caused the fight, and who the people involved were.
A spokesperson for Why Not Bar told The Tab: "The assault was at top of town towards Academy and not fully observed by door staff.
"Our doorstaff went to see what was going on, but it had already moved on towards Angel by this time.
"The aggressor was not a customer of ours but had been in Academy. The injured party was a customer of ours.
"The aggressor was not a local as far as we are aware. They are a nasty individual who will hopefully be found and charged."
A spokesperson for The Academy added: "We didn't see anything and have nothing recorded.
"It was a quiet night so we started clearing up at 1.30am and closed at 2am."
A spokesperson for The Angel said: "Our venue wasn't involved in the events of Saturday night.
"It happened further down the street closer to the clock tower than to our venue, and as far as I know the people who were involved in the fight weren't at any time in our pub either."
No one has been arrested following the incident.
A Dyfed-Powys Police spokesperson said: "At approximately 2:40am on Sunday May 17, a report was received of an ongoing disorder in Great Darkgate Street, Aberystwyth.
"During the incident, a 22 year old man sustained serious injury to his ear.
"Officers attended and commenced enquiries. Ambulance conveyed the casualty to hospital, where he remains at present.
"Anyone who witnessed the incident or has any information is asked to contact police in Aberystwyth by calling 101."