All the signs that you're the flatmate who's overly obsessed with Christmas
They give the Bublé himself a run for his money
It's probably been Christmas in your uni flat for weeks already, and chances are it's down to a singular flatmate who is overly obsessed with the festive season.
Each time you go into any communal rooms there is yet another entirely unnecessary Christmas accessory, and for some reason all you smell is cinnamon 24/7.
Here's how to tell if you're in the presence of an actual Christmas elf, and if any of these things apply to you, admit you've got a problem.
The kitchen has become more festive than you realised a kitchen could be
Oh how kind, they've offered you one of their (multiple) festive mugs for your cup of tea. Oops you've spilled a bit, but not to worry, they restocked the tea towel collection with ones covered in Christmas trees back in November.
Their room smells like Christmas exploded in it
Seriously though, who knew there were so many different Christmas scents, and who knew there were candles for each and every one. You can tell from anywhere in the house that their bedroom door has been opened, as a wave of scent erupts from their festive candles, diffusers and room sprays.
They own more than one offensively festive jumper
It's probably from Primark, and if it lights up you know they don't play around. They'll wear it over any outfit for the entire month of December, and they'll probably buy a new one for this year even though they most definitely do not need one.
They've got tinsel coming out of their arse
Not quite literally, but there's a tonne of it in the house. They've got it round their bed posts like they're awaiting Cliff Richard, and it's somehow made its way up the banisters and onto the walls too.
Their Christmas shopping was finished in November
And they've discussed their wrapping colour scheme with you an unnecessary number of times. Tbh you're actually a bit jealous of this one, they got it sorted and saved a tonne with the Black Friday deals and it'll probably get to Christmas Eve before you've got something for your mum.
They play Christmas music in the shower, the car, the morning, the evening, and everything in between
Seriously, don't ask them to "pop on some music" from about mid November onwards if you aren't ready for an earful of Mariah or Bublé. That being said, you probably won't hear the actual music, as they'll be singing all the backing vocals and doing the harmonies at the top of their lungs, perfectly word for word of course.
They've already exhausted all the classic Christmas films
To the extent that they're actually having to watch those horrendous Netflix originals. You had to leave the room while they were watching The Grinch because they knew all the words, and it's become impossible to have a conversation in which they don't quote Elf. "Buddy the elf, what's your favourite colour?"
You'll probably be treated to a Christmas dinner
Or maybe even three. To be fair flat Christmas dinners are mega cute, and can be just what you need in the midst of exam and deadline stress. Yours is likely to be incredibly OTT as well, the table will be decorated beyond belief and you'll probably have to wear red and green, but at least the instas will be fab.
They have multiple advent calendars
Not only do they get a chocolate with breakfast, but one with lunch and dinner too. They ALWAYS manage to resist the urge to open them before the correct date, and they're usually something a lot nicer than your £1 one from Aldi you bought discounted on the second of December.
They've had your Christmas market trip planned since dates were released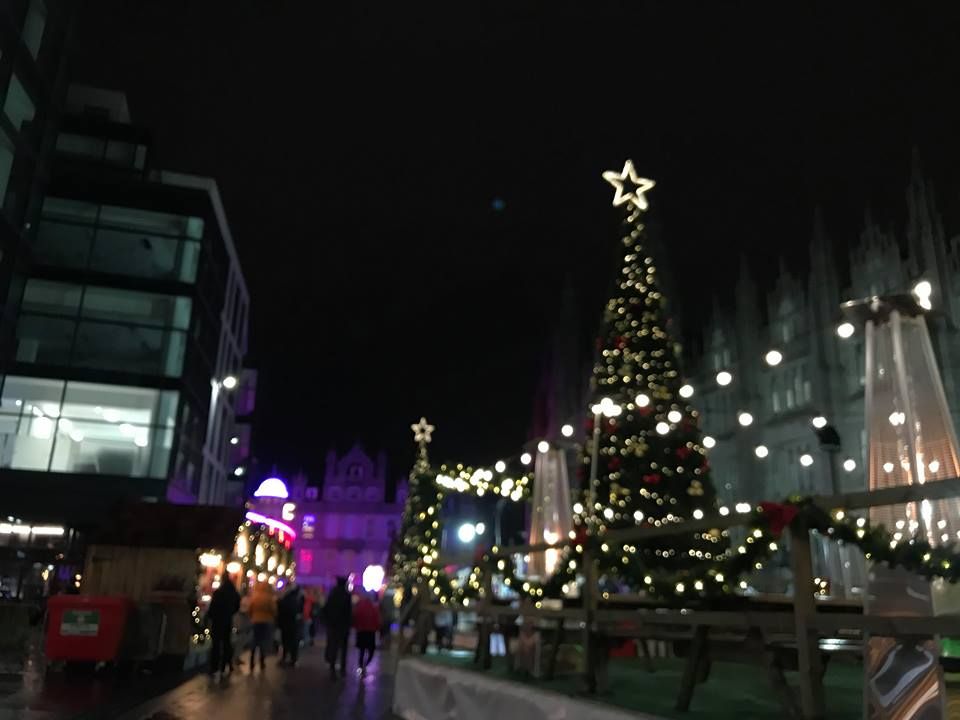 Probably the whole evening around it too. You'll start with ice skating, then wander around the stalls, getting hot chocolate and doing a photoshoot midway through of course, then finish with a mulled wine before heading home to watch their favourite Christmas film.
As much as they seem nuts, you've got a lot to thank your festive flatmate for. You'll probably have one of the longest Christmasses ever, and your plans will be made for you for an entire month.