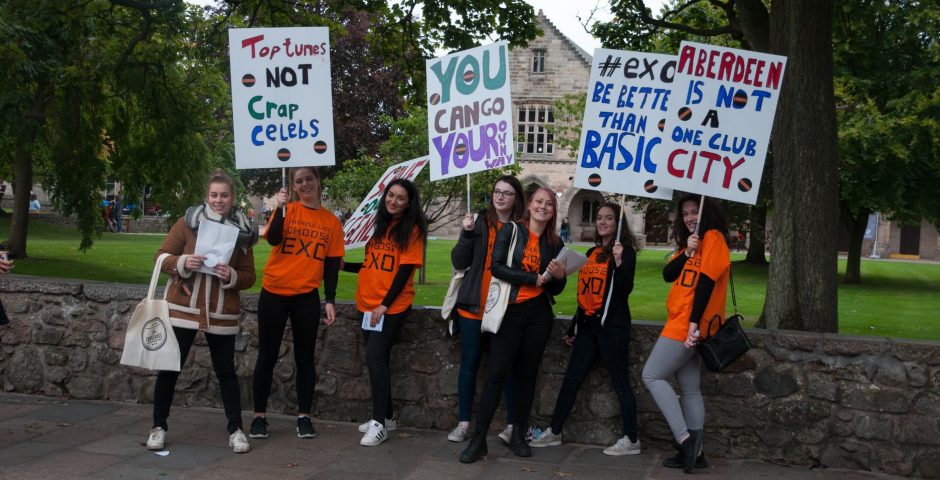 Police called to Freshers' Fayre after Exodus reps squirt Atik staff with water pistols
New Atik deal causes upset with Exodus
Police were called to this week's Freshers' Fayre after a protest between Exodus and Atik descended into a "nightclub war."
Exodus reps came to the Fayre armed with water pistols and squirted Atik reps after Aberdeen University's Students' Union recently signed a deal with the new club giving them exclusive marketing rights at this year's Freshers' Fayre.
AUSA claims they chose the club because they were offering students the best value deals. Aberdeen University decided to contact the police after the protest was taken too far, causing disruption on the high street.
Other Aberdeen nightclub managers were unhappy with this decision, as it meant they were unable to advertise their clubs to the thousands of students attending.
Exodus' General Manager, Michael McMillan told The Tab Aberdeen he was disappointed at the exclusivity deal: "Our staff, many of which attend Aberdeen Uni, really enjoy working at the Fayre and rather than miss out this year, we thought a tongue in cheek 'protest' would be a great way just to let the new students know that Exodus exists.
"I'm not entirely sure who and why the police were called, and it seems like a huge waste of their time. We had a great relationship with the fayre security and told us exactly where we were permitted to be."
Exodus has previously paid £600 per day to attend the Freshers' Fayre, but this year were banned due to the new arrangement with Atik. They were able to mention Triplekirks, their adjoining pub, but were prohibited from promoting Exodus.
Defending the deal, AUSU told The Press and Journal: "We entered into a partnership with Atik during Freshers' Week as it was felt that it represented the best value for students. We have experienced a good relationship with this venue.
"We are aware that police attended a disturbance which involved representatives from local nightclubs."