Street Style: What your shoes say about you
We all wear them, having one or two trusted pairs or hoard a ridiculous amount in the depths of our closets.
No matter if you are a shoe fetishist or couldn't care less about them, your choice of shoes can reveal a lot more than plain fashion. As many studies have shown, shoes communicate at least something about your personality and can allow others a glimpse into your mind.
Instead of checking Facebook or sending silly Snapchats to friends in your next lecture, take a quick glance under the table and straight into the mind of your fellow classmates.
 Colourful trainers aka Nike's/New Balance/Adidas &Co.
The wearer of a light and bright choice of shoes is definitely cool. Striking colours might suggest an extroverted and chatty owner – a social butterfly. From personal observations, Nike's surely are the shoe of the moment.  Look around. They're everywhere.
The actual sporty one
Already in work-out mode – heading straight to Aberdeen Sport's Village in style. The owner is not only a fitness fanatic, but loves to treat themselves to the newest addition of Nike's gear. Being forced to wear real shoes, to King's ball for example, will give them massive withdrawal symptoms which they will try to cure with too much booze. Desperate times call for desperate measures.
The fashionable one
Effortlessly cool seems to be the aim here, as well as appearing all trendy by being the proud owner of one of the massively over-priced shoes we all know too well. They probably got peer-pressurized into buying. Let's ignore the fact that we all still secretly compete with our mates for the most extravagant sneaks.
UGG boots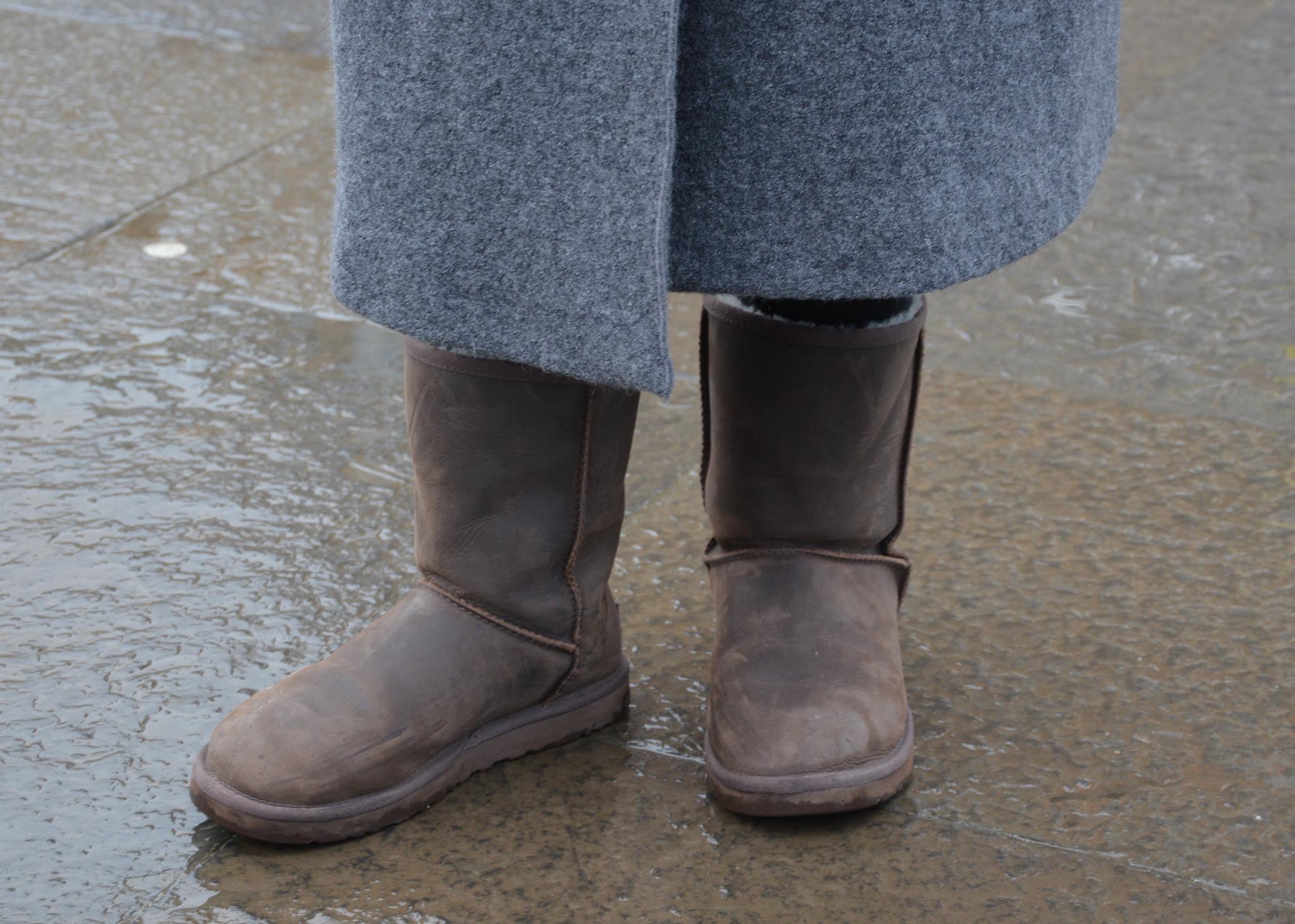 The "I just got out of bed five minutes ago" 101 of footwear. Or maybe just the attempt to stay warm and cosy in Aberdeen's freezing cold. Comfort is definitely the name of the game, especially if you have a 9 a.m. start and ended up losing all your money – and dignity – at Institute the night before.
The owner often doesn't understand that UGG boots don't really qualify as proper footwear, neither are they good for your feet, nor incredibly fashionable (personal opinion).
Matching your outfit
No matter what type, style or form of shoe you're wearing, they're in an impeccable condition and everything matches. The complete outfit can either bring joy to the viewer or hurt the eyes, for example if it's a vibrant neon colour. The wearer might be uncommitted to the studying side of university and mistake campus grounds for his personal catwalk. The #ootd Instagram post is a mere formality.
Hunter wellies
A staple piece in your wardrobe if you live up in Scotland. The owner of these shoes is well prepared for Aberdeen weather at it's finest – from monsoon rain to an unexpected flood. They also allow for a spontaneous move to a farm and a life of cow-milking or dancing like there's no tomorrow at one of the UK's finest festivals, just in case those essays and assignments go straight to your head.
Leather shoes
Surely a very stylish choice of footwear, authentic and timeless. We all need shoes, so why not get really sophisticated and most likely expensive ones? The flipside: inconvenient, if it's suede leather, Scottish weather will be your enemy.
Girls' boots
A standard piece in every girl's shoe collection – a simple pair of leather boots. Mostly black, because let's face it we're all boring but like to look at least somewhat pulled together. A more adventurous lady might go for a bolder option, like a bright red snake skin. Buying a precious pair of shoes will give her a sense of enormous satisfaction. Some say style over substance, I'll leave the judgement up to you.
Boys' Loafers
The owner of these most likely went to private school and get's a different coloured pair of loafers every year for Christmas along with a "good luck" card from his mum to put up in his room for the upcoming semester.
He is up for a political conversation on the spot (although you might want to think twice about what he says) and will only be seen at NOX – no exceptions.
Well-worn street style shoes
Everyone will own at least one pair of these: the everyday-choice of shoe is well-loved and you can see that. Lost soles and stains of all imaginable VK colours show, that these shoes have seen diverse grounds and environments, like a night out at Underground.
Converse
A basic choice for someone who likes to explore and is up for all sorts of shenanigans. Converse will probably never get old unless you're guilty, like myself, of holding onto your trusted pair for years and years, until they fall apart and you have to say goodbye to your loyal adventure companion. Almost brings tears to the eyes talking about it.
Vans
The owner of these has lived through a wild and dedicated skater phase and probably sees his shoes as a necessity rather than a fashion accessory. They often take the whole "used-look" a little too seriously or is just too lazy to get the old bum off the sofa to go into town and buy a new pair, which is long overdue.