Ranking every major Motherland character by how pure evil they really are
Julia's mum is dark sided
When I tell you I am submerged deep into my Motherland era, I am absolutely not being dramatic. I have been consumed by these silly little middle class menaces and their silly little middle class lives. I'm late on this hype, if I'm honest with you. I only dabbled in this show on a hungover Netflix whim last week, but I've binged the whole season with feverish enthusiasm. What I've been most struck by with Motherland is not its humour, despite how funny it is – but how stressful it is to watch these mums navigate the carnage of North London. That, and how pure evil the Motherland characters are on the whole – so I ranked them all from least to most EVIL.
10. Liz
An angel of the north in all senses of the word, it's our can't be arsed queen Liz who emerges as the least evil from all the ranked Motherland characters. Why? She is unphased. Unbothered. Honest, down to earth, a laugh. PTA will never corrupt her, and she's a better friend and person because of it. A diamond in the rough.
9. Meg

Meg is an absolute top to bottom icon. Not only is she married to Rupert Giles himself Anthony Head, the fact she can work as hard as she does, juggle being a great mum and still manage to go absolutely wild at a party is hero behaviour. I mean, it would be if she wasn't an absolute menace when she's sloshed. Holding up an entire bus so she can flash her bevvied baps is a liccle bit evil, I'm afraid.
8. Anne
Whilst I do believe that Anne is firmly on the side of the good, there is a crony-like quality to her as Amanda's chief lackey that does give her an innate essence of evil. She's also a bit power mad, as seen when she got the people carrier car and everyone was up her arse. Quite calculated when you think about it.
7. Lee
No, not Lee Mead, the other one. The father of Liz's children is a bit of a little shit, but his evil lies in his incompetence and stereotypical straight bloke nonsense. He's quite lovable really, a bit of an anti-hero. But maybe I'm just saying that because I actually fancy him quite a lot. It's me, hi, I'm the problem, it's Lee.
6. Kevin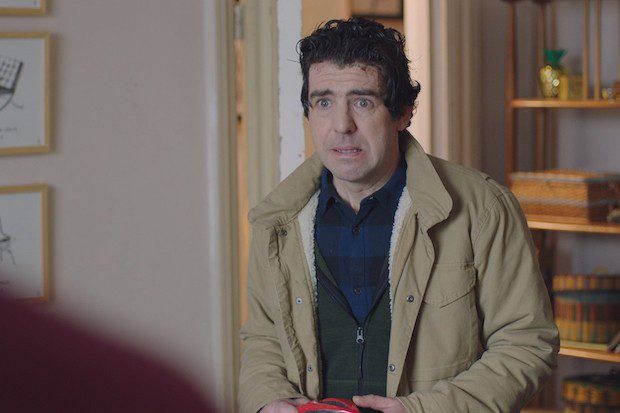 I'm sorry, Kevin is evil. He wants you to think he's the epitome of all that is good and pure – but it's an act. A snivelling and unfunny nuisance who wears despicable white underwear and hid a man's jeans at the swimming pool. When it comes to his uninterested wife Jill, I do not blame her. She was right all along!
Kevin and Amanda deserve each other. Amanda's evil, but at least she's iconic about it.
5. Julia
Oh she's evil, this one. Truly dissociative, utterly selfish and manic to the point of breakdown every 10 minutes. Disaster prone and a whirlwind of mayhem and mishap. That's not why she's evil, but the way she makes 0 attempts to sort things out makes her very evil indeed. Pure unfettered carnage. I have no clue how she gets up in the morning. She must be nackered.
4. Amanda
Amanda's materialistic, self-absorbed, Queen Bee nature makes her kind of the de facto villain of Motherland. But despite her evil ways, or maybe because of them, she is what us gays call "mother". She was mothering. She mothered. Dressing up as a sexy nurse to entrance and ensnare Lee Mead outside of Hygge Tygge? Oh, that's mother!
Undoubtedly evil, but being bad never looked so good, baby!
3. Marion, Julia's mum
Look. I know that grandparents should not have to permanently be at the beck and call of their child to pick up the parenting pieces. I understand that Marion is more than entitled to live her own life of leisure however she wishes. BUT. I do think it's deeply evil to watch your daughter struggle as much as Julia does and not help. She's not the biggest culprit of this, the worst is yet to come, but her ability to shrug off Julia's pleads boggles my mind.
The worst moment of this is when it's her granddaughter's birthday party and she refuses to be anything other than a guest. I can't imagine as a grandmother not wanting to be there helping out for the prep? She's also a willing friend of the most evil character in the show, whose name we shan't speak yet.
2. Paul, Julia's husband
The definition of men are trash? How about get your arse off that stag do NOW, get home to your WIFE (who for a long time when watching Motherland I assumed was his ex wife) and be a dad. Stat! Scum, scum, scum. And I say that with no regret.
1. Mrs Lamb
Irene Lamb is the face of evil. Of all the Motherland characters ranked here, it is she who is everything wrong with this world. She is what happens when you give a tyrant a crumb of power. If she was your dinner lady, she would take immense pleasure in giving you the dregs. If she was your bus driver, she would never let you off 10p of the fare if you were short.
The machiavellian delight this woman takes in causing rage and trauma to the mothers of Motherland is some of the most unhinged, dictator behaviour I have ever witnessed in fiction. She deserves nothing but grief.
Motherland seasons one to three are available on Netflix now. For all the latest Netflix news, quizzes, drops and memes like The Holy Church of Netflix on Facebook. 
Related articles recommended by this writer:
• Quiz: Which iconic Motherland parent are you?
• This is where you recognise the cast of Motherland from
• Inside the boujie resort where this season of The Bachelorette was filmed