Splitting or surviving? This is the relationship status of all the Love Island 2022 couples
Cheating scandals, engagement rumours, new houses – it's all kicking off
Love Island 2022 only ended three months ago but, thanks to the series producers finding some of the most hectic cast members of all time, there've already been some serious developments in everyone's relationships.
We're talking cheating scandals, new homes and even engagement rumours. So, just in case you didn't get enough tea to last you a lifetime while the show was airing and are still wondering which Love Island couples are still together, let's run through which cast members are splitting and which are surviving now the cameras have stopped rolling.
Splitting:
Gemma and Luca
The most recent of the Love Island couples to bite the dust, Gemma and Luca split this week with Gemma announcing they were no longer together while Luca was sat at home, oblivious the news had gone public because he had his phone switched off. Ouch.
"It wasn't an easy decision but ultimately this is what is best for us both right now," she wrote. "Many of you have been on this journey with us from the very beginning, and I want to thank you for your continued support as we start new chapters."
Paige and Adam
After cheating allegations that came from videos of Adam with his arm around another girl in McDonalds, Paige and Adam split, with her later revealing she'd been sent more videos of Adam with other girls at multiple other points on the same night. "I'm just like, I can't justify this," she said. Billy will be rubbing his hands together with glee.
Jamie and Danica
The first Love Island couple of 2022 to split, Jamie and Danica went their separate ways after Danica was papped kissing Roman Hackett from TOWIE. Oops.
Deji and Lacey
Going their seperate ways days after Love Island ended, Deji and Lacey split after he allegedly slept with their fellow islander Coco Lodge. He's yet to confirm or deny whether he sucked her tit – or whatever.
Summer and Josh
Also amid Coco related drama, Summer and Josh have also split. Basically, Summer posted on her story saying she and Josh "mutually decided we'd be better off as friends" but days before at the reunion show we saw the beef between Summer and Coco and it's seemed like it was over Josh. They've now unfollowed each other on Instagram. Ouch.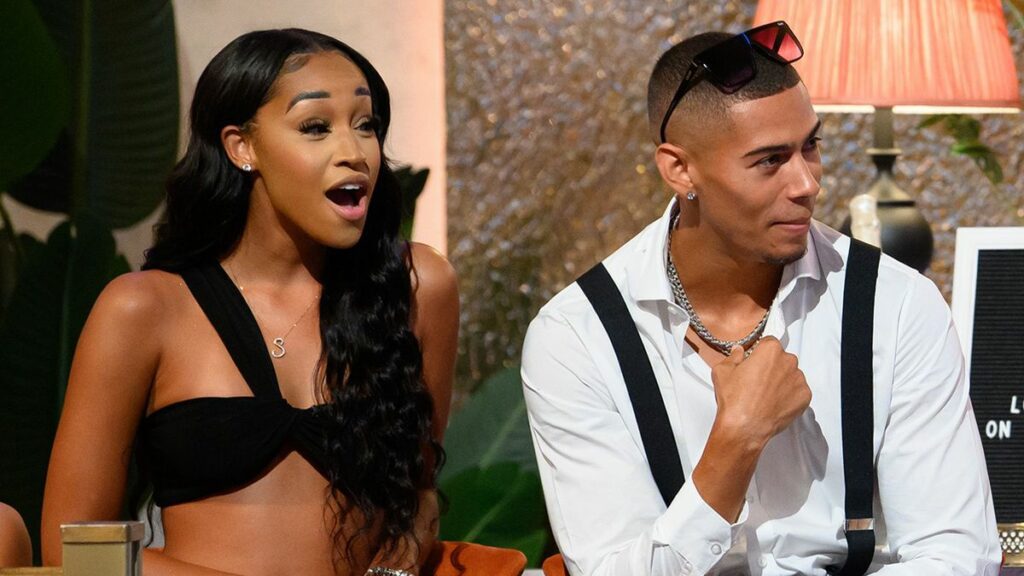 Surviving:
Tasha and Andrew
These two seem to be seriously in love and actually moved in to a two-bed London apartment together only two months after Love Island ended. Tasha also hasn't stopped hinting about marriage since they left the villa and recently revealed she and Andrew had even been to look at engagement rings. That's seriously rapid progress.
Dami and Indiyah
Arguably the realest Love Island couple still standing, Dami and Indiyah moved in together this week and announced the big relationship milestone with an Insta story of them cheersing champagne and the caption: "Here's to annoying each other even more"."When you just had an argument but you still gotta move in," Indiyah added moments later. It's going well, then.
Ekin Su and Davide
Davide's bachelor days seem to be well and truly done as he was spotted this week carrying all of his possessions from his flat in Manchester to a new home with Ekin Su, after he recently asked her if she'd want to move in together. Copying his classic move that led to them becoming exclusive in the Love Island villa, Davide made Ekin Su a tiramisu that read "move in?". Cute, but he might want to mix it up a bit if he ever proposes.
Related stories recommended by this writer:
• Here are the most awkward moments from last night's very tragic Love Island 2022 reunion
• A rundown of all the Love Island 2022 contestants who are currently beefing one another
• Revealed: Exactly what happened with Coco and Summer at the Love Island reunion, in full