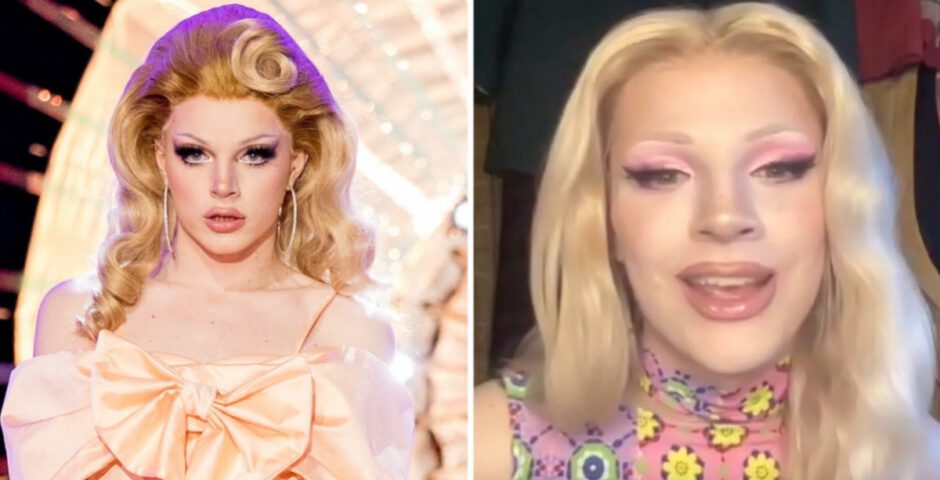 'Michelle Visage didn't get my drag': Dakota Schiffer on her Drag Race UK elimination
'No one likes to feel like their time was cut short'
| UPDATED
It is with the heaviest heart this season that last night we saw Dakota Schiffer sashay away from Drag Race UK – and to say I'm gutted is an understatement. For me, Dakota Schiffer has been the highlight of this season – a history making competitor who was the first trans woman to compete on Drag Race UK. From being in the bottom two week one to winning challenges, she has been a thoughtful and beautiful delight in every challenge she took on.
Did she deserve to go home? NO! But what can you do on the makeover challenge – we've faced such injustice season after season. As a devoted member of the Dakota Schiffer Stan Army, I was overjoyed to get the chance to jump on a Zoom call with her and get into all things season four, all things elimination and all things bloody gorgeous.
'No one likes to feel like their time was cut short'
Dakota! God, this is bittersweet – so happy to be talking to you but so sad to see you sashay away. I am one of the many declaring it wasn't your time, ROBBED! How's it all felt to see the fan reaction after the elimination?
I mean, it's very affirming! The positivity is insane and no one can prepare you for that. I had no idea there was going to be this reaction to my elimination. It comes with some negativity – no one likes to feel like their time was cut short or that they were mistreated, and it comes sadly with a lot of negativity towards other queens which I wish would stop dead in its tracks.
You can uplift people without having to drag down others, and that is something that a lot of Twitter trolls seem to neglect. I'm just so grateful that people enjoyed what I did on the show. I'm glad I left doing something I felt really proud and accomplished about. There was nothing I felt like I could have done more.
I feel like the makeover challenge is infamous in the Drag Race fandom for judging being off and fans never agreeing with the decisions – I wanna know what it was like in the Werk Room knowing that this was next. How did you all feel?
Well, performance wise I think we all ended up really even. All of our critiques could have gone with each other, and that's the nature of this challenge: It's really hard to judge. They decide they want something different every year. To fit their narrative? I don't know!
I understand the comments about my looks being repetitive, we don't get the runway order before so I had no idea that this was going to happen so soon after my Funny Girl look because they were my two true 60s moments. But I was representing my brand and that is my aesthetic.
Getting the critiques in episode one that they didn't understand who I was, I was so conscious of making people understand my brand before I leave. I went out signature me.
We can't go any further without talking about the amazing Queen Team, who fans have fell in love with like you queens all do. What was it like being able to give them their place in the spotlight?
Isn't it crazy that no one really knew about them? We didn't really before going in. They've never got the flowers they deserve, they help us so much. The amount of picking me up crying from the floor over musicals, or crying about lip syncing for the 5000th time! The amount of support they provided me, specifically Lucie as well because she was such an important part of my journey on Drag Race UK, it was poetic that it ended with her.
I never want her to feel like it was her fault that I left – she looked beautiful. To make someone else feel beautiful is so linked with the femininity I try and find within my drag and it's a magical gift.
'Michelle Visage didn't get my drag'
Dakota Schiffer, you made herstory by being the first trans woman to compete on Drag Race UK. What would you say to the casting team going forward to ensure they keep it diverse?
I'd say, look at the reaction to the cast of season four. We are the most diverse cast Drag Race UK has ever had. That upward trend is something the fans appreciate, and I hope it continues to get more and more representative of what the British drag scene actually looks like.
I was the first trans person, but I hope there's a long legacy of trans representation. I won't be the last!
Let's get into this judging panel – obviously there was a big shakeup this week! How was it being judged by this lineup?
The judging was lovely. They were very positive, Boy George was very positive. Fabulous hat! Michelle being on the judging panel was a bit strange. It's ironic, because I really felt like Michelle didn't get my drag when I was there so to have her eliminate me in the end maybe she got her way!
That Snatch Game joke I made about her where I said her Strictly vogue routine was insincere to the point of nausea clearly hit home! But look, I'm not the kind of person to get too sentimental about the judging – I didn't need to hear the words from Ru at the end of it, I was just grateful to be there in the first place.
I'd already got everything I wanted from the panel in episode three with Baby when we won that challenge. I got my fashion credentials and model walk feedback and that's all I ever wanted from them. After that, the Brit Crew could have eliminated me and I'd have been fine!
Ru's absence… I don't know how much you can share, but how did they tell you guys? Did they make a big deal about it?
They told us literally five minutes before the runway. I don't think it was something they liked to be sensational and I don't think it's something that should be sensational. It's very feasible that someone could not be there for reasons beyond their control.
I get that, I was just shocked the show gave it all its own trailer and built up to it only to barely mention it!
When the trailer came out, we were all gagged! Not only did they spoil our makeover looks, but they made it sound so dramatic when on set they made it so run of the mill! I thought it was so funny the contrast between the trailer and how it was in real life.
'The worst thing you can do on Drag Race is say you're good at something and then flop it'
Dakota Schiffer – I really wanna know the best thing about your Drag Race UK experience, and your hardest!
Hands down the best was the sewing challenge. The worst thing you can do on Drag Race is go on saying you're good at something and then flopping, so to go in the first challenge and say I loved fashion and then got dragged for it was not a fabulous experience for me. If I'd bombed Snatch Game, no one would care because I never went on there saying I was the second coming of Bianca Del Rio. You know what I mean?
But to bomb a fashion challenge was certainly heartbreaking. Then to redeem myself on a sewing challenge where the playing field was levelled and we didn't have our wallets and it was just about our talents and what we could make I came out on top.
Do you think being on the show taught you anything about yourself?
I think of anyone on the season, my arc was learning to have faith in myself. I came off the back of episode one feeling so self defeated. After I became the first with two badges, I was like oh, I'm not flopping! After Snatch Game, I felt like I'd really proved myself in the comedy department and realised I'd proved people wrong.
Having the self confidence to look at yourself on television and feel affirmed as a trans person both in and out of drag and having positive perceptions is baffling, because I'd beat myself up for years about the way I look. I've learned to be a lot kinder to myself.
Do you feel like you can ever fully anticipate what going on Drag Race is like – does it meet your expectations or feel completely different when you're there?
A lot of the process is something you can't imagine how it works. It looks very different on camera to how it feels when you're filming it. I didn't have anyone who'd been on the show before that I was close to who could help me prepare before going on. None of my friends did drag at the time.
There's so many curveballs thrown at you – you've just got to be quick on your feet and not be self-critical.
And finally – What is next for Dakota Schiffer after becoming a fan fave on Drag Race UK!?
Well, keep your eyes on Fashion Week next February, because there's a lot of exciting stuff for that! I've also made my directorial debut because I've created and directed a music video over the summer that should be coming out very soon. Season four tour and DragCon to look forward to as well – I'm currently illustrating costumes for them as we speak!
RuPaul's DragCon UK is taking place at ExCel London from 6-8 January 2023, tickets now available here.
RuPaul's Drag Race UK season four continues on BBC Three and iPlayer Thursdays at 9pm.Watch the full Meet the Queens here.
Special thanks to Jasmine Aloma at the BBC.
Related stories recommended by this writer:
• Just May on what it's like to be the first Drag Race UK season four queen to sashay away
• Starlet was the second queen to sashay away last night, here's what she has to say about it
• Pixie Polite from Drag Race UK was in a relationship with season two queen Tia Kofi