Ranking the 12 best fashion moments so far from RuPaul's Drag Race All Stars 7
Cause of death? Raja's veil look
All Stars 7 is RuPaul's Drag Race at its very best for many reasons, but one of the most prominent is that week after week we are getting the best fashion moments we have ever seen in the show's history. Period. The looks have been jawdropping, and the queens have clearly invested a lot of time, creativity and, erm, MONEY, into making this season as sickening as possible. Here are my personal 12 favourite fashion moments from All Stars 7 so far, ranked.
12. Jinkx Monsoon's 'Veiled It'
Purple is Jinkx's colour, trademarked. I love that this look feels so ethereal – the butterflies holding up the veil is such a gorgeous detail. And it's not a saloon ready ensemble, so hello! Let's celebrate that! Exquisite.
11. Trinity the Tuck's 'Realness of Fortune Eleganza'
The garments Trinity has been creating in the Werk Room are honestly jaw dropping. This look, inspired by the Red Square of Moscow, has the most symmetrically finished laser cut outs imaginable. The huge hair down to her ankles? Oh come on, darlin'!
10. Raja's 'I'm Crowning'
Raja's maximalist approach to her fashion moments on All Stars 7 proves exactly why she is still thee fashion queen to beat. The original and the best. I gasped when she walked out in this on episode one – arguably the first time this season I realised how hard queens would be bringing it. Violet and Gottmik booting this was pure evil!
9. Trinity the Tuck's 'I'm Crowning'
Daphne Blake goes to the Met Gala. Purple and orange is a lethal combination for a slay, I fear. This is just magnificent. It's HUGE. I have no clue how Trinity walks in her drag. The sleeve sections are my favourite part.
8. Raja's 'Pleather Principle'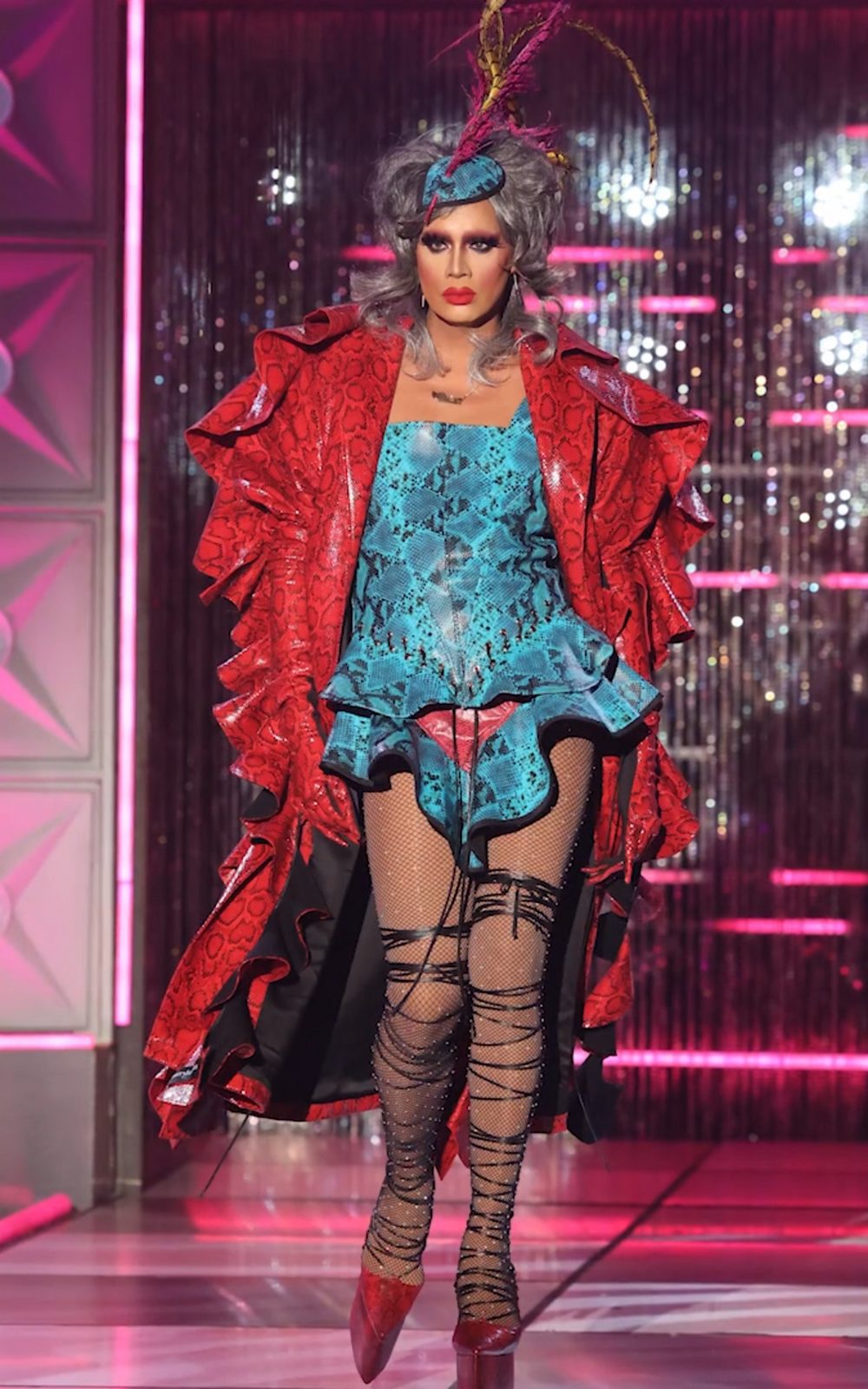 This has an untamed Comme De Garçon feel to it that I just love. I also cherish how Raja implements her own hair into her drag a lot of the time, it just brings something really grounded to her fantasies. I could talk about these shoes for six months if you let me.
7. Trinity the Tuck's 'Veiled It'
Trinity the Train brought out her trademark here, once again, and it's beautiful. It's high drag. Breathtaking. I always think about Bob saying she's a drag queen's drag queen, because her drag must just HURT? It's so big and opulent. She always pushes herself.
6. Raja's entrance
"Did somebody call for an EYE-CON?" Yes, we absolutely did! God, this is immaculate. So interesting. I love all the different layers. I can't think of another queen who would come up with this outfit, and I love that she's in a court shoe for once and not the stripper heels she's been favouring on the runway. Gagged. A lot of people should be scared here!
5. Jaida Essence Hall's 'Pleather Principle'
Oh, she's TAKING it! This could not be more to my taste. It's Buffy, it's Blade, it's The Matrix. I love the choice to colour scheme it in shades of maroon and brown and not just black vinyl pleather. Jaida has never looked cooler. I would die to wear this.
4. Monét X Change's 'Pleather Principle'
The best Monét has ever looked. Ever. I actually gasped when she came out in this. I think it's one of the coolest gowns I've ever seen, not even just in the realm of drag but including Met Galas, EVERYTHING. The feminine glamour with the masculinity of the abs? The monochromatic brown? Perfection. So gorgeous.
3. The Vivienne's 'Spiked on the Runway'
I could go on about my love for this look all day. First of all, I just love the colour choice of a pastel blue – because I feel like for this Catwoman-esque ensemble it's an unconventional choice. It pairs so well with the gold. The Catholic opulence of the headpiece with the gold spikes make it seem rebellious and a bit demonic. The heel not really being a heel? Wow.
2. Raja's 'Veiled It'
Raja is an innovator. I've never seen this done before, and it's just magnificent. I loved that pictures emerged of her sketching the concept on Instagram years ago and now it's here fully realised. A Drag Race first, and one of the fashion moments from All Stars 7  that will be imitated for years.
1. Shea Couleé's 'I'm Crowning'
There is a level of regal excellence to Shea Couleé's week one runway that other queens could only dream of reaching. It's so detailed, so well thought out, so impressive. It's just beautiful to look at no matter where your eyes fall. The earrings? The hair? It's the way to let everyone know that when it comes to fashion, you're the queen to beat. Immaculate.
Catch RuPaul's Drag Race: All Stars Series 7 every Friday on the streamer of all things drag, WOW Presents Plus. Subscribe here. 
Related stories recommended by this writer:
• All Stars 7 has revealed who the secret queen under the hat is and it's a Drag Race ICON
• No one's going home, so here are the new Drag Race rules for All Stars 7 fully explained
• All Stars 7 is Drag Race perfection, with a cast of winners proving exactly why they got a crown