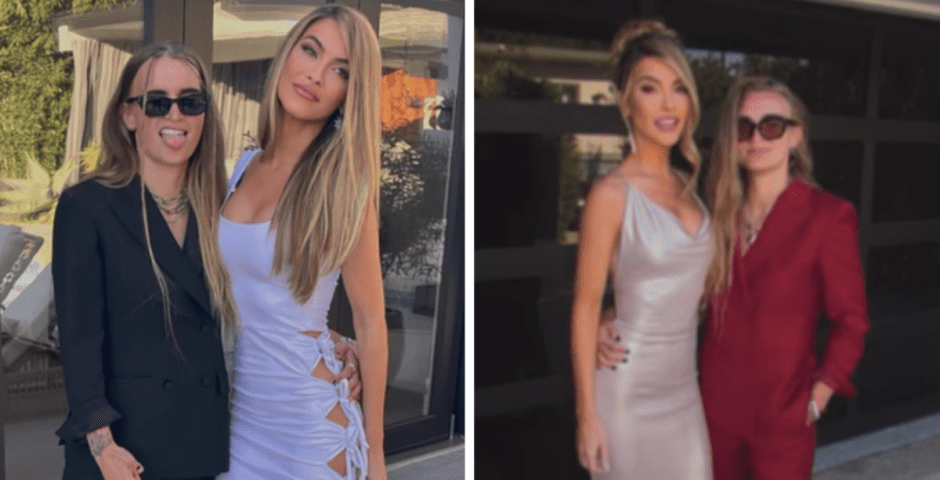 Everything we know about G Flip and Chrishell Stause's relationship so far
For a few months now, gay TikTok has been going WILD with the rumours that Chrishell Stause from Selling Sunset was supposedly dating Australian musician G Flip. But last week at the Selling Sunset season five reunion, Chrishell channeled Lizzo and confirmed all the rumours are true, saying: "I recently have been spending a lot of time with someone that's very important to me. Their name is G Flip."
Here is everything we know about the dating rumours between Chrishell and G Flip, and their relationship so far – from how they met to where they are now, and who made the first move 👀
Halloween 2021 – Chrishell and G Flip meet
Speaking on a podcast recently, G Flip said they and Chrishell met at Halloween last year.
"But we were both with our ex-partners then", G Flip said. "And then we obviously separated from our partners and then we just started talking and stuff. We just found a lot of similarities – even though people would think we're from, like, different corners of the world, we find ourselves so similar sometimes."
December 2021 – Chrishell and Jason announce their break up
In late December Chrishell and Jason announced they had broken up, after being together for less than a year.
In a post on her Instagram grid, Chrishell said Jason is her best friend and they ultimately split because of their different ideas about starting a family. She thanked him for "the most incredible relationship" but said: "Men have the luxury of time that women don't and that's just the way it goes."
Then Chrishell was in G Flip's music video
At the Selling Sunset reunion, Chrishell said: "It started because I was just going to be in their video, it's about this chaotic love story. I come from soaps, I love acting, and with the job that we have I don't always get to do it. At first of course I was like 'yes let's do that'."
Chrishell said G Flip had "made the first move".
The song is called Get Me Outta Here. No one has confirmed when the music video was filmed, but it's just been released! You can watch it here:
Earlier this year, Chrishell and G Flip started 'Insta flirting' …
Fans spotted Chrishell at a Fletcher concert in LA – and G Flip was the warm up act. Chrishell even commented on G Flip's Insta at the start of March about the show, saying: "I'm sad it's over😩You KILLED IT ❤️‍🔥🔥❤️‍🔥🔥👑 ". G Flip replied: "thnx baby 😘".
"They've been hanging out a bunch and Instagram flirting", TikTok user @kales_0 claimed back in March. Chrishell posted a pic of the two of them in an Insta photo dump, and @kales_0 shows screenshots of what they say is the comments under this post. In this, one Instagram user says "Fell in love with an emo girl", and Chrishell seems to reply saying: "Damn! That should have been the caption". In the screenshot this comment is pinned, but there is no trace of it in the comments on Chrishell's Insta.
Chrishell and G Flip were interacting loads in Insta comments on both of their profiles. On one post promoting G Flip's song Gay 4 Me, Chrishell commented "Yes!!! Love this! #onrepeat" – G Flip replied with three "😘" emojis.
On another of G Flip's posts about Gay 4 Me, Chrishell said: "How do you make us emotional and horny at the same time?? Your power 🤯😉👏❤️‍🔥". 
G Flip's also been commenting on loads of Chrishell's pics, including "Hot damnnn 🔥" on one of Chrishell's magazine photoshoots.
… and hanging out a LOT
Chrishell and G Flip were pictured together at a release party for Bridgerton season two, and Chrishell again posted this in an Instagram photo dump of the event – swipe through to the fifth pic below to see.
View this post on Instagram

And G Flip featured on Chrishell's grid yet ANOTHER time, in a series of photos from a friend's birthday.
View this post on Instagram
G Flip has met Chrishell's Selling Sunset co-star Emma!
G Flip and Chrishell went for dinner with Emma Hernan, Chrishell's good friend and Selling Sunset co-star, and two other mates. Emma posted a series of pictures of them all in March this year, at a boujee-looking restaurant in LA.
View this post on Instagram

G Flip and Emma both follow each other on Instagram. From the Oppenheim Group, G Flip also follows Chrishell's other close mate, Mary Fitzgerald. Emma's been commenting on loads of G Flip's recent Instagram posts, usually with long strings of various emojis.
April 2022 – they went on holiday together??
At the end of April 2022 Chrishell and G Flip were apparently been spotted in Denver, Colorado in America, holding hands. Fans realised that they were both on their way to the same place, after Chrishell posted a "Colorado bound" Insta story and G Flip posted one saying they were going to Denver.
American actress Molly Burnet posted an Insta story, showing both Chrishell and G Flip and tagging them both, confirming the two were in the same place together.
They were apparently pictured in Denver, holding hands. You can see the pic in a TikTok video here – it's of two people from behind and doesn't show their faces, but fans were CONVINCED it showed Chrishell and G Flip.
May 2022 – Chrishell confirms the rumours she is dating G Flip!!!
At the Selling Sunset season five reunion, which aired on 6th May 2022 and was filmed shortly before, Chrishell said she's been dating and "having a lot of fun" since breaking up with Jason, before saying: "I recently have been spending a lot of time with someone that's very important to me. Their name is G Flip."
Speaking to Tan France at the Selling Sunset reunion, Chrishell has said "life is really good" and she's "in a much happier place".
She said: "I feel like the show ended in a very specific time, and I'm loving that we can do this because I am in a much happier place with everything, so it's nice to show up and give everybody an update. Things are good."
Speaking about having a family, which was a big focus of Selling Sunset season five, Chrishell said: "I've taken some of the pressure of myself as far as what that looks like. I'm just kind of enjoying right now and having a lot of fun, and dating."
Chrishell then confirmed the G Flip dating rumours: "You don't get to choose where you meet someone. You don't get to choose when you meet someone in their life. Recently I've met someone that is in a different place in their life as well.
"I recently have been spending a lot of time with someone that's very important to me. Their name is G Flip. They're non-binary so they go by they/them and they are an extremely talented musician."
They are official and feel they 'will be in each other's life forever'
Speaking on the podcast, G Flip said the rumours about them moving in with Chrishell are false, but the two are official! "We both feel like we'll be in each other's life forever, we have a very strong connection that you don't find every day", they said.
"I definitely see children in my future. Me and Chrishell know where we are, in the stages of our lives and we're very transparent about that."
Selling Sunset season five available on Netflix now. For all the latest Netflix news, drops, quizzes and memes like The Holy Church of Netflix on Facebook.
Related stories recommended by this writer:
• Who is G Flip? The Australian singer who is dating Chrishell from Selling Sunset
• G Flip says they first met Chrishell last year – when she was still with Jason
• PSA: Chrishell's music video with G Flip has just come out and it's iconic
Featured image via Netflix