These 33 memes about season two of Love Is Blind are so good I'd propose to them
Shaina is the Jessica of this season, end of
Love Is Blind is one of the wildest shows Netflix has ever created, but what makes it even better is all the memes and reactions we share about the funniest and best moments – and so far, season two has been on fire. We've been introduced to 30 new singles, seen them on their pod dates, getting engaged and off on a luxury retreat in Mexico to celebrate.
We've all collectively agreed that Shayne is not worthy of our girl Natalie, Shaina is 100 per cent the Jessica of this season, and no couple will ever even start to come close to the King and Queen of our hearts, Lauren and Cameron. Here are the best memes about season two of Love Is Blind so far. Expect more from the next bunch of episodes and enjoy!
1. First things first, some respect is needed
2. AWKWARD
3. I genuinely feel a bit ill
4. I could never
5. At least she has loads of friends and Instagram followers, right?!!!
6. STOP
7. It's happening again!!!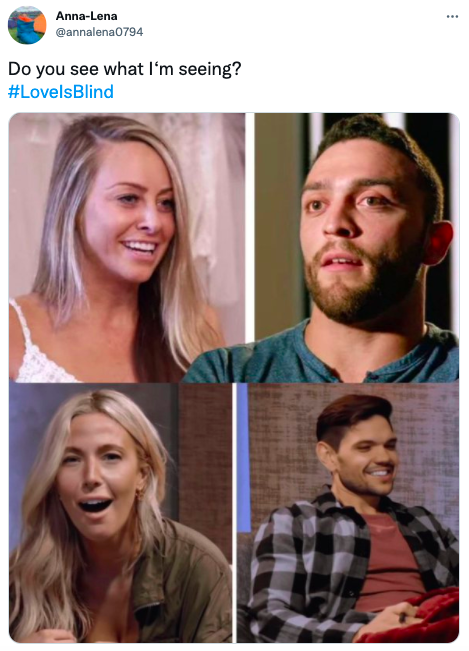 8. Yikes
9. I'm still quite shocked he actually said that?!
10. This was truly a moment
11. Shayne please!!!!
12. I mean, yes
13. Breathe if you agree x
14. NO NATALIE NO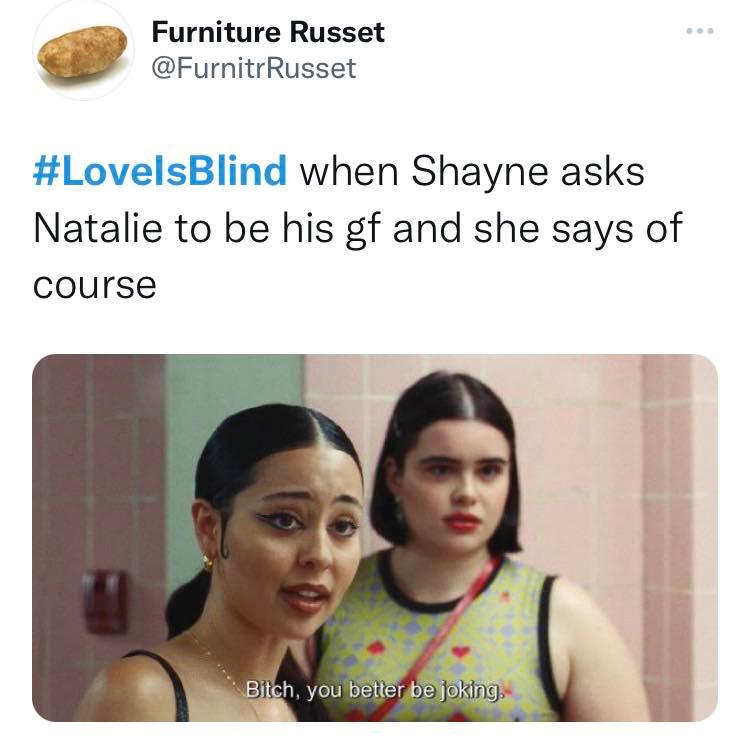 15. You ain't fooling anyone!!!
16. My toes are… curling
17. Shayne is a CHILD
18. There's no denying this fact
19. The line of the season so far, right here
20. Seriously though
21. I'm obsessed ok
22. Kyle, hun, please
23. HIS LAUGH THOUGH
24. Honestly, how can be this way about women?
25. VOM
26. Loooool I'm out
27. No girl, NO!
28. You honestly can't make this up
29. He deserves more!!!!!
30. Pretty much
31. Make it stop !!!
32. Where is the justice?!
33. We must protect her!!
Here's to the next episodes!
Season two of Love Is Blind is available on Netflix now, with the next episodes being released on Fridays. For all the latest Netflix news, drops, quizzes and memes like The Holy Church of Netflix on Facebook. 
Related stories recommended by this writer:
• Love Is Blind production secrets: 14 behind the scenes facts of how the show is really made
• Inside the Instagram accounts of the Love Is Blind season two cast
• Quiz: Which guy from season two of Love Is Blind would you marry?