All 42 runway looks from Drag Race season 14's ball challenge, ranked
Time to channel Violet Chachki and sort the toots from the boots
The RuPaul's Drag Race ball challenge is one of the most essential and staple of them all, and with season 14, Drag Race presented us with the biggest ball ever. 42 runway looks. FORTY TWO. But let's face it – the general standard of the looks this week is prime evidence that more is not always more. I'm embracing my inner Violet Chachki energy, so here are all 42 runway looks from the Drag Race season 14 ball challenge ranked.
42. Maddy Morphosis' red resort
Evil, evil, evil. Looks like she got it for £10 in the New Look sale. Irredeemable.
41. Maddy's … Whatever this is!
I really hate how this is meant to be an editorial serve but it literally looks like the wallpaper from a child's nursery has become possessed and taken human form. Haunting.
40. Maddy's bridal
Looks like it was made in 2o minutes. Makeup is from Satan himself. A dreadful week from Maddy across the board.
39. Kornbread's bridal
I love Kornbread with all my heart and soul, but diva, this is a disaster. Besides the cute wig!
38. Deja Skye's red resort
Completely uninspired, and an unforgivable wig colour. Why the purple? I need to know. It's giving me sleepless nights. The nude illusion is traumatising.
37. Deja's evening wear
Another week of Deja Skye runway looks and I am yet to have a single clue what her aesthetic is, what her style is like and what she's actually bringing to the table.
36. June Jambalaya's bridal
In theory, this shouldn't be too bad – but in execution, it's terrible. The fact she doesn't move the palm leaves at all is so frustrating and you could really tell it was shoddily constructed. And that's before it crumbled to pieces during the lip sync. I Love It by Kylie Minogue deserved more than being performed badly by Maddy and June.
35. June's leopard evening wear
Just a load of shiny fabric draped. An absolute death trap. Truly a wonder she didn't break her ankle or her neck.
34. Deja's bridal
Deja is a seamstress and this is a really well constructed look, but at what cost? The cost of fashion I fear. The taste level is non existent unfortunately.
33. Kornbread's safari
It's a bit pedestrian, but Queen Kornbread still serves it with charm. I love the water flask as bag detail, but need to know why she chose this deflated and flat wig. Can we have a crumb of volume I beg!
32. Lady Camden's red resort
Lady Camden's looks for the Drag Race season 14 ball challenge were just wholly safe. Not a single risk taken at any point, and her resort look with the Ghislaine Maxwell wig was the most boring of the lot.
31. Lady Camden's white evening wear
Slightly better than the red resort, but still nothing to write home about. I like the more 80s prom vibe of this, but another queen nailed that vibe so much better higher up this ranking.
30. Angeria's white evening wear
I have no clue what Carsson Kressley was smoking when he said this was one of his all time favourite Drag Race runway looks of all time when it wasn't even Angeria's best season 14 look or within the top 10 ball challenge looks this episode. It's nicely made, but just unexciting pageantry drag that isn't chic at all to me.
29. June's zebra resort
June's best look of the night was this pretty decent selection of separates. Love the sunglasses detail and the bag, and the contrast colour inner lining really pops. The wig though? Let's spare a moment for how much of a serve this could have been with good hair.
28. Jasmine Kennedie's red lobster resort
Drawing a blank here. It's like… the most basic resort look ever and yet the twist of the lobster claws somehow makes it worse? Why are they there? What's the storyline? It isn't camp.
27. Kornbread's leopard evening wear
The wig haunts me, but the gown fits correct and I'm not furious about it. I wish the cutout of leopard print was just skin and she just used the black print on the main part of the gown. The collar detail and cuffs don't really work.
26. Bosco's print bridal
Bosco is already establishing herself as one of the season's dominant fashion queens, but her looks in the ball mostly missed an elevated edge. There's elements to this print clash look that work, but it feels sloppy in its execution.
25. Orion Story's leopard evening wear
In general, I think the Drag Race judges critiques were too harsh on Orion Story during the season 14 ball challenge. I don't think she deserved to be bottom three! Her least successful look was her leopard print gown, which had one too many cut outs and just looked slashed to ribbons.
24. Lady Camden's bridal
This is a frustrating look for me, because it actually could be kind of amazing. That print is so interesting, I love that the stars look almost singed on. I wish she really went there and did makeup like she'd been singed? It would be cool. Every great thing about this look is undone by the tinsel draped round the dress for no good reason. It looks like it was taken from a sad Christmas tree in a doctor's waiting room.
23. Bosco's zebra print resort
A moment of silence for the fact Bosco didn't match the print on the boots to the print of the bodysuit. It holds it back and I wish I could turn back the clock and tell her to match the print. For all our sakes. LOVE the silhouette, though.
22. Alyssa Hunter's zebra resort
The whole look is a bit muddled, and we've definitely seen better equestrian / jockey looks on the show courtesy of queens like Gigi Goode, but Alyssa's zebra look is mostly successful.
21. Orion's print bridal
I actually loved this look. I think it's incredibly successful and she looks gorgeous channeling a mother of the bride vibe. It's got a rock and roll vibe to it that I really think works well. I'm so glad Orion and Daya got to come back and show more!
20. Alyssa's print bridal
The hair, makeup and tiara are so immaculate. She looks so gorgeous, and everything is made well and served with a side of pageant drama.
19. Orion's zebra resort
I had so much fun with this look, and think it works way more successfully than the judges gave it credit for. I love the hair, and I really love the sporty booties. It would have been easier and cheaper to just wear a black pump, but that sporty twist is what makes it elevated.
18. Daya Betty's white evening wear
Daya Betty's least successful look was definitely still a toot, and the big titted Lady Gaga as The Countess aesthetic is sofun. The makeup is stunning.
17. Bosco's leopard print evening wear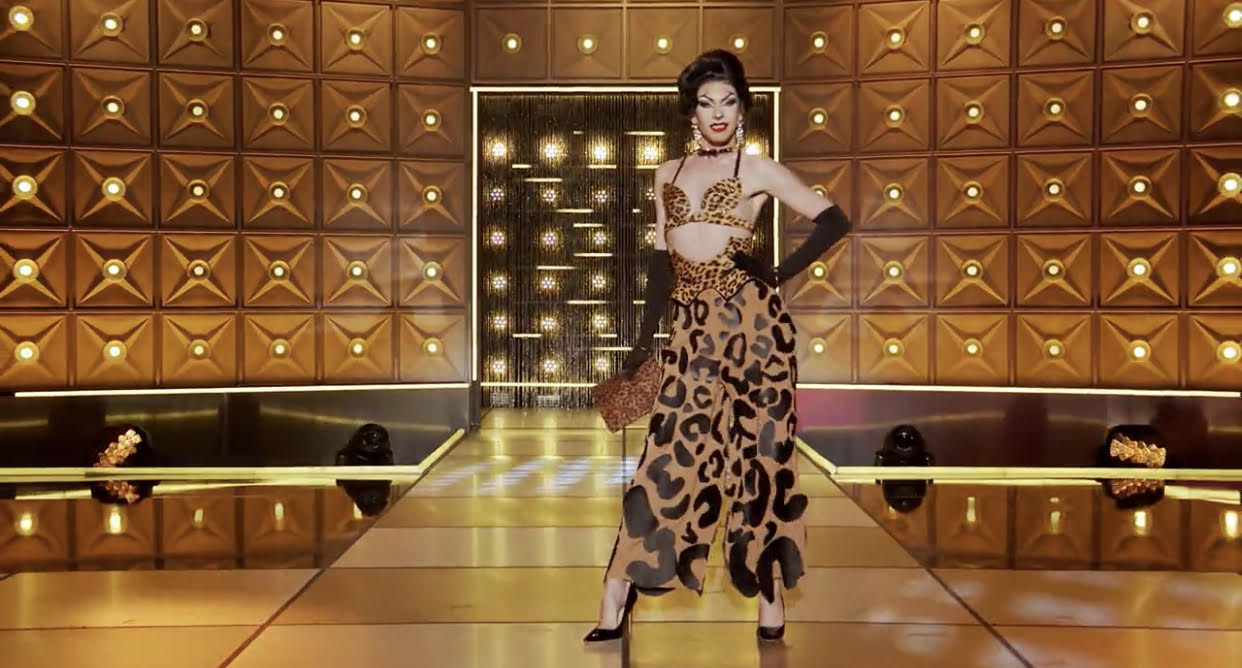 It's a serve, your honour.
16. Kerri Colby's print bridal
Kerri Colby is potentially one of the most gorgeous queens to ever step foot in the Werk Room, and her performance in the Drag Race season 14 ball challenge is the only evidence you need. Just LOOK at the material. For a non sewer, she worked it out.
15. Jasmine's white evening wear
Girl we going I, Tonya? It's giving ice skating geish, and I'm into it. Pretty and plain, but it's a toot nonetheless.
14. Jasmine's bridal
It's giving Miss Universe over bridal, but this is an incredibly well put together look and I love the star shoulder feature so much.
13. Willow Pill's print bridal
Willow Pill is continuing to prove herself as a drag chameleon, and this look is different to everything we've seen her in yet. It's my least fave Willow look of the night, but it's still really chic and well done and I love the cute little visor veil.
12. Jorgeous' red resort
It's cute, it's simple but it's wow. Mostly just because Jorgeous is exactly the kind of queen who is stunning and charming enough to walk out and sell the hell out of it. A success!
11. Willow's leopard print evening wear
Yes it's a bit too Versace knock-off, but god she looks GOOD. Is there any vibe that Willow Pill can't nail? A lot of people should be scared.
10. Willow's zebra resort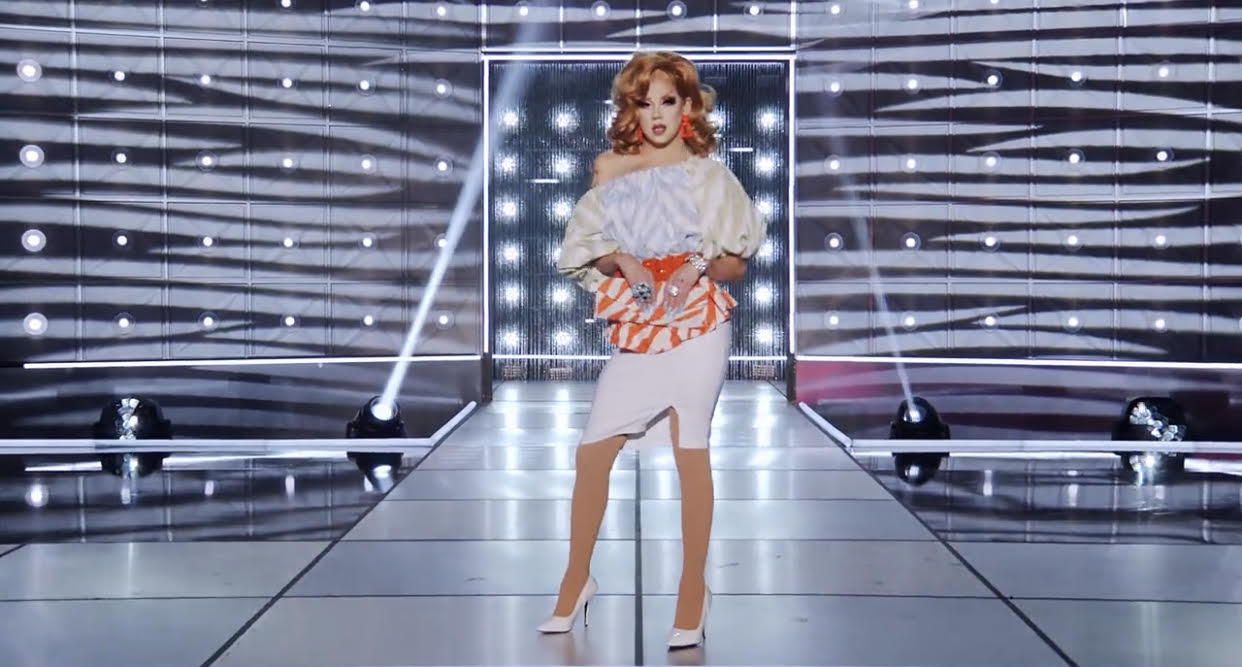 It's executive realness done right. Chic, sophisticed, modelled well and all the different coloured zebra prints work perfectly together.
9. Jorgeous' bridal
I love the strippery vibe to Jorgeous' bridal look, it's the perfect amount of trashy and classy and she wore it so well.
8. Kerri's iconic pink tight moment
Kerri's pink tight and boot all in one combo made this look one I'm just so obsessed with. The contrast works so well, and I love her early 00s Xtina hair vibe with it.
7. Angeria's bridal
Angeria's bridal look is one that just looks so well made I gasped when she came out in it. I can't believe something this well done was whipped up in the Werk Room. She's such a threat this season, and clearly knows exactly what she's doing.
6. Kerri's leopard print evening wear
Oh this 80s SLAY. I love it so much. I love the purple, I love the print, I love the fact the hat manically spins. TOOT!
5. Daya's bridal
SUCH a fun look. The vision is so well executed, every detail works, the ruffling is done to perfection and she hits the brief perfectly. Such a good week for Daya Betty, and I'm so glad she's still in the competition.
4. Daya's red resort
OBSESSED with this hair. Obsessed. It's so fun? Makeup is great, the outfit is fun and cartoony and the whole thing feels juvenile but never in a sickly way. Great look.
3. Angeria's red resort
Absolutely beautiful look from Angeria. She suits the colour red SO much. I love the chiffon vibe and the way this dress literally floated down the runway. A goddess.
2. Jorgeous' white evening wear
Jorgeous, jorgeous girls absolutely gobble up the white category. Who is doing it like her?
1. Alyssa's leopard print evening wear
I like to think that Alyssa Hunter in this look and Kerri Colby in her leopard print look are besties. They're from the same cinematic universe. This is beyond gorgeous. Every detail immaculate. Stunning. If I was about to walk the runway after something like this came before me I'd probably just sashay away home on the spot. Heaven.
For all the latest Drag Race memes and Netflix news, drops and memes like The Holy Church of Netflix on Facebook.
Recommended stories by this writer:
• It's official! Meet the nine queens competing on RuPaul's Drag Race: UK Versus The World
• The 24 best songs released by RuPaul's Drag Race queens after their time on the show
• RuPaul's Drag Race moving off Netflix for season 14 is the wrong decision – here's why