Every single one of Ruby's outfits slapped, so now it's time to rank them all
The Xtina look reigns supreme
*Contains spoilers for Sex Education season three*
Ruby Matthews was the undisputed queen of Sex Education season three for her sassy one liners, surprising vulnerability and of course her incredible wardrobe.
Fashion plays a major role in Sex Education. Each character's style is a reflection of them – you never see Otis without his signature striped jacket, Maeve only wears black and as Eric gets more confident his outfits get even louder.
And it's the same for Ruby, when we first met her in season one all she was known as was the bitchy popular girl, but you remembered her for her standout outfits. Now in season three, she's become a major character and whilst there is a lot to dissect about her relationship with Otis, attention must be paid to her looks.
Every single outfit Ruby wore banged, but which combination was ultimately her top look? We've ranked Ruby's outfits from pretty decent to get that look in the fashion hall of fame.
The sex clinic look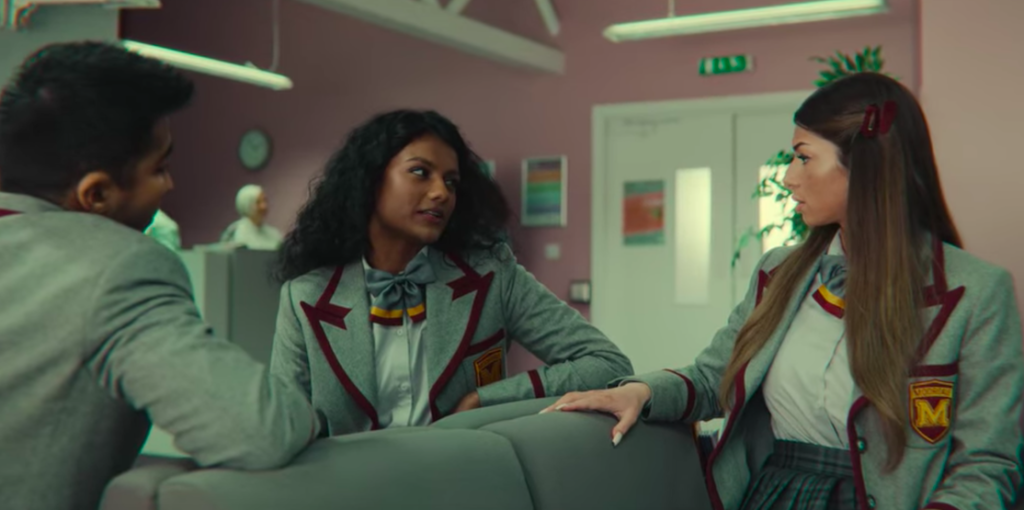 One outfit was going to have to come in last and ultimately it's this one.
There are only so many ways you can improve a school uniform and there wasn't much added to this apart from the red hair clips, which gave her a very good school girl vibe. Did not rate.
The school trip look
Ok now this is how you make a school uniform look fit. It's giving me early 2000s Britney Spears in the Toxic video with the tied up shirt.
Her hair is chic and the outfit really showcases her initial necklace. How can Otis not love her?
The we're together look
Right there's just something that doesn't wow me with this look. It's just so surprisingly sweet and wholesome for Ruby.
The knitted stripe sweater mirrors Otis's stripe jacket which is a cute statement to make considering this is scene Ruby publicly declares she's dating Otis.
However as a look on it's own it's just a bit too cute for Ruby.
The head band look
Blair Waldorf who? Sorry but Ruby is now the ultimate headband inspiration. I will not be taking further questions at this time.
The yellow jacket look
Ruby is great with colour and this outfit is a perfect example of it. A yellow jacket and a matching yellow top should not work but she manages to make it look effortless.
The half up half down hair looks gorgeous on her and the gold necklace combined with the pink floral skirt is just a classic Ruby look.
The pink breakup look
I don't know how it's possible to look good whilst being dumped but if anyone was going to do it it was going to be Ruby.
The outfit is the perfect example of how wearing head to toe pink can actually look so cool. The trousers with the hearts and the halterneck top look feminine without being girly. And her signature gold heart necklace is just the cherry on top of the pink cake.
The only downside is she's literally wearing her heart on her sleeve whilst being dumped. Again Otis, what were you thinking?
The double date look
If you needed another reason to praise Sex Education then let's consider how they frequently reuse pieces for character's wardrobes. Ruby wore that yellow jacket at least three times during this series. It's promoting reusing your clothes more than once and is a far more realistic representation for how teenagers actually dress.
This time the yellow jacket perfectly complements the hints of yellow in the floral dress. And whilst it could appear too loud the outfit just works so well. And let's of course discuss the accessories – earrings, bag and a big bow – Ruby can do it all.
The double denim look
The heart print jeans rule again and manage to make Ruby's double denim look like an actual vibe. Not everyone can pull off a Canadian tuxedo but of course Ruby can.
The only thing I'm not loving in this look are the long red fringe earrings.
The red tartan look
This look from Ruby has a real edge to it, like she's a member of a rock band or in 90s Vivienne Westwood.
It's sexy and doesn't need loads of accessories hence why the big hoop earrings are the ideal way to complete the look.
The all purple look
This was the moment when I really thought Ruby and Otis were an elite couple, mainly down to this outfit of Ruby's. It's so feminine with the puffy sleeves and floral trousers and little lilac clutch bag and yet it's still so powerful and sassy.
The near matching sunglasses with Otis are the perfect touch. And in behind the scenes pictures you can see Ruby and Olivia are wearing matching lilac square toed heels which is just best friend goals.
The white jumpsuit look
I'm not being dramatic when I say this outfit deserves a spot in the hall of fame. The white jumpsuit makes her look like a chic 70s goddess or a powerful bond girl. It could look costumey but she wears it so effortlessly.
And paired with the yellow accessories and gold necklace I think I might have died when I first saw it.
The Xtina look
I mean does this even need explanation?
Season three of Sex Education is available on Netflix now. For all the latest Netflix news, drops and memes like The Holy Church of Netflix on Facebook. 
Related stories recommended by this writer:
•An ode to Ruby Matthews: The brightest shining star of Sex Education season three
•Which Sex Education season three character are you? Take this quiz to find out
•Sex Education glow ups: Here's what the cast looked like in season one versus season three