Explained: Why everyone is convinced Kylie Jenner's nails gave away her pregnancy early
I am a Kylie baby truther now
Kylie Jenner is pregnant for the second time. The Instagram demigod announced the news yesterday, marking a departure from her private first pregnancy.
It was a dramatic reveal – for some. Because fans have been convinced they figured the news out early, and it all comes down to a telltale nail job.
Essentially: fans saw she had the same nails in photos spanning months, which was uncharacteristic, and deduced that she'd been posting old photos for months so she didn't reveal her baby bump.
TikToker @carolinecaresalot went FBI a few months ago, dropping a video predicting that Kylie was pregnant. It's wild – and seems to have absolutely nailed it.
Here's the Kylie Jenner pregnancy conspiracy theory broken down
Kylie loves manicures – she's known for her fancy nail designs. A picture of Kylie on Kim K's story on her birthday showed Kylie's hand, on the right, with nails with a lime green tip.
Look really hard, I promise you can see it.
But a picture posted the same day, 10th August, saying "cheers to 24" shows her with different, pink-ish nails. Which, naturally, sparked suspicion.
She's even holding a glass of wine in one of them – there's no way she could be pregnant! Then people noticed the same nails had appeared in pictures before – such as this one from July.
Pictures posted at the end of August – weeks after her birthday – also featured the same nails, such as this post.
And it's this that led fans to believe that not only was Kylie posting out-of-date pictures, but that she was doing so to hide showing what she looked like. What would you have to hide, and what has Kylie hidden before? A baby bump.
In fact, her reveal video features a brief clip of Kylie holding a visible baby bump – something, they say, that surely would have been visible in photos of her midriff posted just a couple of weeks ago.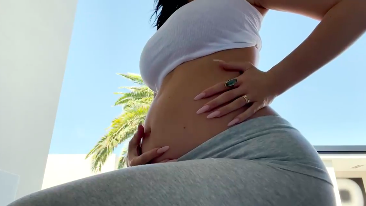 Further evidence came from the fact that at her birthday, none of her family posted pictures of her. Which is strange, because there are usually loads of pictures of her celebrating.
The TikTok also then speculates that a "PR blitz" around her getting back together with Travis Scott was to roll the pitch for the announcement.
Then, yesterday, Kylie announced her pregnancy. Stormi will be getting a sibling. Perhaps we'll never know whether all the clues were actually pieces of evidence, or if the pregnancy truthers managed to blunder their way to the right conclusion.
Related stories recommended by this writer:
• Quiz: Ok so let's decide, are you more like Kendall or Kylie?
• Kylie Jenner called out for asking fans to pay her makeup artist's $120k surgery
•Quiz: Can you guess which Kardashian said the iconic quote?