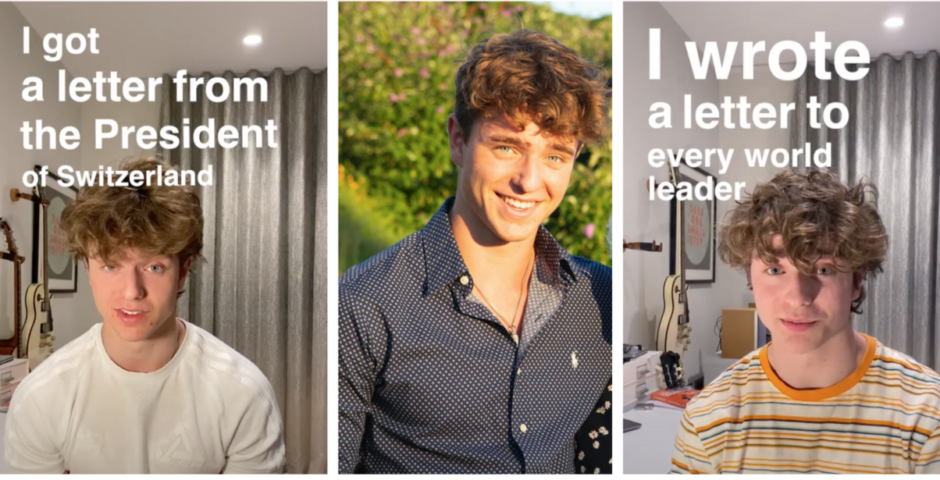 Meet Leo Olsson, the TikTok star who is penpals with world leaders
Through old-fashioned snail mail, Leo has managed to gather the secrets to success from the most powerful figures in the world
Over a year and a half of lockdown, we all tried some new hobbies; whether you picked up knitting, started Couch to 5k, or (like many of us) turned to TikTok, we all found a way to entertain ourselves.
For some, like Leo Olsson, an 18-year-old from Jersey, his quarantine entertainment has grown to something he could never have imagined, correspondence with the likes of Jacinda Ardern.
Producing viral content for his hundreds of thousands of followers is a demanding task for the incoming LSE fresher, with Leo describing it as "the worst paid part-time job ever."
But, corresponding with the world's most influential people and a potential book deal about the experience makes the editing effort worth it.
"I just started by documenting my life"
Just over a year since starting his TikTok account, he has amassed well over 300k followers and 7 million likes. Creating with self-confessed "more TikTok-y" and "relatable" content (see this kind of video on 'types of guys in every boy's friendship group'), Leo gave into the TikTok craze despite being "one of the more staunch holdouts."
His first 'viral' video was of one of his private school traditions with 'full-on robes and all that jazz.' This video reached 1.8 million views, and throughout Summer 2020, Leo continued to document his life through TikTok, with 'day in the life' style content of his workday, or as a young person on the small island of Jersey.
Leo admitted reaching a "creative roadblock" and explained how the early months of his channel were spent "chasing the content people would want to see" and "conforming to the platform."
Getting past this creative block led him to content he's "much more passionate about". However, given that his recent productivity and motivational content takes three to four hours to edit, he admits that the "efforts to reward ratio has gotten a lot worse."
"Once I turned 18, I was questioning what I was doing in life"
Upon turning 18, Leo decided to send a letter to world leaders, monarchs, presidential figures and heads of states – as well as the Dalai Lama – with a straightforward question: what is the one piece of advice you would give to a young person?
When Leo started producing content on his Dear World Leaders series, his channel truly exploded, with his following growing by 80,000 in three days. With notable replies, he creates educational and inspirational videos about the country they've come from and the advice given.
Leo was faced with what you could describe as a mid-life crisis at 18. Inspired to consider what "the story" of his life is going to be, Leo was left worrying that his life was rather "unremarkable."
So, out of his premature midlife crisis came the idea to write to all the world's most powerful figures, supposing that "even if it fails, it's an interesting anecdote to have." With the help of the Dear World Leader site, he got started on his ambitious project.
Leo secured life advice from one of the most powerful women in the world
With precisely 200 letters sent, and £200 spent in postage, Leo said he hoped to have "at least 10" responses, and a few months on he's sitting at 18, although missing replies from some of "the big leaders" such as Boris Johnson, Joe Biden, or Justin Trudeau.
The "most notable" leader to reply was Jacinda Ardern, Prime Minister of New Zealand. Leo said he "expected to hear back from her" as he'd researched that she often replied to letters but that it was still "awesome" to hear from her, especially as her letter felt "especially personal."
Jacinda's advice was to "ignore the inner voice that tells you you're not good enough," which, compared to others' Leo described as "reasonably pragmatic and thorough." He continued that her advice is likely "shaped by her experience, being a very prominent female figure in politics."
"If you want some blunt advice, ask the President of Romania"
Whilst Jacinda's response was exciting due to her notoriety, Leo particularly enjoyed the response from the President of Romania, whose message to young people is: "those who set their minds to small goals will get small things."
Keeping the politics separate, Leo explained that "he's a pretty good example of where ambition can take you", as just 20 years ago, Romanian President Klaus Iohannis was a teacher. Now he's the President of a country of over 19 million people.
"Oh wow, it actually worked out"
Ever wondered how your life changes when you reach internet fame? Leo admitted that not much has changed in his day to day life as in his small town on the island of Jersey. Everyone tends to know your face anyway.
In terms of friends' reactions, "there's abuse up to a certain point", but once he passed what he saw as a "success threshold" of around 100,000 followers, reactions tended to be more positive as people were surprised but pleased that he'd done so well.
"University is going to be very intense"
With results day confirming that Leo will be going to LSE in September, he revealed he wouldn't make a point of telling anyone about his account to "avoid the humblebrag", but not necessarily because he's embarrassed about the account.
Whilst many of us struggle to balance attending your lectures alongside socialising at University, Leo is set to balance his TikTok, university, social life, and a budding book deal.
Working towards a book about the experience of writing to world leaders and the advice he's received, the soon-to-be international relations student admitted that "something will have to take a hit." But he is doubtless going to struggle with that as "there is always something else" he'll be striving for.
Related stories recommended by this writer:
• Meet Monica Geldart: TikTok's best teacher impersonator
• Meet Inigo: The King's student making the best POV comedy videos on TikTok