The most dramatic Love Island exits of all time: Islanders who were kicked out or walked
Tbf I would also leave if Curtis told me 'I want to be the person that gets up and makes everyone a coffee in the morning'
Love Island is full of drama, from tense recouplings and chaotic challenges to full-blown beefy arguments. But perhaps one of the most dramatic parts of Love Island is the show's shock exits. People leaving the show isn't anything groundbreaking, it happens at least once a week, but what IS rare is people leaving Love Island of their own accord (or being removed by producers), when there isn't a recoupling or a public vote.
Whether it's being removed from the villa for play fighting, getting kicked out for having a massive argument after only 20 minutes on the show, or choosing to leave in the name of love, there have been a whole load of dramatic Love Island exits over the years.
Here are the most dramatic Love Island exits of all time:
Amy Hart, series five
Who could forget the Love Island classic "I want to be the person that gets up and makes everyone a coffee in the morning" from Curtis when he and Amy were breaking up? After Casa Amor, the two of them recoupled but Curtis said he'd connected with Jourdan and his head had been turned, whilst Amy said she was coming back from Casa Amor to tell Curis she loved him.
The two of them ended their "half boyfriend and girlfriend" relationship, and Amy spent the next couple of days being, understandably, very sad. After Maura and Curtis started cracking on Amy left the villa, giving an emotional speech to her fellow Islanders. She said she wanted to leave in a positive way and wasn't going to find love again in the villa.
Ollie Williams, series six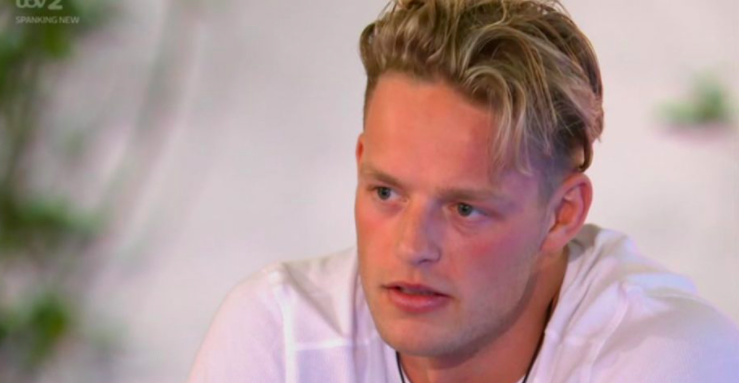 Ollie left the Winter Love Island villa after just three days, saying he missed his ex, whom he'd dated for 18 months before splitting with. He said he was still in love with her and he couldn't ignore these feelings. A week later they were back together.
However before this, pictures of Ollie posing with hunted animals had emerged, and fans called for him to be banned from entering the villa. THEN viewers were convinced his exit was staged, because he left the villa literally without shoes or a top on. But then we all realised these scenes are shot multiple times and it's more likely Ollie would have then properly got dressed before heading to the hotel dumped Islanders stay at.
Malia Arkian, series two
Malia is the Love Islander who was in the villa for the shortest amount of time, in there for approximately 20 minutes. Malia entered the villa back from a date with Scott, who was coupled up with Kady. Malia said she fancied Scott, Kady got increasingly annoyed at Scott, Malia ended up saying Kady had poured her drink all down her leg.
There was a rather massive argument in which Malia shouted "SHUT UP you bitch", Kady said Malia had "shoved" her, and Malia was removed from the villa.
Samira Mighty, series four
Samira wasn't lucky in love at the start of her time on Love Island. She finally coupled up with Frankie, but soon after he was voted off the show. Heartbroken Samira then left Love Island to reuinte with Frankie, saying it felt like they had "unfinished business" and telling her fellow Islanders of her decision in an emotional speech.
Frankie was waiting at Gatwick Airport when Samira arrived there, it was all very sweet and we fell in love with the two of them. However there were then allegations Frankie had shagged a girl he met in a club, just hours before meeting Samira at the airport. Amid all the cheating claims, it was announced Samira dumped Frankie in mid-August – not even a month after she arrived home from the villa.
Honorable mention: Dani Dyer, series four
Okay so obviously Dani didn't leave, but she threatened to and it was VERY dramatic. Jack, who she was coupled up with, failed a question on his lie detector test, where Dani asked whether he was going to be faithful to her once they left the villa. The two then had an argument and Dani said she was upset because Jack was getting defensive and wasn't listening to what she was saying.
They got into bed later that night, with Dani telling Jack: "I'm going home tomorrow so you can carry on with your journey." He wasn't here for the drama though, and just asked her "What time's your flight tomorrow?" Truly a classic for the ages.
Jack and Dani went on to win their series of Love Island, but broke up less than a year later. They both now have babies (not together). Dani's ex and the father of her baby, Sammy Kimmence, has recently been sentenced to almost four years in jail for fraud after cheating pensioners out of about £34,000.
Sherif Lanre, series five
Sherif was kicked off Love Island for breaking the rules, in a statement saying it was "a case of poor judgement" which has resulted in Sherif and the show's producers deciding he should leave the villa. There was days of silence over what happened, which sparked some absolutely WILD (and false) theories about the rules he could have broken.
But then it was revealed Sherif and Molly-Mae had been play fighting, he accidentally kicked her in the crotch and then jokingly called it a "c*nt punt". Hours later he was removed from the villa, saying he wasn't allowed to say bye to his fellow Islanders.
Rykard Jenkins, series two
Rykard and Rachel were coupled up, and following a public vote their fellow Islanders had to choose one of the pair to dump from the villa. They voted for Rachel to leave, and she and Rykard said an emotional goodbye. Not even a minute later he said "if you've got a good girl, you can't really let her go, so I'm out", and ran after Rachel, saying she was too good for him to let go.
Then she found out Rykard had secretly shagged Olivia, the night after he had been in the hideaway with Rachel. She confronted him and Rykard basically said he and Olivia hadn't told anyone because she didn't want to, but Rachel said she was upset he didn't tell her.
Rykard apologised and the two ended up actually getting together, but broke up after 18 months.
Love Island 2021 continues on ITV2 at 9pm tonight. For all the latest Love Island news and gossip and for the best memes and quizzes, like The Holy Church of Love Island on Facebook. 
Related stories recommended by this writer:
• Okay but how do the Love Island phones *actually* work? Here's everything we know
• Quiz: Can you remember who all your fave Love Islanders were originally coupled up with?
• Quiz: Can you match the iconic Love Island quote to the Islander who said it?