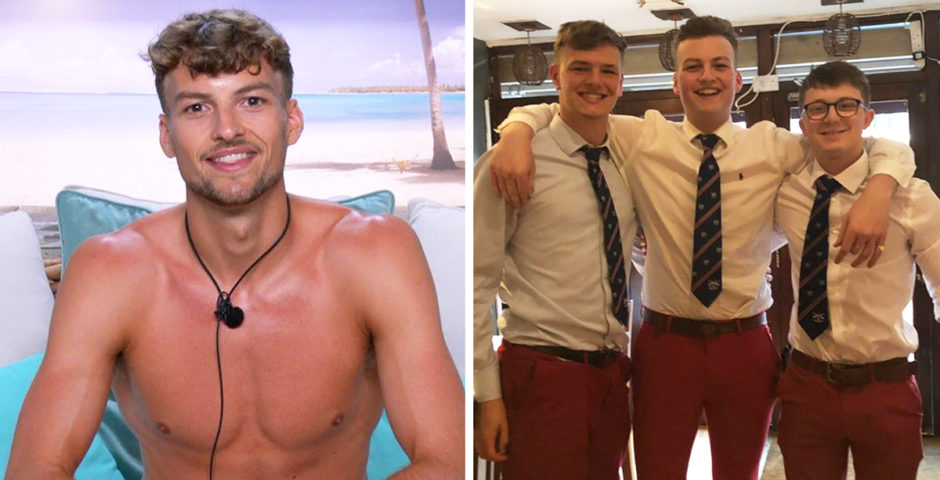 'Friends would warn me he sleeps around': Here's exactly what Hugo was like at university
Friends have said he has an arrogant side which will come out soon
Right now, one of the most popular Islanders on Love Island 2021 is Hugo Hammond. I say right now because come next week, our opinions could have totally changed and we'll be calling for him to be dumped – that's just the nature of Love Island. Before he entered the Love Island villa, Hugo went to Oxford Brookes University, and it looks like he was very different to the timid nice-guy we're seeing on our screens every night.
From wild nights out, half-night stands and a post uni-glow up, here is everything we know about what Love Island teacher, Hugo Hammond, was like when he was at university.
Before Love Island, Hugo studied at Oxford Brookes University
Hugo attended Oxford Brookes University and studied sports coaching. He graduated in 2019. There are pictures on Instagram of him tagged at Cheney Student Village, so he may have lived here as a Fresher.
Hugo thought of himself as a bit of a big name on campus
According to pals, Hugo thought of himself as a bit of a BNOC at uni. A friend told the Daily Mail: "Hugo really thought he was the bees' knees and aimed to make a name for himself at university. He's bragged about his female conquests but they certainly weren't the ones bragging afterwards. Hugo was a divisive figure to say the least, some people liked him, while others thought he was just a posh knobhead."
When he was first announced as a contestant, a jokes video of Hugo from at uni went around, where he calls himself a "fucking top shagger".
He was known to 'bash and dash'
Possibly the worst phrase ever known to man, but Hugo is said to have been known to "bash and dash" at uni – living up to his introduction video where he said invented the half-night stand. An ex of Hugo's spoke to the Sun and said: "I used to get with Hugo on nights out and my friends would always warn me to be careful because he sleeps around. I can confirm he never would stay the night. The first time I slept with him he literally got up and left afterwards. Proper bash and dash."
Hugo was mates with fellow Love Island contestant Chuggs at university, who said he 'loved a night out'
When Chuggs entered the villa, it was clear he and Hugo knew each other from their uni days at Oxford Brookes together. In his exit interview, Chuggs said he didn't get to spend as much time with him there as he would have wanted to, but explained they were in the same extended friendship group. "He was cricket, I was rugby. We've got a lot of mutual mates. Hugo loves a night out," he said.
Chuggs and Hugo are also said to have fought over girls in the past, which had Hugo worried that him entering the villa could have been like history repeating itself. An insider told the Sun: "Hugo and Chuggs knew each other through sport at uni – I think they were both interested in the same girl and went head to head on trying to date her."
Before Love Island, Hugo had a girlfriend at university
Hugo met his ex-girlfriend, Millie Simons, at university and they dated for two-and-half-years. It's been reported they split months ago, but a friend told the Daily Mail they broke up shortly before he found out he was going on Love Island. "They [Hugo and Millie] didn't split up that long ago," the friend said. "He sees Love Island as a way of getting famous and opening up opportunities so had to be single before going in. He asked Millie to run his social media account during his time in the villa but she flatly turned down his offer, unsurprisingly."
Friends have said Hugo has had a massive pre Love Island glow-up and has an arrogant side
His uni pals have also said he didn't have the six pack he's been showing off in the villa, previously. "He didn't look like he does now at university, he's definitely had a 'glow-up' by putting on all that muscle," they said. "He'll be timid at first but it won't be long until you see his true colours and his arrogant side. If he's not picked early on, he will be gutted."
Love Island 2021 continues on ITV2 at 9pm tonight. For all the latest Love Island news and gossip and for the best memes and quizzes, like The Holy Church of Love Island on Facebook. 
Related stories recommended by this writer:
• Hugo's school students are posting all over TikTok about him, and they are *not* happy
• This is where all the Love Island 2021 cast went to university
• Meet Lucinda: The Love Island bombshell whose ex is a Premiership footballer
Featured image via ITV / Instagram @_alexcraib