Too Hot To Handle is one million times better than Love Island and here are the receipts
It's literally just all the best bits of Love Island, with none of the bad stuff
Too Hot To Handle is literally the best thing on TV right now – there, I said it. Love Island started again this week, but I found myself not even caring about it – I was far more concerned about what would be happening in the next episodes of Too Hot To Handle.
Everything you've ever loved about Love Island, which has been lost in the more recent series, Too Hot To Handle has. But it has so much more than Love Island too – it's genuinely hilarious, horny af, and makes you actually feel something, which is far more than you can say for Love Island right now. Its drama doesn't feel forced and the contestants aren't made to do low-budget convoluted challenges simply for the sake of it. Not one part of Too Hot To Handle feels like it was just thrown in to pad out an hour-long episode, and every single episode is nothing less than sheer perfection.
Here's every single reason why Too Hot To Handle is just so much better than Love Island:
It's got the horniness of Love Island series two and three
This series of Too Hot To Handle saw  contestants rack up $70,000 worth of fines across 15 incidents of rule breaks, with seven in the second episode alone. Not to sound like a massive creep, but this is the kind of iconic reality TV shagging we haven't seen since the good old days of the iconic sex scenes of the early Love Island series.
Too Hot To Handle's Cam, Melinda and Emily would all belong right there in the Love Island villa with classic contestants like Terry, Kem and Zara – they simply do not make Islanders like this any more.
But it's got the soppiness of all your fave Love Island couples ever
By the end of Too Hot To Handle season two, some proper couples whom you fully care about have formed. Marvin and Melinda, as well as Cam and Emily have had great journeys as couples. You see them go from their heads turning left, right and centre; to being loved-up and official. They properly open up and get deep with each other, and you get the impression they really do care about one another.
It harks back to your old favourite Love Island couples – Nathan and Cara, Tommy and Molly, Alex and Olivia. Meanwhile, this year's contestants couldn't care less about each other – Chloe's bored of Brad's chat; everyone's already pied Hugo; and not a single one of the boys deserves our queen Kaz.
On Too Hot To Handle, when your fave couples do get the green light and are able to kiss without a fine, you feel genuinely proud of them. They've earned it – whilst on Love Island there are entire challenges revolving around snogging as many people as you physically can.
Speaking of challenges, Too Hot To Handle's feel fresh and actually USEFUL
Love Island challenges usually revolve around the cast putting on a sexy lifeguard outfit, confessing their favourite sex positions and then spitting some kind of grim drink into each other's mouths. They often look and feel incredibly low-budget, and feel like they're just there to add one more ad break to each episode.
Meanwhile, Too Hot To Handle's challenges see contestants meeting relationship therapists and life coaches. They learn actual things about each other and themselves – not just whether they prefer cowgirl or doggy. They get deep, but from what the contestants say you can tell they really appreciate the tasks and workshops, and are able to properly learn and change from them.
You don't waste your entire summer watching it
For the contestants Too Hot To Handle is all about commitment, but for us it's over in a flash. With 10 short episodes it's binge-able in a weekend, you can soak up all the shagging, drama and L-bombs, and then move on with your life.
Meanwhile, Love Island takes up at least an hour a night, six days a week, for about two months. Yes it's great, but once you get deep in the show it literally ends up taking over your entire life for the summer. Too Hot To Handle is short and sweet, but it's exactly what you need and still manages to show incredible character arcs.
Can you imagine the Love Islanders ever willingly wearing these costumes?
Exhibit A:
Exhibit B: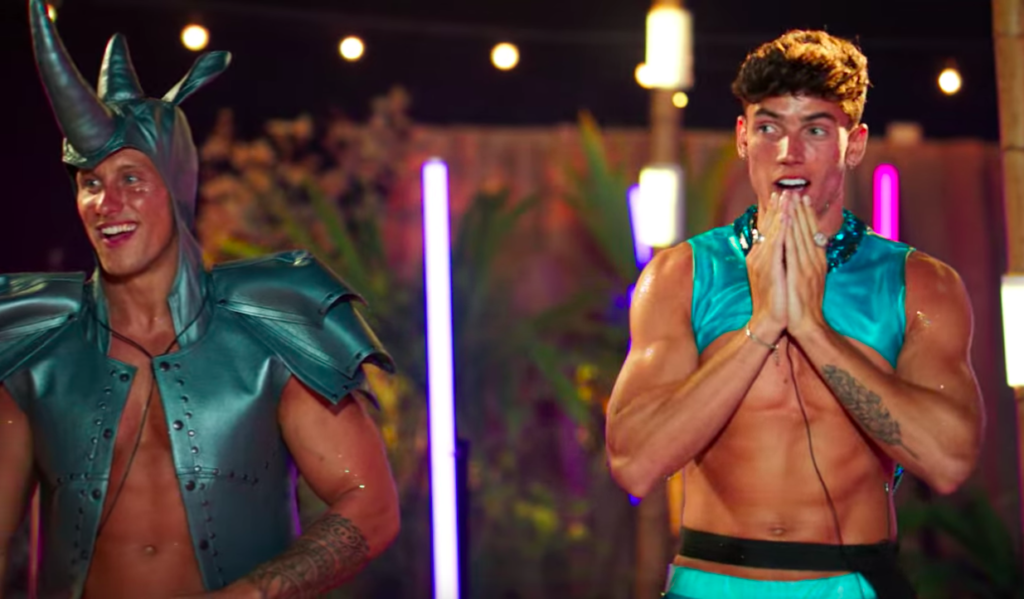 Exhibit C:
The answer is a resounding NO. As if Brad would ever wear a literal dolphin costume with a tail, or Aaron wear an actual horn on his head. I'm sorry but the Love Islanders all take themselves way too seriously – the Too Hot To Handle cast are infinitely funner.
The cast is more diverse
Look, all reality TV has a LONG way to go in becoming actually diverse – in terms of ethnicity, body type, disability and countless more factors. No one is arguing that it's not incredibly important and all-too-often overlooked by the show's creators. But Too Hot To Handle has contestants from literally all over the world, and people have praised the show for being way more diverse than Love Island.
People leave for good reasons, not just for drama
Four Too Hot To Handle contestants are told to leave in season two: Kayla was cracking on with no one, and Peter, Robert and Christina were far too horny for their own goods. But these people left the show because none of them were making an effort to form deep, genuine connections – which is the whole point of the show.
When Too Hot To Handle contestants leave, it's because the producers have decided the process simply isn't working for them any more. But on Love Island, there was a shock dumping for literally no reason about two minutes in to the third episode. The show sets up convoluted public votes or makes the Islanders dump each other, all just to create drama.
The voiceover is genuinely jokes
I like Iain Stirling, but now we're on the seventh season of Love Island and still have the exact same jokes it really gets quite grating. Desiree Burch is funny af, her jokes are self-aware and they fit the show perfectly. You couldn't ask for better commentary.
It's set somewhere even more stunning than the Love Island villa
I mean, it's literally in Turks & Caicos so how could it not be drop-dead gorgeous. Just LOOK at it:
The chaos comes from the actual contestants rather than being forced
An episode of Love Island this week involved dares, where Brad was asked to kiss the contestant he fancied the most – and the one he fancied the least. For the latter he kissed Faye, whom he'd previously been coupled up with. Without question it was cruel of Brad, but it shows an issue with the show's format. Love Island quickly becomes stale, and the show needs to throw in tasks like this simply to create drama and have enough to fill an hour every night.
But in Too Hot To Handle this would never happen. The cast is way more fun and create the drama for themselves – the format of being fined for breaking the no-touching, no-kissing and no-shagging rules creates more than enough to keep us interested. And just when you start to get bored of the drama, as you inevitably quickly do, the contestants begin to form proper relationships and that's what keeps you entertained instead.
There's actually a point to the whole show
It feels like the point of Love Island is to get in a nice, cosy couple with Tom from Liverpool whom you can semi-tolerate, get all the way to the final with him, come second, leave the villa to 650,000 Insta followers, and promptly dump Tom as soon as you've landed your dream fast fashion deal.
This might not be what the show's sold as, but it feels even more abundantly obvious with every year's fresh batch of contestants. In the final the winners are asked to choose between love and money, and they always go for love – because they know it will make them look better to the public, and because they know the money's inevitably coming, anyway.
But the point of Too Hot To Handle is to learn how to form deep connections – it's almost more important that the contestants open up to themselves than whoever they're partnered with. Plus, there's no onus to be constantly "in a couple" at risk of being dumped.
There's no set format, and other than the importance of actual emotional relationships it literally doesn't matter who you're with, or whether you're actually with anyone at all. At the end of each episode you've genuinely learnt something but also felt something – Love Island could simply never.
All episodes of season two of Too Hot To Handle are available on Netflix now. For all the latest Netflix news, drops, quizzes and memes like The Holy Church of Netflix on Facebook.
Related stories recommended by this writer:
• Too Hot To Handle season two rule breaks: Every single time the contestants got fined
• Is Too Hot To Handle staged? Everything we know about how much the producers set up
• Say hello to Tabitha, Elle and Joey, latest Too Hot To Handle season two bombshells