Arts and humanities grads are more anxious than their scientific peers, study suggests
Engineers, Medics and Dentist are amongst the least anxious
Graduates who didn't study science degrees are more likely to suffer from a high level of anxiety than their scientific peers, a new study suggests.
A recent survey conducted by the Higher Education Statistics Agency (HESA) asked graduates how anxious they felt on a scale of one to 10, the day before they took the survey.
32 per cent of those who didn't study sciences at uni said they experienced a high level of anxiety compared with 28 per cent of their scientific peers.
On a subject level, arts grads and languages grads appear to be the most anxious, with 36 per cent of respondents saying they had high levels of anxiety.
At the other end of the spectrum, the graduates suffering from the lowest levels of anxiety studied computer science, engineering, medicine, dentistry, education and subjects allied to medicine.
Full results of the survey below:
This table details the responses given by graduates to the question: How anxious did you feel yesterday on a scale of 1-10?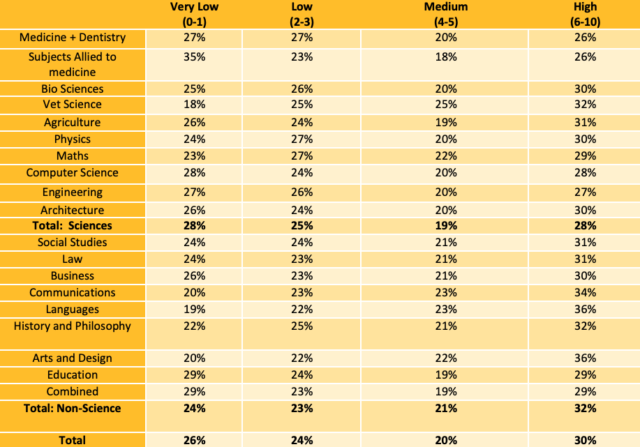 The full data from the study can be found here.
Related stories recommended by this writer:
•  'This is abuse': Leaked report reveals gruelling grad life at Goldman Sachs
• Scared about graduation? We asked recent Notts grads for their advice
• Ranked: These are the degree subjects most sought-after by employers