These 35 Ginny and Georgia memes are so good they've got Hunter tap dancing again
God that scene made me want to vomit
Since Netflix released Ginny and Georgia it has definitely got people talking. The show has been in the number one spot on Netflix, Ginny and Georgia memes are everywhere on Twitter and honestly, I get it.
No, I'm not going to pretend the show is perfect, and the Taylor Swift joke was definitely out of place and not at all funny, but the series is just such easy trash and if you aren't in love with half the characters I think you're lying to yourself. We're all obsessed with Marcus, want to curl up into a ball and die when Hunter is being cringe and simply want Georgia to PICK. JOE.
Here are all the best memes and reactions to Ginny and Georgia so far. Grab a bucket for the ones about Hunter.
1. Everything he does make me want to be sick in my mouth
2. SHE HAD HER REASONS
3. An angel
4. Help, I have fallen hard !!
5. Maybe I am, WHAT OF IT?
6. BOY BYE
7. STOP
8. I'll be waiting x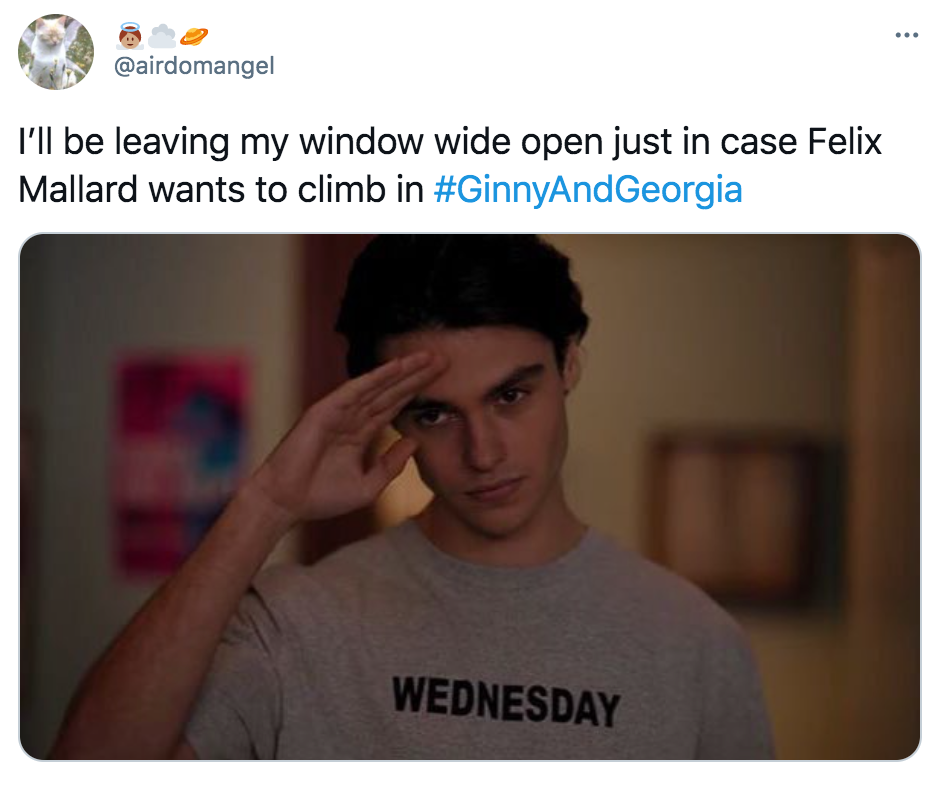 9. YIKES
10. Ok… still thinking about how weird this was
11. Nm just thinking about young Zion
12. MY HEART
13. The love of my life !!!
14. They have my whole heart
15. Ok but I am obsessed
16. Um, what?!
17. I wish nothing but happiness for King Joe
18. Savage, but very very accurate
19. They really are just the worst
20. It's a tough call tbh
21. I just need them two together ok????
22. Maxine is the best character and there is no way you can change my mind
23. I don't know what to do x
24. AND THAT'S THE TWEET
25. IT'S TRUE BUT I DON'T EVEN CARE
26. Will I ever stop stanning him? Probably not
27. GO GET EM AUSTIN
28. I'm not crying, you are
29. Ok just one more about Marcus
30. Tbh I'm not sure I would have been able to handle it
31. LAST ONE
32. Austin must be protected at all costs
33. PLEASE
34. TRUTH
35. I can't deal with him
Ginny and Georgia is available on Netflix now. For all the latest Netflix news, drops, quizzes and memes like The Holy Church of Netflix on Facebook. 
Related stories recommended by this writer:
• Are you more Ginny or Georgia? Take this quiz to find out
• Which character from Ginny and Georgia on Netflix are you? Take this quiz to find out
• These are all the real life ages of the cast of Ginny and Georgia on Netflix