Here's everywhere you recognise Regé-Jean Page, Bridgerton's Duke of Hastings, from
Okay so who was gonna tell me he's in Waterloo Road AND Fresh Meat?
Of course, the whole world is obsessed with Simon, the Duke of Hastings in Netflix's Bridgerton, but along with that we've all fallen in love with the man who plays him: The one and only Regé-Jean Page. But beyond listening to that Wildest Dreams cover on repeat whilst scrolling through the Insta page someone made dedicated to him licking a spoon (yes, it's real), when we're done binging Bridgerton what other films and TV shows can we watch to get our Regé-Jean Page fix?
Well luckily for us all, Regé-Jean Page has been in several films and TV shows before, including Waterloo Road, Fresh Meat and people are even realising he was in Harry Potter. This was clearly heavily wasted on teenage us, as loads of people didn't remember and are only now starting to realise the other shows he's been in – but it means we get to rewatch them all now, and have hours of more Regé-Jean Page content to look forward to.
Here are the films and TV shows Regé-Jean Page was in before Bridgerton, that you definitely recognise him from:
Harry Potter
People have realised Regé-Jean Page was in one of the Harry Potter films, in a role which is apparently uncredited (Harry Potter doesn't even feature on his iMDB page). Regé-Jean Page is in the Harry Potter and the Deathly Hallows Part One film, in the scene at Bill and Fleur's wedding at the Weasely's house.
He can be spotted in the background during some of the dancing, but the place in Harry Potter where Regé-Jean Page is most visible is at the end of the scene, when the patronus comes to tell the wedding guests that the Ministry of Magic has fallen and the Death Eaters are coming. Here, Regé-Jean can be seen standing next to Hermione and Mrs Weasely, as you can see above.
Fresh Meat
Regé-Jean Page was in two episodes of Fresh Meat, playing Dean. In series three episode seven of the show, Josie has had enough of her rank house after no one takes the bins out, there are slugs everywhere, and the shower is too full of everyone else's pubes to be able to actually wash. She then becomes mates with Regé-Dean (ha) and his immaculate student house, which has all-white interiors, an iron, and people who actually use the oven to cook. Sounds fake but okay.
I want you to picture a scene right now. Regé-Jean Page cooking your breakfast, giving you shoulder rubs when you get out of the shower, washing your clothes, hanging them up on the line and then doing your ironing. Absolute domestic bliss. Here are some entirely unrelated images of Regé-Jean Page as Dean in Fresh Meat, for reference:
Waterloo Road
Regé-Jean Page played Guy Braxton in series 10 of Waterloo Road, in 2015. His first appearance was in episode 13 of the series, and he was then in it until the end. His character Guy was a teacher at the school, after it moved from Rochdale to Scotland. His character's younger sister was Waterloo Road pupil Carrie Norton (played by Tahirah Sharif, who he tagged in the tweet below).
Guy Braxton is shown to be struggling financially, having to sleep in the school some nights and then staying at other people's houses. It's also revealed in the series that his character is gay. Right now, you can still watch it on BBC iPlayer.
Regé-Jean Page's Bridgerton co-star Phoebe Dynevor (who played his wife, Daphne) was also in Waterloo Road, in 2009-10.
Roots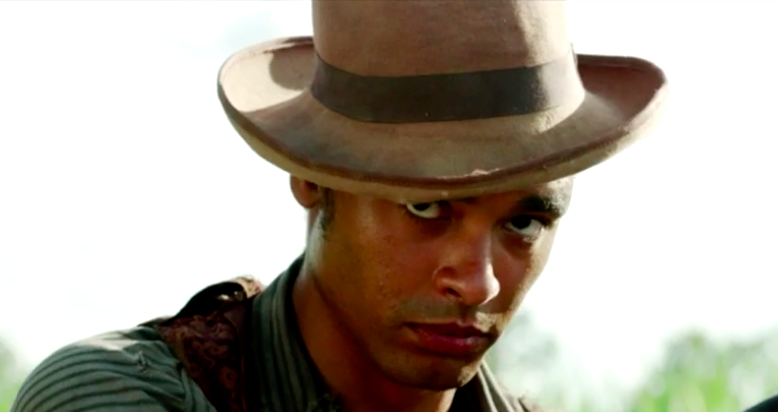 Regé-Jean Page was in miniseries Roots, which was on the BBC in 2017, playing a character called Chicken George.
The series is based on 1976 book Roots: The Saga of an American Family by Alex Haley, which was also turned into a series in 1977. The story follows Kunta Kinte, an African man who is sold into slavery in the 18th Century and transported to America. It follows his life and the lives of his descendants, down to the author Alex Haley. It's based on the author's family's oral history and his own research.
For The People
Regé-Jean Page was also in 2018 American legal drama, For The People. He played Leonard Knox, an Assistant US Attorney. Regé-Jean is apparently in all 20 episodes of the TV show. This series was also made by Shondaland, the same people as Bridgerton.
Cinderella: A Comic Relief Pantomime for Christmas
Okay so yeah, you probably didn't see this, I just wanted to show you Regé-Jean Page in a crown. (Also – is that his living room? Spy the, uh, interesting green sofa, as well as the three prints of the sea placed quite sparsely on the plain white walls.)
He was in the BBC's pantomime this December, where stars played out a pantomime via Zoom. Regé-Jean Page played Prince Charming, alongside Daisy May and Charlie Cooper, Olivia Coleman, Helena Bonham Carter and a whole load more famous people.
Bridgerton is available on Netflix now. For all the latest Netflix news, quizzes, drops and memes like The Holy Church of Netflix on Facebook. 
More Bridgerton stories recommended by this writer:
• Please enjoy these 22 beautiful photos of Bridgerton's Duke of Hastings, Regé-Jean Page
• There was a rape scene in Bridgerton and no one seems to have realised
• Here's all the modern music you recognise from Netflix's Bridgerton soundtrack