The celebrity cast of the TikTok Ratatouille musical has officially been revealed
Titus from Kimmy Schmidt is Remy
TikTok has brought us a number of joyful trends throughout the year, but by far the most bizarre one to round the year off has to be the TikTok Ratatouille musical. Essentially, a number of people started making music based upon Ratatouille, and before we knew it there was an entire ensemble with industry professionals stepping in to contribute everything from lighting to poster design.
Anyway, the whole thing has gone so far that there is now going to be a charity production taking place on New Year's Day – and the weirdest thing of all? There are some real, bonafide PROFESSIONAL Broadway stars performing in it. So, from Tituss Burgess, star of Kimmy Schmidt, to Queen's Adam Lambert, here is the celebrity cast of the TikTok Ratatouille musical.
Tituss Burgess – Remy
Up first is the titular role of the entire operation Remy the rat – and this honour goes to none other than Tituss Burgess. He is a Broadway heavyweight, having performed for 15 years in various shows including Jersey Boys and Guys and Dolls.
For those that aren't into theatre, you may also recognise him for his role as Titus Andromedon in Unbreakable Kimmy Schmidt, a role he has held for five years and received five Emmy nominations for. So yeah, so far the Ratatouille musical isn't messing about when it comes to its cast.
Adam Lambert – Emile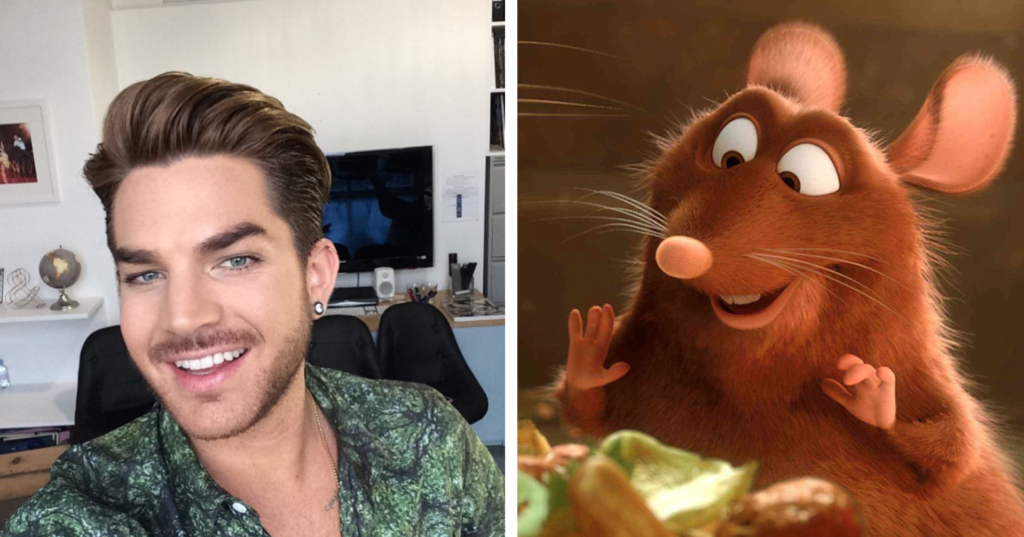 Next is Adam Lambert, who is probably best known as the voice of Queen, having taken the position when they reunited. Famous for originally competing in American Idol, he went on to have a successful pop career as well as having appeared in shows such as Glee, Pretty Little Liars, RuPaul's Drag Race as a judge on The X Factor.
He posted about his role in the upcoming musical on Instagram, simply commenting: "This was fun!"
Kevin Chamberlin – Gusteau
Kevin Chamberlin is set to play Gusteau in the TikTok Ratatouille musical, and if the below video is anything to go by, it looks like he'll fit the part perfectly.
He has received three Tony Awards for his theatre work, having appeared in various productions and TV series since the 90s. Chamberlin was one of the original TikTok users that contributed to the development of the musical, so the part was obviously made for him.
Wayne Brady – Django
You'll recognise Wayne Brady from a number of places – whether it's hanging out with David Dobrik and Charlie Puth in downtown LA or playing Barney Stinson's brother in How I Met Your Mother, he's kept very busy over the years in both theatre and television.
Wayne won season two of The Masked Singer USA, and has proven his vocal prowess in classic theatre productions including Chicago and Hamilton.
André De Shields as Ego
Yet ANOTHER Broadway star appearing in the TikTok Ratatouille musical is André De Shields, who is playing Ego the evil food reviewer. Unless you're a true Broadway nerd you probably won't be familiar with his work specifically, but he's appeared in many plays that you will have heard of since the 60s and has won more awards than you could fit on a shelf.
How on earth is this thing so professional?!
Andrew Barth Feldman as Linguini
Probably the most similar-looking actor to the character that he portrays is Andrew Barth Feldman, who is set to play Linguini in the upcoming TikTok Ratatouille musical – I mean really, they're almost indistinguishable!
View this post on Instagram
Andrew is only 18, but has already impressed audiences straight out of high school. Last year he announced on Instagram that he'll be studying at Harvard, and although the Ratatouille musical is his second professional credit, it seems he'll likely go on to be a big star in the future.
Ashley Park as Colette
Ashley Park is another super famous actress joining the cast of the TikTok Ratatouille musical. She played Gretchen Wieners in the Broadway production of Mean Girls, as well as Mindy in Netflix's Emily in Paris.
And she thought Emily in Paris was going to be her only Parisian hit this year!
Mary Testa as Skinner
And finally, we have Mary Testa who is set to play a female version of Skinner, the head chef who ends up being fired from Gusteau's. More Tony award nominations (there are more people with than without on this list), credits in Sex and the City, Eat Pray Love and Law & Order and an impressive resume in stage make her another impressive addition to the cast.
So there you have it. To think that there are professional musicians, singers and producers working hard right now to put on a whole musical dedicated to a rat from a Pixar film… based upon songs that people wrote on TikTok – 2020 has been one insane year.
Related stories recommended by this writer:
• People on TikTok have turned Ratatouille into a musical and honestly I love it
• These 17 TikToks prove Robert Pattinson is the strangest human being on this planet
• Build a celebrity friendship group and we'll tell you which uni you should've gone to