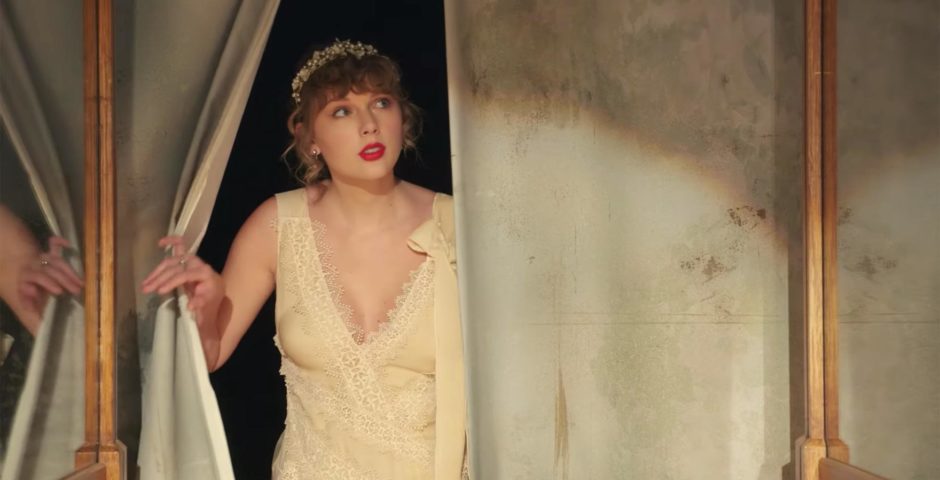 All the hidden meanings you may have missed in Taylor Swift's Evermore
Did you catch the Harry Styles reference?
By this point, Taylor Swift is quite well known for subtly hiding messages within her lyrics and song titles to keep her stans – and, ahem, pop culture journalists – on their toes.
Most famously, the lyric sheet for Red's All Too Well answered the question of the song's subject by spelling out "MAPLE LATTES" which, when googled, revealed a coffee date between Swift and Jake Gyllenhaal.
Fortunately for said stans and journalists, she's released not one, but two critically-acclaimed albums this year, Folklore and Evermore, for us all to dig our teeth into. So let's get digging.
Is Taylor Swift engaged?
Evermore's second track is entitled Champagne Problems which, according to Urban Dictionary, means: "A problem or dilemma that, when compared to issues of poverty, national disasters and war, are not all that big of a deal, but nonetheless provide individuals with issues that must be dealt with."
The first chorus reads: "Because I dropped your hand while dancing / Left you out there standing / Crestfallen on the landing / Champagne problems / Your mom's ring in your pocket / My picture in your wallet / Your heart was glass, I dropped it / Champagne problems," which would appear to tell the tale of Swift rejecting a wedding proposal.
Swift herself has described the song as a "tale", seemingly indicating that it is a work of fiction. But given that her partner Joe Alwyn is credited as a co-writer on the track, could this story be based on a real, happier occasion?
…Or is she already married?
This theory has some pretty obvious origins – in the music video for Willow, she appears wearing a long white dress.
From this, the rumours have swirled – including the suggestion that the album title of Evermore was a reference to her wedding vows – but sadly no-one has been able to confirm them.
The 'Eagles t-shirt' in Gold Rush belongs to Harry Styles
Or, at least, that's what Twitter seems to think.
As you're undoubtedly aware, "Haylor" were once one of the world's most famous flings, and fans of both have a tendency to find references to their relationship in their songs, even eight years on.
Gold Rush reads: "I see me padding across your wooden floors / With my Eagles t-shirt hanging from the door," which Swifties reckon is a reference to this Tweet of Styles holding one from 2014.
When your #Eagles are away, Harry Styles is going to play. #WWAPhilly pic.twitter.com/hDIS9A4c9W

— Philadelphia Eagles (@Eagles) August 14, 2014
Long Story Short is about the Kanye & Kim K drama
If you cast your mind back to 2016, you might remember Kanye West prophecising: "For all my Southside ni**as that know me best / I feel like me and Taylor might still have sex / Why? I made that bitch famous".
And if you remember that, you almost certainly remember the ugly fallout from it, in which Kanye's wife Kim Kardashian also got involved in firing some potshots at Ms Swift. The media got involved in choosing sides, as did each's respective legions of supporters – it was not pretty.
Long Story Short finds Taylor reflecting on this: "Fatefully / I tried to pick my battles 'til the battle picked me / Misery / Like the war of words, I shouted in my sleep / And you passed right by / I was in the alley, surrounded on all sides / The knife cuts both ways / If the shoe fits, walk in it 'til your high heels break".
Long Story Short is about the Scooter Braun drama
Fans are also suggesting that the song might be about a more recent incident in Taylor's life: the acquisition of her old master tapes by Scooter Braun; you may know him as the talent management powerhouse behind Justin Bieber. The two exchanged barbs (Swift called Braun an "incessant, manipulative bully" – yikes), and eventually, she made the decision to re-record her old tracks.
Long Story Short is about Tom Hiddleston
There's also a romantic aspect to the Long Story Short, however, likely informed by her aforementioned relationship with Joe Alwyn. The chorus contains the lyric: "Clung to the nearest lips / Long story short, it was the wrong guy".
Going back a few years, Swift reflected on a similar breakup in Getaway Car, proclaiming that "nothing good starts in a getaway car", which many believed to be a reference to her coupling up with Hiddleston after her much-publicised split from Calvin Harris.
People seem to have different theories about her hair
Evermore's cover art depicts Swift, plaid-clad with plaited hair, facing away from the camera into a Wintry woodland. You may not have thought twice about this, but don't worry – we've considered every eventuality.
The first is that it's a callback to Folklore track Seven, which contains the lyrics: "Your braids like a pattern / Love you to the Moon and to Saturn / Passed down like folk songs," perhaps appropriate since Evermore has a very folk-y vibe to it.
Also, an eager-eyed fan counted 31 folds in her plait and connected this to Swift celebrating her 31st birthday this weekend gone. We'll let you be the judge on this one.
Related stories recommended by this writer:
• These are the very best lyrics from Taylor Swift's Folklore which just sum up uni life
• Fresher ineligible for loan gets £23k from Taylor Swift to reach fundraising goal
• Meet Joe Alwyn: The long-term boyfriend Taylor Swift's just gone public with