All the truly terrible clothes Topshop produced that absolutely no one will miss
Remember when they made clear plastic jeans?
The moment we never could have imagined has finally happened. Topshop has gone into administration and could possibly close down for good. 13-year-old me would be heartbroken.
Topshop was the holy grail of shops for teenagers in the noughties and early 2010s. You got everything from your basic t-shirts to your first house party outfit there. It was the highlight of every weekend shopping trip where you wandered around with your milkshake seeing what your pocket money could get you in Topshop. Spoiler alert it was just a pair of socks. A trip to the Oxford Street was always a special treat, and the girls who had a personal shopping party there were the epitome of cool.
But now I can't remember the last time I stepped in a Topshop. It's over priced, full of below average stuff and a hectic place to shop. And looking back at some of the awful creations they used to make I can't understand why we all continued to shop in there for as long as we did.
They made clear plastic jeans, American flag shorts that went up your arse and *that* green parka with the faux fur hood. When you consider the audacity they had to make certain items, it's a surprise they hadn't gone into administration much earlier.
If you need any reminder of the most offensive items Topshop and Topman (because the boys suffered as well) ever created, then here are the 22 worst:
Joni Jeans
Special mentions to the black ones, which swiftly became grey after one wash. You have my whole heart x
Every single other pair of women's jeans which it insisted would never have pockets
Does Topshop simply believe women do not have possessions or?????
The ankle socks with the little frilly trim
They were the kind of socks you wore in primary school, and yet when you got to age 13 they were back in fashion. But this time they cost far much more and came in a variety of pastel colours. We would have almost looked like dolls if it weren't for the fact that we wore them with chunky black shoes that were in no way flattering.
The brightly coloured patterned socks
When were you meant to wear these? They were always covered in cupcakes or some form animal.
Slogan jumpers with the words 'nerd' and 'dweeb'
The coolest girls at school always had the nerd jumper.
Slogan t-shirts with moustaches on them
Just no.
American flag shorts
They didn't cover half of your arse and gave you a massive camel toe.
And those god awful jeans that were half American flag stripes and half stars
These went with absolutely nothing and were just a completely unnecessary homage to the American flag which we didn't need to have emblazoned on our bodies.
That green parka with the white faux fur hood
This jacket was strictly reserved for the middle cool group in school. They wore them with white skinny jeans and a red tartan scarf.
That leather jacket with the cream faux fur collar
You were not living in 2010-12 if you didn't own one of these jackets.
Those bodycon mini black skirts
Literally just a piece of black fabric wrapped around your arse. But if you weren't wearing one of these to your first house party and getting drunk on WKDs did you ever have a British childhood?
The pleated mini skirt
There really was a time when we obsessed with dressing like we were still in our school uniform on the weekends. The little pleated skirts really completed the look combined with glasses without lens and a nerd jumper.
Sleeveless shirt tops that could only be worn with the top button fastened
*shudders*
The little crop tops that cost so much money for so little fabric
They were in that ribbed material in every colour under the sun. Worn with your Joni jeans you thought you were Kate Moss.
See through plastic jeans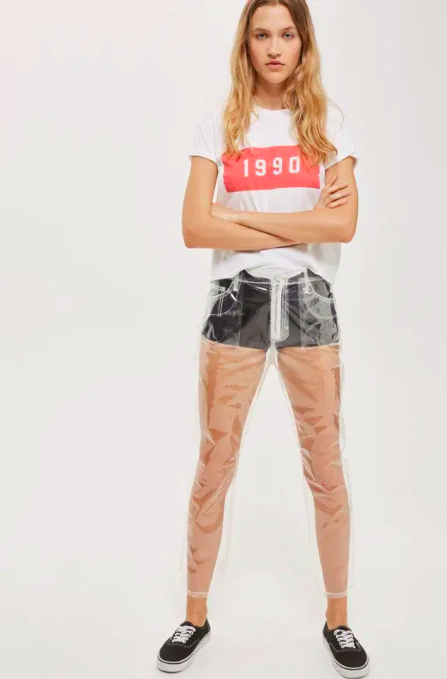 The scary thing is they added clear plastic jeans to their range only a few years ago. They really thought the height of fashion was to make people look like they had plastic bags wrapped around their legs, because that's essentially what they were. Who doesn't want to see everyone else's sweaty legs on the tube?
The entire baseball themed range
Remember when Topshop went absolutely IN on baseball? They had jackets, shorts, t-shirts and long-sleeved tops. We all looked like the cast of Riverdale.
The Mary Janes
Lord, why did they think it was a good idea to bring back Mary Janes. They've been around since the 1920s and should have stayed there.
Those skull scarves
Just because Alexander McQueen had them, doesn't mean you needed to create a cheap copy Phillip Green.
The sand-coloured chinos
Simply not a nice colour. Why did they have elastic round the ankles? Who knows, but they sure as hell were a vibe with your navy blue jumper that had a picture of a random city on it.
The Rihanna T-shirt
Maybe this was River Island, but if you didn't have this who were you?
Literally anything with the fake elbow patches
It's geography teacher chic, sure. Little suede elbow patches on a brand new long-sleeve t-shirt. I am sophisticated. I am worldy. I am 14.
The classic t-shirts with button up necklines and coloured accents on the neck and sleeves
The more of these you had, the cooler you were. Bust out a neon green, or a pink accent as you're taking a million photos on the macs in the Apple store and you'll be the toast of school on Monday.
Featured image credit before edits: Eastgate Basildon / Creative Commons Licence
Related stories recommended by this writer:
•Looking back at New Look, River Island and Topshop's tragic 2012 Instagrams
•The 22 profound life lessons you learn from the early 2010s account JustGirlyThings
•Sorry, but can someone tell me why these 34 iconic British snacks were discontinued?